Remember Spatula City from the Weird Al movie, UHF?  Well, I've got something  better.  Out of Brooklyn, NY, it's Plastic Container City — your one stop shop for plastic containers, unique cupcake decorations and various holiday themed packaging including  Easter decorating supplies.
For those of you tired of paying $3.99 for a cute box at the craft store, I highly recommend Plastic Container City.  After years of being a customer, I can attest that prices are competitive, service is speedy, and you'll find things you didn't even know you needed.  For instance, I'm putting in an order for these plastic cups with lids so I can package granola like Jo's coffee shop here in Austin.  Ha!  There's something for everyone, so have fun browsing.
In the meantime, why not try entering this giveaway?  Plastic Container City has generously put together a basket for one lucky reader.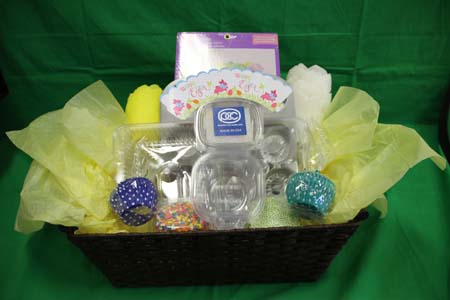 To have a lovely basket of  packaging goodies shipped to you in time for your spring baking, just tell me how you usually wrap your cookies to give as gifts or carry. I will pick one random comment a week from today (February 29) and contact the winner the next morning.
Good luck! To all of you who haven't won a giveaway yet, keep trying.
Now here's a sampling of what's in the basket.
Related posts: