Thanks to All You Magazine and Duncan Hines for today's giveaway. To promote new Duncan Hines Frosting Creations, they are offering three readers sample kits with a copy of All You magazine, four boxes of cake mix,  and four different flavors of Frosting Creations, a product designed to help you "unleash your inner dessert artist".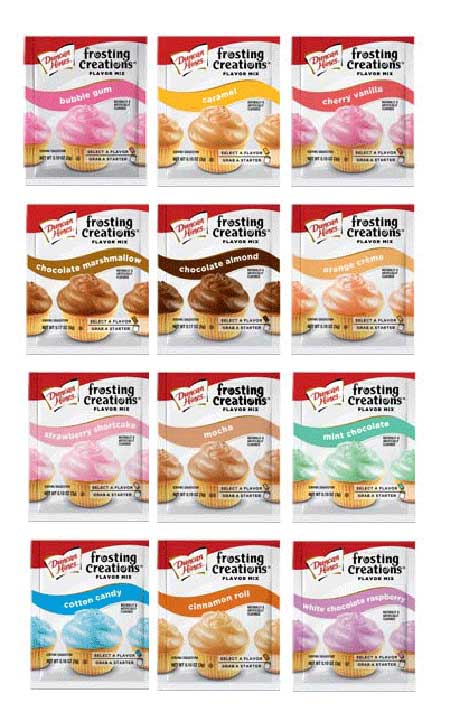 Frosting Creations is a plain carton of frosting, to which you stir in a flavored mix. The idea is to use your imagination, mix and match flavors and execute all those great ideas floating around in your head. With 12 varieties, you have plenty to choose from. I started easy and used the Strawberry Shortcake Frosting Creations as a filling for this Neapolitan themed cake.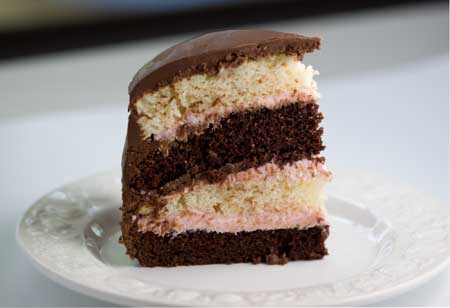 The Strawberry Shortcake filling had a light mousse-like texture that contrasted nicely to the firm, scratch frosting I used for coating. I tested the same cake idea using Cherry-Vanilla Frosting Creations as the filling and Chocolate Marshmallow Frosting Creations as the coating. That worked well too, though in hindsight I wish I had coordinated the cherry filling with something pistachio and almond to make "Spumoni". I'll save that idea for later.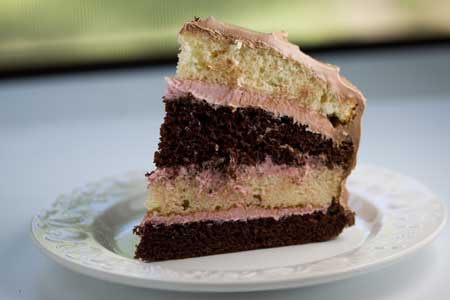 The point is, the different flavors give you the convenience of experimenting without the time consuming task of developing a scratch, flavored icing. You can choose from Cinnamon Roll, Cotton Candy, Chocolate Mint, Strawberry Shortcake, Chocolate Almond, Bubble Gum, Orange Crème, Mocha, Chocolate Marshmallow, White Chocolate Raspberry, Cherry Vanilla, and Caramel. Of the ones I tested, I liked the Chocolate Marshmallow the best and am curious to try the Caramel and Mocha.
Now it's time for your opinion. If you'd like to sample the Frosting Creations, tell me your favorite flavor combination of all time. For instance, I think mine is graham, marshmallow and milk chocolate, but I also like chocolate and peanut butter.
The giveaway ends April 1 at midnight, and the next day I'll email 3 random readers to let them know they've won. Until then, look for Frosting Creations at Wal*Mart and Target (it will start appearing at other grocery stores on April 9) and pick up a copy of the April issue of All You Magazine for a handy Frosting Creations coupon.