Hello cookie fans! While Anna and Fuzz are off terrorizing the high seas this weekend, you're stuck with me. However, unlike the last few times, I actually have a story to tell you about cookies! So sit down and let me tell you the tale of how I managed to find, purchase, and taste some cookies right here in Austin, TX.
Anybody who knows me will tell you: "Oh, Todd? Yeah, I know that guy", but few of them would be able to tell you that my favorite cookie of all time is the Parisian Macaron. I figured that a city the size of Austin should have at least one bakery making good macarons, and it turns out that I was right. If it had turned out that I was wrong, this would really have been a very short update and I probably would have had to resort to showing you pictures of my dogs or interesting cloud formations again.
At any rate, my co-worker/French interpreter (who really is from Paris) and fellow macaron enthusiast, Stephanie de la Bootscoot (of the San Tropez de la Bootscoots) and I recently took some time off from work to sample the output from two local bakeries. The first place we tried is called La Pâtisserie, which my interpreter tells me means "The Pâtisserie". It's a nice little bakery in South Austin in a converted house.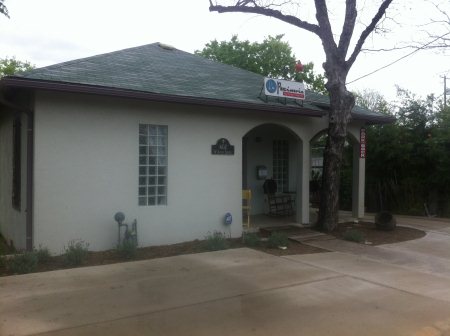 As luck would have it [legal disclaimer: luck was not involved, this was a planned event, void where prohibited] we arrived on Mararon Day! Once the parade floats had been put away and all the champagne had been consumed, we stumbled our way in and were rewarded with free samples of the three macarons they were testing out for their menu. These weren't little samples either, they were full sized and all they asked is that you vote for your favorite one. Seeing that I like both macarons and telling you what I think of things, this was a fairly easy deal for me to sign up for. The three flavors were Nutella, Key Lime, and Milk Chocolate Earl Grey (see pictures of varying quality below).
Don't those look great? They all tasted great, but my only real complaint was that the key lime macarons weren't tart at all. I love key lime pie, and when I have it, I like it to be very tart. The woman behind the counter agreed with us in that respect. At least I think she did, they might have been speaking French, I wasn't paying much attention. My favorite of the bunch were the Milk Chocolate Earl Grey. They weren't overwhelming the cookie part had a good texture to it. I should note that the texture of all these, while good, wasn't great. I'm willing to cut them some slack as it was Macaron Day and I suspect they had to bake many more than usual. I'd definitely come back here and give them another try. The shop itself is cozy, clean, serves coffee, has a nice staff, and looks like a place where you could sit for a while and enjoy yourself. Worth a visit if you are in South Austin.
The next place we tried is called La Boîte (French for "The Boîte"). They have two Austin locations and we tried the one that is three blocks away from work, on Congress Ave. La Boîte is tiny, like a little box selling baked goods.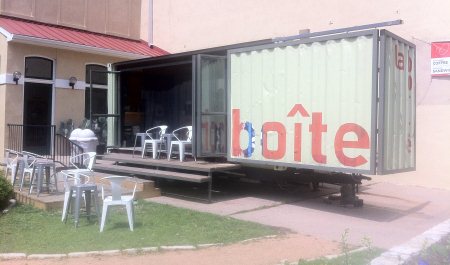 I can only imagine that in the summer it will be absurdly hot in there, but in the spring it's not so bad. There is outdoor seating but not much of it is in the shade. I'm told by my interpreter that she will literally burst into flames if she sits in the sun, and seeing that I needed her to translate for me, I opted not to call her on this.
Their flavors seem to change often, and on the day we went the flavors we got were: Jameson's Whiskey, Coconut Banana Cream, Sesame Ginger, Pistachio Chocolate, and Salted Caramel. All of these, without exception, tasted great, and I was impressed by the texture of the cookie part. The fact that they seem to be willing to experiment with flavors is a plus to me, and truth be told because they are so close to work, I've been back a couple of times. I should note that you need to get there before the lunch crowd if you want any chance at having a choice. If you go after lunch, there will only be one or two different kinds.
I'm sorry there's not much in the way of pictures for this round. I got this one in the bright sunshine while my interpreter was off yelling at somebody in French (you know how they are). Sadly, these didn't make it to the office and were lost in a blogging-related accident on the way back. I'm not going to review each one in detail, but I hope if anybody from Austin is reading this that it helped you out. If you know of any other good places, please feel free to leave me a tip in the comments and I'll be sure to check it out.
Before I go, I wanted to share with you a web site that I think some of you might like. It's called MarineTraffic.com and it tracks and maps marine traffic from all over the world in near real time. Cruise ships, tugboats, private yachts, oil tankers. Essentially any ship large enough to have an automated transponder on it. The data is compiled by volunteers with special FM radio receivers that listen in on the automated signals these ships broadcast to each other. The volunteers hook up land-based computers to listen in and upload the data to the web site. If a ship is close to shore you'll see it, otherwise it doesn't show up on the map. I have to admit that I spent quite a bit of time on this site when somebody first showed it to me, and it was especially fun watching Anna and Fuzz sail off on their journey in real-time.  So, go over there and search for "Liberty Of The Seas", maybe you can find out where Anna and Fuzz are right now!
I hope you all have a wonderful Easter/Passover/Weekend! Take care everybody, and thanks for reading.