Since taking our first cruise on Disney, we've taken two more, but on different lines. Last year we took a 7 night Alaska cruise on Holland America, and this week Fuzz and I returned from a 4 night Caribbean cruise on Royal Caribbean's Liberty of the Seas. It was fun! I'm ready for another, but until then here's a review of the Liberty of the Seas.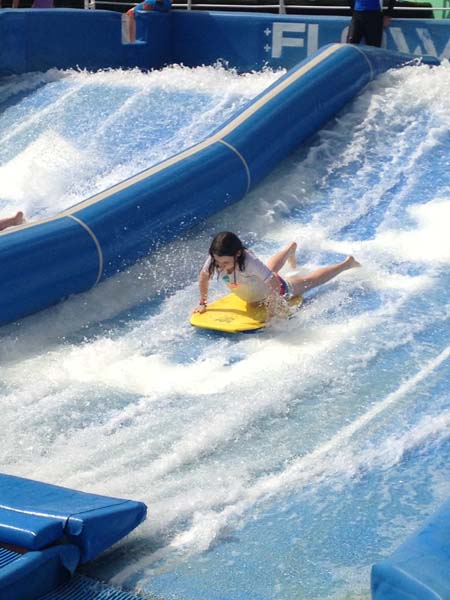 This cruise was our introduction to Royal Caribbean.  We chose the line thinking it would be a good value for the money and that we'd appreciate the extra youth oriented activities.  Along with an ice rink, mini golf course, sports deck and boxing ring, there's a surfing simulator called a Flow Rider and a rock wall that sounded pretty fun.  As you can see from the photos, Fuzz took advantage of both of the latter, despite the lines.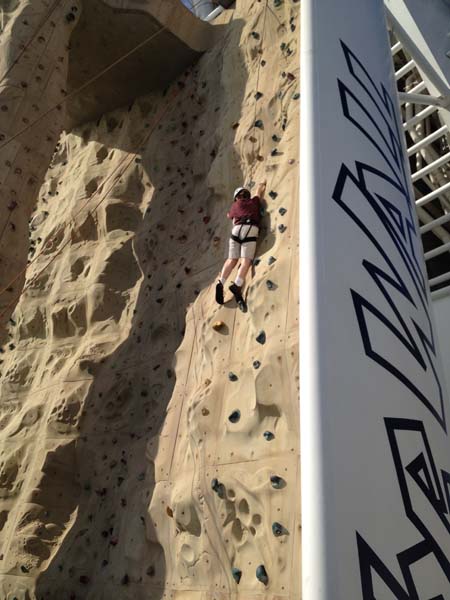 Then again, lines were to be expected.  We chose a 4 night cruise over Easter weekend and East Coast Spring Break. Crowds could have been much worse considering the time and duration of the cruise, but overall they were pretty manageable,with the worst situation being lines at the elevators.  We probably got a lot of exercise using the stairs.
We boarded at Port Everglades in Fort Lauderdale. If you're looking for a hotel near port, you won't have to search too hard, as there are several including The Westin Beach Resort, which is about a $7 cab ride away and has direct beach access.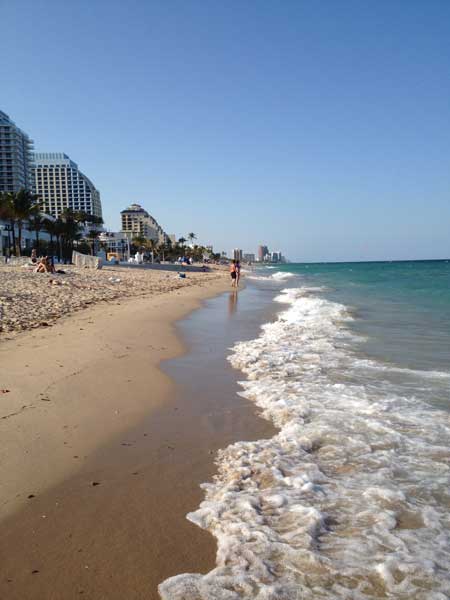 Another one I can recommend is The DoubleTree Gallery One. It's not directly on the beach, but it's a stop on the water taxi and near The Galleria where you can do some last minute shopping before the cruise.  The Gallery One is also a short cab ride from the port.
Our boarding time for Liberty of the Seas was 1:30, so we had plenty of time to check out of our hotel,  grab lunch and get over to the dock.  Seeing the ship for the first time is always exciting, and since getting 3600 people on a boat is a lot easier than getting them off, this part is usually a  breeze.  By the time we boarded, our cabin was ready and our luggage arrived a few minutes later.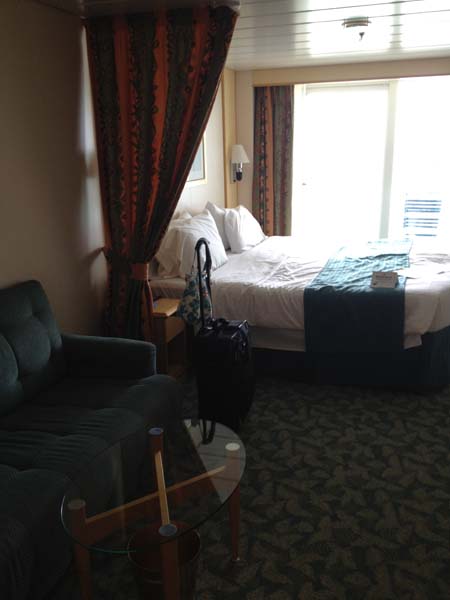 The first person we met after boarding was our cabin stewardess, Elisa.  She took good care of us throughout the trip and seemed genuinely happy to be working for RCCL.  Plus she made us excellent towel animals every night!  Our cabin was spotless.
My only complaint about the cabin was that we had smokers next door, but that's a big issue within the industry at large and one that won't be resolved any time soon. I can tell you their smoke never filtered through to our cabin – only the balcony.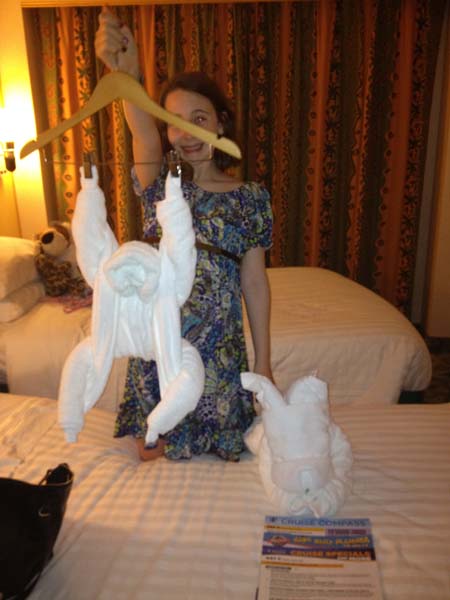 Here's a tip.  Go with the ninth deck midship if possible. Deck 9 is close to the pool and Windjammer Dining room, but not right under them. Also, I've heard a rumor that because some great suites are one Deck 9, you get the more experienced room stewards. I don't know if this is true, but we had the best ever cabin stewardess, so who knows? So Deck 9. And try to get a cabin on "the hump" if you can – that's where the ship juts out a little in the middle. They say you get a better view from the balcony, and I think we did.
Okay, so back to our first day. After checking out our cabin and riding the Flow Rider (Day 1 is a good time to do it), we explored the ship. It's huge, but fairly easy to navigate and Fuzz and I knew our way around in a matter of hours. The photography in the stairwells is incredible. Every time I turned a corner I had to stop and look at another picture. My favorite ones were the gas stations, pools, little red headed girls and cheerless cheerleaders. If you've been on the ship, you probably know the ones I'm talking about.   You could spend a couple of hours just doing an art tour.
Here's a photo of the library.  Hey, RCCL.  Your library needs more books!  Or maybe they load the shelves with books for longer cruises.  I'm not sure, but I have some books to donate to RCCL.  Better yet, it would be nice if they set up a book exchange  where people drop off books they've read and take another.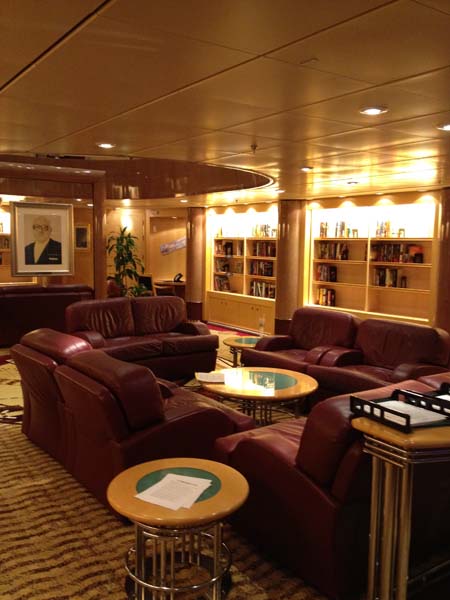 The promenade, before it filled up with people….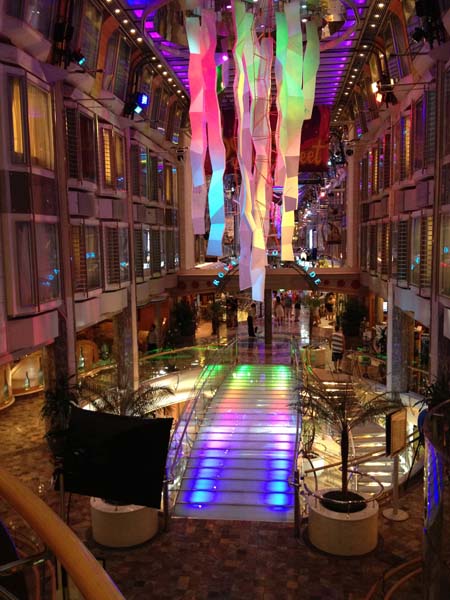 And this the Sphinx, where most of the Bingo games were held.  Keep in mind this is a ship with over 3,000 passengers and we were the only ones taking pictures and goofing around in this room on the first day.  For such a big ship with so many people, the rooms never seemed that crowded.  The pool and the elevator areas were, but there were always little sanctuaries where one could go to relax.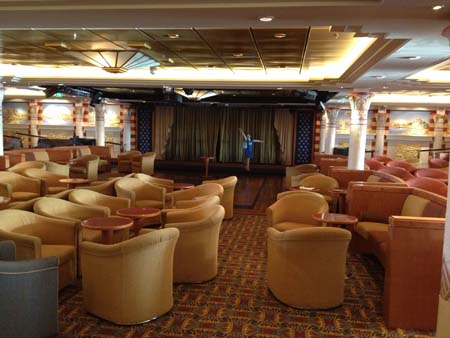 Since we boarded late in the evening, dinner time came pretty quickly. We used RCCL's My Time Dining which meant we could avoid the 6:30 or 8:30 seating and make reservations for any time we wanted. With My Time, they put you in a special section of the three story dining room, so you see the same people most nights and may get the same servers.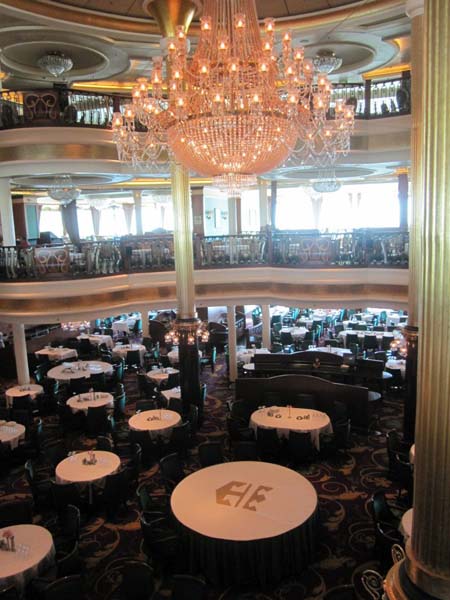 As expected, the food was about the quality you'd find at a wedding or large catered event with some dishes being better than others. I stuck with the spa menu every night and was happy to have that alternative. Fuzz ordered off both the spa menu and the regular menu, and in our opinion there was plenty of variety. I will say that if you like a good steak, eat one before you leave or plan to pay extra for a steak from Chops, the ship's specialty restaurant. Fuzz's meat was not quite the same prime steak we are used to grilling here at home. What it comes down to with food is that you have to pick and choose and be reasonable and flexible. That being said, the best dessert on the boat in my opinion, was the low fat yogurt by the pool.
Along with the main dining room, we enjoyed having breakfast, lunch and even one dinner in the Windjammer. It was similar to Disney and Holland America's buffet area, with table next to windows, comfortable seats and lots of choices. Unlike the other two cruises, Liberty of the Seas had lots of good Indian food, which Fuzz and I love. There were some not-so-great things as well, but again – it's a buffet. You don't like something, get something else. That, or go to Johnny Rockets.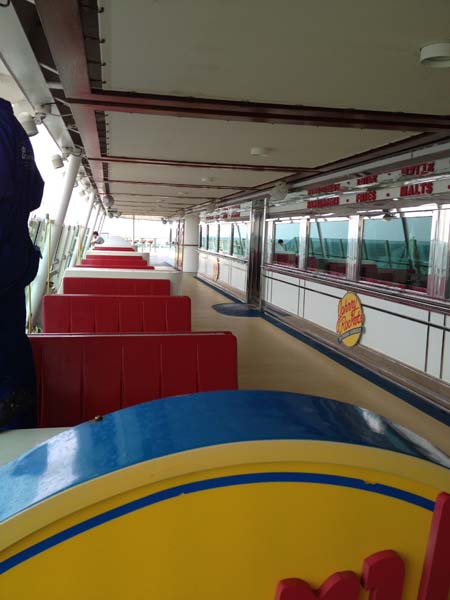 Johnny Rocket's was yet another dining option, and if you like fries, onion rings, burgers and shakes, you'll be in good hands. Plus the service was excellent and the waiters and waitresses sing and dance. Normally that would be awkward, but on a cruise it's cool.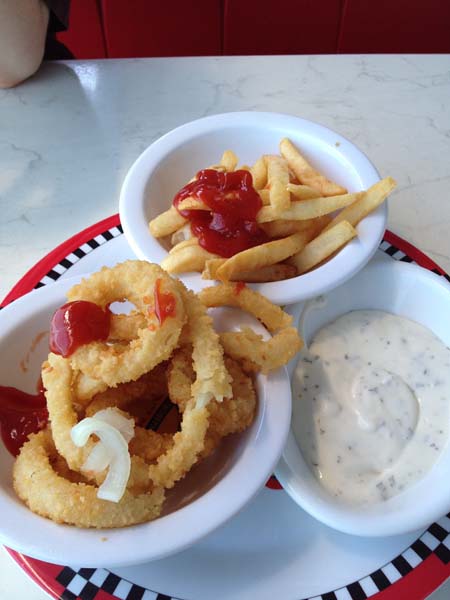 Cupcake Cupboard was a nice additions to the ship. As much as I like cupcakes, I hadn't planned on signing Fuzz up for a class, but I did and it was just her speed. The pastry chef did a great job conducting the kids' classes. I recommend them for younger children, though….6 to 12 tops.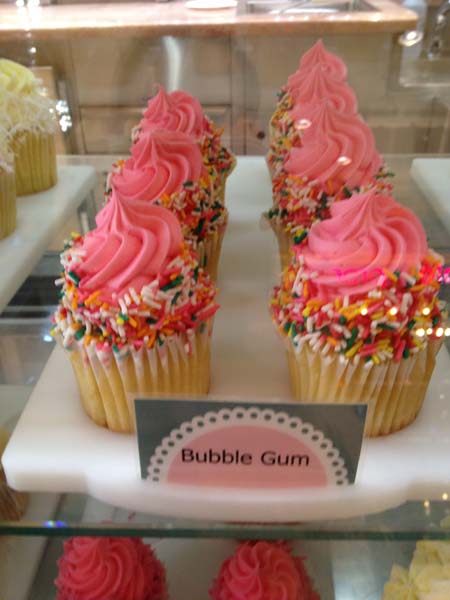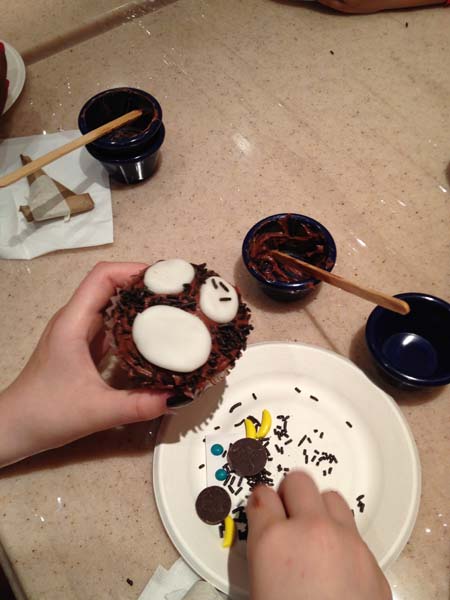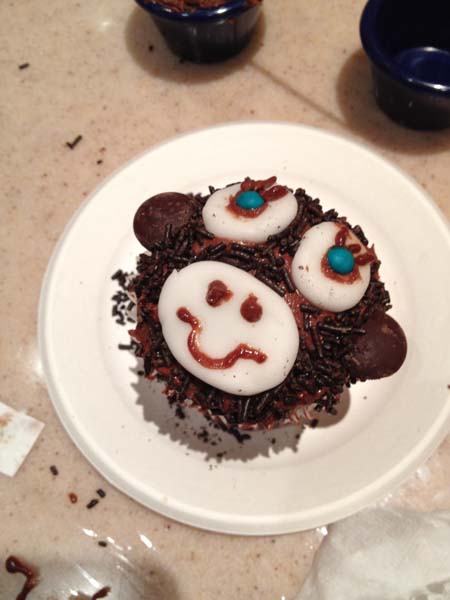 The pool area is divided into a regular pool and kiddie pool area called the H20 Zone, which Fuzz enjoyed very much. Had I been alone on this cruise, I would have spent time at the adults only pool which appeared very tranquil. The deck was extremely windy the whole time and I kind of wished they could have closed the top like other lines have done, but I suppose that might have made all the people baking in the sun irritated. Oh well. And my other complaint is that maybe the Sexy Man contest could have been held during a period when the kids weren't swimming all around. Not that it was risque — quite the opposite, but I didn't feel like talking about what "sexy" meant with the kiddo. On the other hand, the Men's Belly Flop Competition was quite amusing.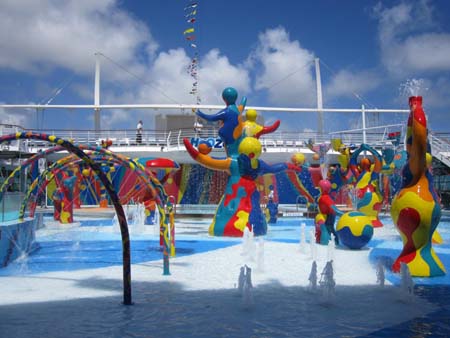 But don't worry. Entertainment was better than belly flop competitions. And in my opinion this is the area where RCCL really shines. There was a breathtaking ice show, a Cirque de Solei type show called Up in the Air and a Broadway style production of Saturday Night Fever. The juggling, unicycle riding comedian was also surprisingly entertaining.
But back to the ice skating. One days when there weren't shows, they let us ice skate for 30 minute sessions. Here I am doing some tricks.
Just kidding. I should have taken some photos of us ice skating, but Fuzz and I were too busy trying to stay upright.
Moving on to the Kids' Club, of the three Kids' Clubs we've tried, this one came in third. Disney's was crazy with so many activities and kids running all over the place, while Holland America's was very personable, friendly and professional — the kids did a talent show for the passengers and on the last day, the crew wrote personal letters to each child saying goodbye. On this trip, Fuzz only visited twice. One time in the evening when it was busy and they were doing planned group activities and one time in the morning when there were only two kids . The staff didn't remember her name, which is not so much a poor reflection of them but rather a credit to HAL's staff who remembered names even though they had more kids. I think HAL's talent show might have been a bonding experience for the kids and crew. Maybe on longer cruises, RCCL does something similar.
The casino was quite lovely, but when I did try to play a game of video poker, my eyelid started to swell because of the smoke.  I don't think I'll live to see non-smoking casinos, but I wish someone would invent a really awesome smoke eater. Casinos usually smell okay, but the gunk seems to hang in the air. Oh well.
Speaking of air, there's a little arcade that has air hockey!  Note the room is practically empty on day 1, but most of the time it drew a pretty big crowd of kids.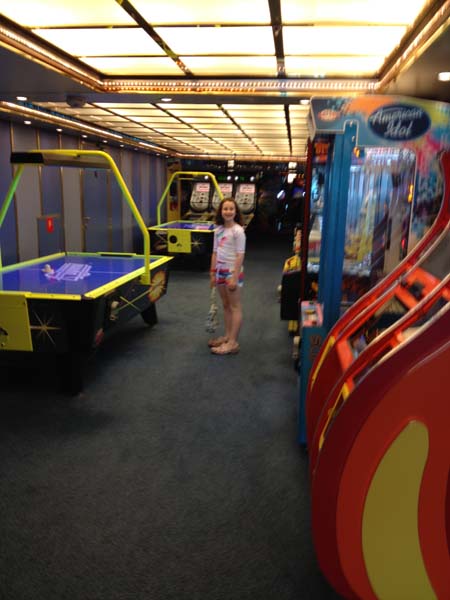 Okay, now for a few negatives.  There was something for sale everywhere you looked.  I can't remember what day of the cruise this was, but the promenade had big displays of jewelry and watches.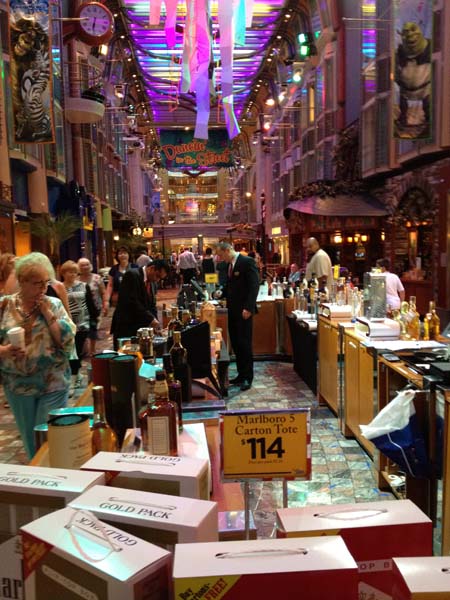 But what really got to me was that Botox, fillers, and other expensive medical procedures were being promoted throughout the ship via advertising and lectures. I have nothing against those procedures, but I think they should be handled by one's dermatologist or facial surgeon back home and not on a ship. Botox takes effect after several days and peaks at about 2 weeks, so what if you get injections on a cruise and don't like the results 5 to 10 days later?I just don't know.  What's wrong with a nice facial or a massage?
On to a more pleasant topic, Cozumel!  What a fun port of call.  I wish we could have spent more time there, as it's changed so much over the years and there's lots to see and do. As for us, we chose an X-rail adventure, where you ride these cars through the jungle and visit a sacred Mayan pond called a cenote. It was a blast, though very dusty. We booked ours through Shore Trips and the tour operator was Wild Tours. It was fun, but exhausting, and by the end of the excursion we were ready to go back to the ship, shower off all the Mexican dirt, and have lunch in the Windjammer.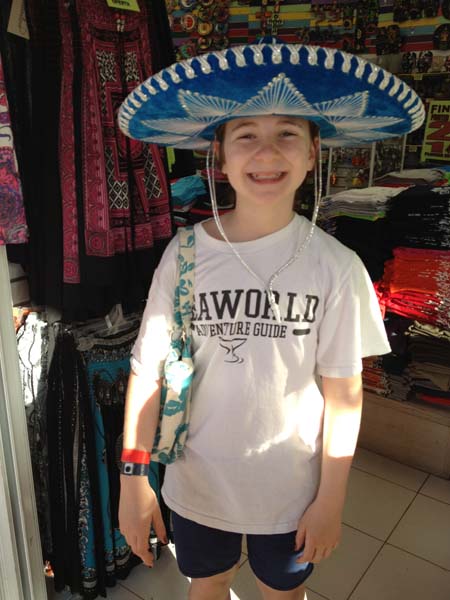 Overall, Liberty of the Seas was lovely, the crew was friendly and the port was fun. I'm probably going to stick with 7 night cruises from now on, and if possible, avoid Spring Break, but with a school age child it's kind of tough.