This weekend I bought a box of coconut flour.  I hadn't a clue as to how I'd use it, but I liked the idea of a more healthful flour infused with the lovely scent of coconut.   Whole Foods had two brands, Bob's Red Mill and Coconut Secret.  I went with the Coconut Secret because a) it was priced competitively and b) the canister was pretty!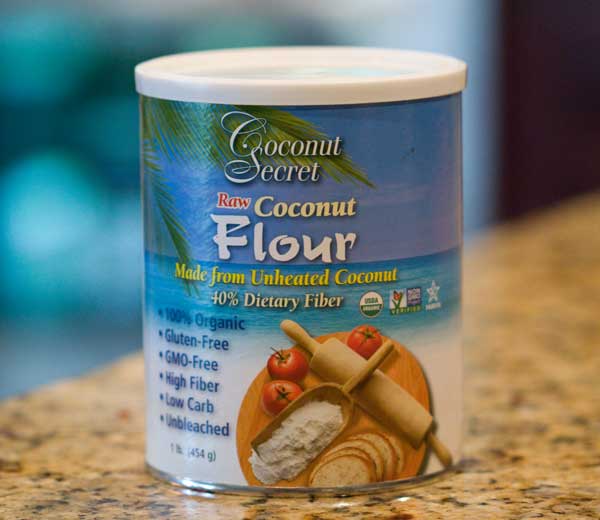 Plus it had all kinds of amusing health claims, including that it is gluten-free. Given that, I decided to go all out and make some completely wheat free chocolate muffins.  Having no idea as to what I was doing ratio-wise (coconut flour is VERY different than all-purpose), I started with a honey muffin recipe from Tiana Coconut and added cocoa powder, chocolate chips.  I also used agave nectar instead of honey because I like agave's flavor.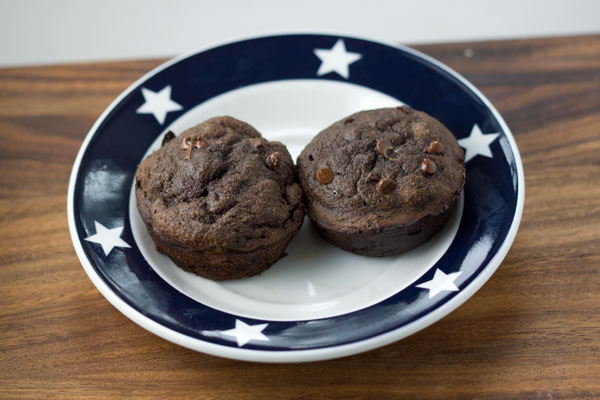 The muffins were definitely interesting.  Our family enjoyed them, but the texture was not the same as gluten muffins.  I don't want to say "eggy" because that sounds negative, but the egg was noticeable.  Now I'm wondering if the texture of Elana's cupcakes is similar, and thinking I'll have to try those too.
For now, here's the muffin recipe. It only makes 6 muffins.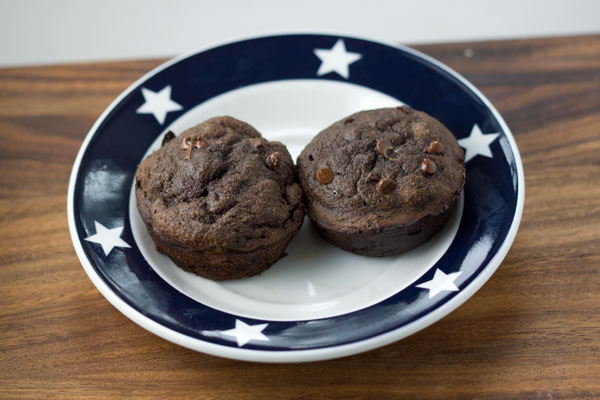 Coconut Flour Chocolate Muffins
Gluten free chocolate muffins made with coconut flour
Ingredients 
1/4

cup

coconut flour

2

tablespoons

unsweetened Dutch process cocoa powder

1/4

teaspoon

baking powder

1/4

teaspoon

salt

3

large eggs

room temperature

2

tablespoons

whole milk or coconut milk

3

tablespoons

agave nectar or honey

2

tablespoons

melted butter

1/2

teaspoon

vanilla extract

2

tablespoons

chocolate chips
Instructions 
Preheat the oven to 400 degrees F. Line 6 muffin cups with foil liners or grease using your preferred method – I used a little butter and dusted it with extra cocoa powder. Foil cupcake liners would probably be ideal.

Mix the coconut flour, cocoa powder, baking powder and salt together in a bowl and set aside.

In a small mixing bowl, whisk together the eggs, milk, agave, melted butter, and vanilla.

Add the flour mixture to the liquid mixture and stir until blended, then add chocolate chips.

Divide batter between 6 muffin cups and bake for about 15 minutes or until muffins appear set. Let cool in the pan for about 10 minutes, then carefully remove from muffin cups.
Notes
Note: Since the recipe calls for baking powder and baking powder is acidic, I used Dutch process cocoa powder, which is alkaline. I thought the two might react better. If you use natural cocoa powder and baking powder, two acidic ingredients, you might get different results – maybe good, maybe flat. I have only tested with Dutch process cocoa (neutral) and baking powder (acid).