I have three favorite double chocolate cookie recipes, plus a new one to add to the list.  These Chocolate Brownie Cookies are featured in the November issue of Food & Wine, where editor-in-chief, Dana Cowin declares them the most delicious she's ever had.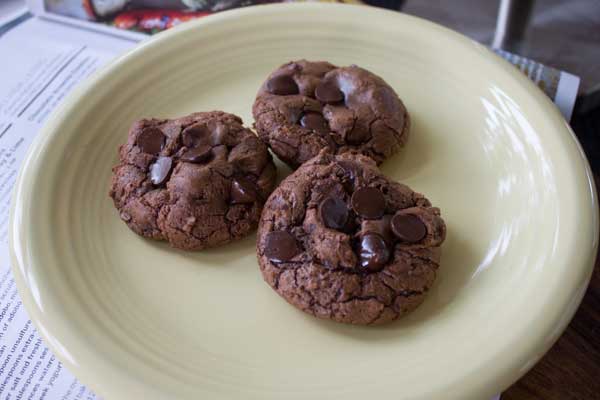 The magazine describes them as crispy-chewy brownies in cookie form, but mine were less crispy and very fudgy one the inside.  Not that I'm complaining, but I've had cookies that were a lot more  brownie-like.  These were more like Maida's Whoppers or Sarabeth's Chubbies —  fudgy, fat and decadent.  They might have been crispier had a I used a chocolate with 53% cacao (semisweet), but I made two batches and never used anything below 63%.  My favorite version was with 70%.
Chocolate Brownie Cookies are definitely worth trying.   They hold their shape nicely and the dough can be shaped, frozen, and baked as needed.  The recipe is also easy to halve or quarter, so if you want to splurge and make these with really good chocolate, you can make a quarter batch and not spend a fortune.