Today's cookie is a twist on an old favorite. It's an oatmeal cookie made with pomegranate flavored Better Oats, a pre-flavored oatmeal.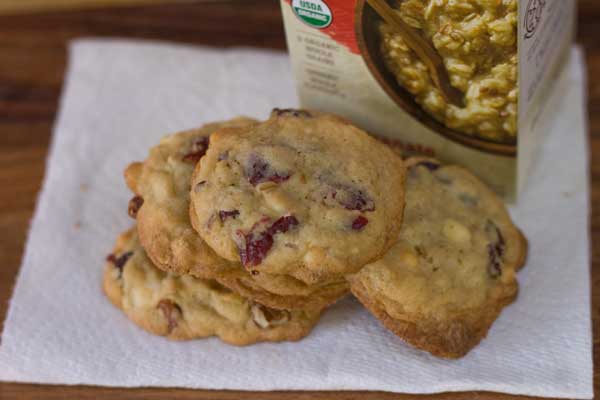 Better Oats is a new brand of oatmeal which comes in a small box containing five individually packed servings of one flavor.   Conveniently packaged for people on the go (or who haven't had coffee yet and don't feel like pulling out a measuring cup), the sleeves can be used to measure just the right amount of water for making the oatmeal.  But that's just one little innovation. What I really like about Better Oats is the sheer number of flavors they make.  I sampled four.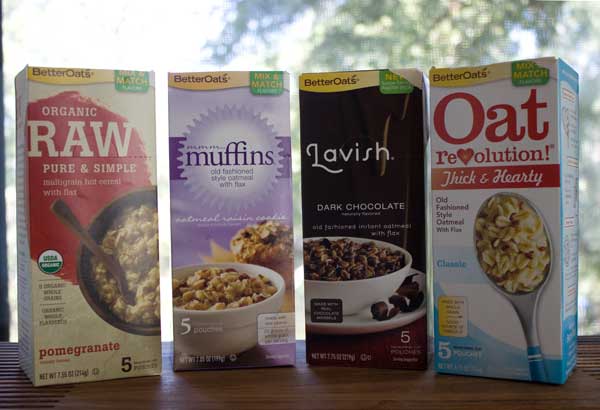 Lavish Chocolate reminds me of the chocolate flavored Malt-O-Meal I tried once when I was a child.  Memories, anyone?   This was not my favorite, but my mom thought it was delicious and took the rest home with her.
Raw Pomegranate includes organic oats, extra grains such as flax, evaporated cane juice (sugar) and a punch of pomegranate flavor.  It works very well in cookies and has a clean, fresh, taste when eaten as regular oatmeal.
"Muffins" Old Fashioned Style Oatmeal With Flax is a flavor of oatmeal designed to taste like muffins or cookies.   It has a pretty strong flavor and would probably be enjoyed by kids.  I liked it prepared as oatmeal and as a flavor and texture booster in a batch of scones.
Oat Revolution Thick & Hearty Classic is made with really thick and chewy oats and flax. I loved it.Plus, it had six grams of protein which seemed pretty good for a packet of oatmeal.
Now I need to go to my local grocery store and see how many Better Oats they could fit onto the cereal aisle.
If you want to try the oats, there's a $1.00 coupon off offer on their web page.
Recipe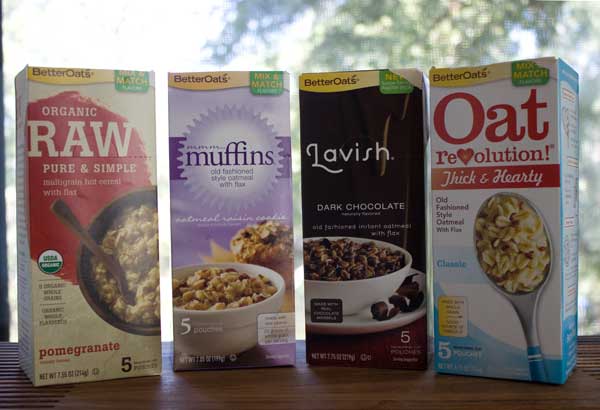 Better Oats Review
A thin and chewy white chip cookie with a hint of pomegranate flavor
Ingredients 
1

stick

4 ounces unsalted butter, room temperature

1/3

cup

granulated sugar

1/3

cup

light brown sugar

1

large egg

1/2

teaspoon

vanilla

1/4

teaspoon

baking soda

1/4

teaspoon

baking powder

1/2

teaspoon

salt

1

cup

plus 2 tablespoons all-purpose flour

aerate and stir well before measuring

1

packet Better Oats

RAW Pure and Simple Pomegranate flavored

2/3

cup

white chocolate chips

1/2

cup

dried cranberries

1/3

cup

chopped and toasted pecans
Instructions 
Preheat the oven to 350 F. Line two heavy duty baking sheets with parchment paper or nonstick foil.

In a large bowl, using medium-high speed of an electric mixer, beat the butter and both sugars until creamy. Add the egg and beat just until mixed, then beat in the vanilla, baking soda, baking powder, and salt, scraping bowl often.

By hand, add the flour and stir until it is absorbed. Stir in the Better Oats, white chips, cranberries and pecans.

Using about a level tablespoon, drop rounds of dough about 2 ½ inches apart onto the parchment or nonstick foil lined baking sheets. Bake one sheet at a time for 10-12 minutes or until edges are nicely browned. Let cool on baking sheets for about 5 minutes, then carefully transfer to a wire rack to finish cooling.