Update:  I can tell it's baking season because we already have the 50 comments.  Thanks to EVERYONE for playing along.  Enjoy the Peppermint Ice Cream Cake even if you don't receive the free condensed milk coupon.
October is National Dessert Month, and Eagle Brand wants to celebrate by giving the first 50 United States-based Cookie Madness readers a free coupon. Just leave a comment telling me how you use condensed milk and Eagle Brand will send you the coupon.  My favorite way to use condensed milk is in Magic Cookie Bars, but I also like to use it in a short-cut, no-ice-cream-maker required version of ice cream.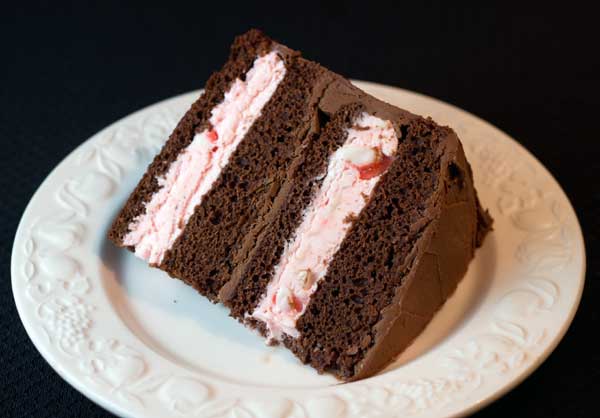 I mentioned this ice cream recipe last year and have been making it on and off ever since with varying flavors and pan shapes.  This week's peppermint flavored version, was frozen in 9 inch round cake pans and used between layers of chocolate cake.  It was great because I didn't have to worry about softening ice cream and refreezing it and because this recipe never turns out grainy or icy.  The cake in the photo uses a full batch, but a half a batch will make the perfect filling to this smaller size ice cream cake.  I've added a few notes on how to incorporate it into a cake, but overall it's pretty easy.  For the cake above, I used some Cake Mix Doctor brand cake mix I had on hand, but you can use any chocolate cake and frosting recipe you want.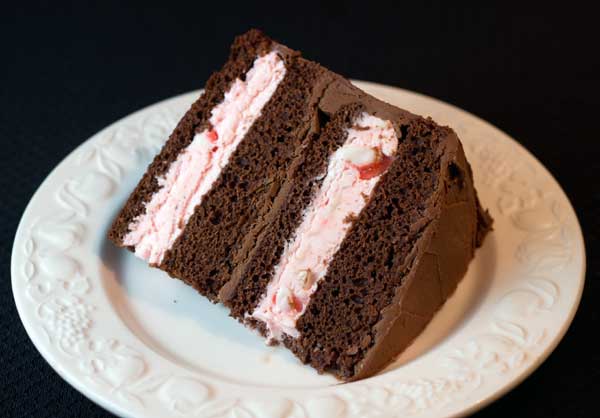 No Ice Cream Maker Peppermint Ice Cream
Peppermint ice cream made without an ice cream maker
Ingredients 
1

can

14 ounces Eagle Brand condensed milk

1

teaspoon

of vanilla extract

2/3

cup

chopped peppermint candies

2

cups

of heavy cream
Instructions 
Line inside of a 9x5 inch loaf pan with plastic wrap. If using the ice cream between cake layers, line two round 8 or 9 inch cake pans with plastic wrap.

Pour condensed milk and flavorings (vanilla and peppermint) in a large mixing bowl.

In a second bowl, whip the cream until thick. Fold the whipped cream into the condensed milk mixture, then pour into the loaf pan OR divide evenly between the cake pans. Cover with plastic wrap and chill for a few hours or until very firm.
Notes
If making cake layers, lift the two firm ice cream rounds from their pans and use between layers of a three layer cake. If making a two layer cake, split the layers, and fill with the two ice cream slabs and one layer of frosting (as shown in photo).