I wasn't planning on starting the year with a healthy recipe, but this Banana Bran Bread was so tempting and perfect for these dark, drizzly days we've been having that I just had to try it. It's a high fiber, sweet tasting quick bread from Camilla Saulsbury's excellent book, 5 Easy Steps to Healthy Cooking: 500 Recipes for Lifelong Wellness
.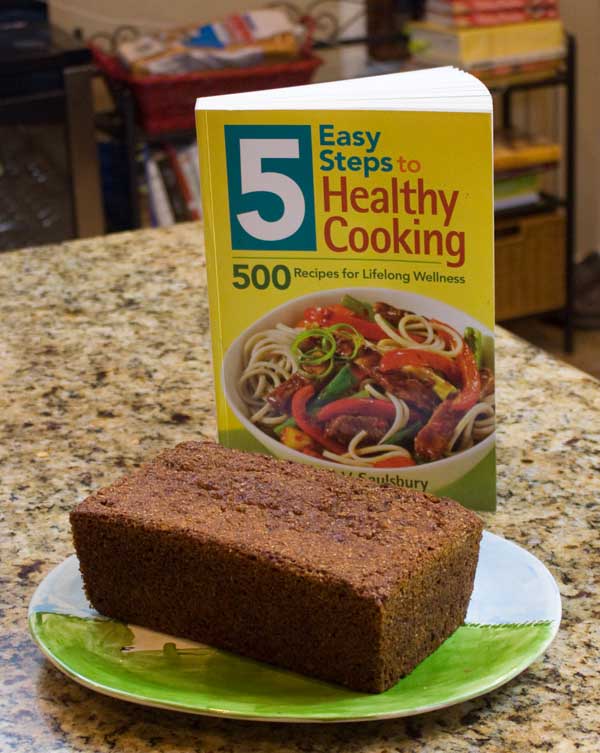 A little info on the book, which happens to be one of my favorites from last year:  The title says "5 Easy Steps", and while she does give you those 5 steps, Camilla also shares 500 ideas in the form of fantastic recipes using today's "super foods". The recipes aren't dietetic or overly complicated, but rather enticing and eclectic and relatively simple to prepare once you've gathered the ingredients. Some recipes are pretty basic (though perfect and delicious, such as Camilla's carrot soup) while other call for nutrient rich alternatives such as cream made from ground cashews, kale instead of lettuce, interesting pasta shapes, and grains you might have been meaning to try, but weren't sure quite how. Also, I think vegetarians will find the book appealing given all the protein/veggie entrees, but the book includes plenty of recipes that include fish, chicken and beef. Not to mention appetizers, soups, desserts and quick breads.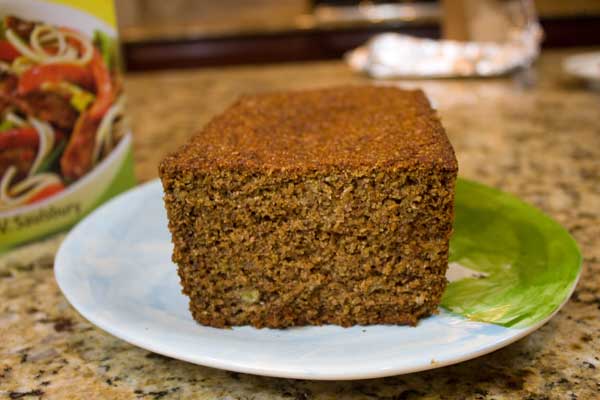 This bread is a good example of the types of recipes in the book. Instead of refined sugar and eggs, it calls for bananas and rice syrup, honey, or maple (so you can make it vegan pretty easily) and instead of butter it calls for a small amount of oil. The bread is sweet, dense, and kind of like a good bran muffin in bread form. Mine baked up with a flat top and perfect boxy appearance, and I was able to cut it into neat squares. It's good toasted or at room temperature, and in my opinion, a little better on day two than day one. I think that given the lack of eggs and butter, it might stay fresh longer than other quick breads, but I don't know if we'll give it that chance. Even Fuzz liked this one, and she's not a fan of banana bread.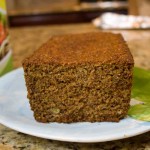 Print Recipe
Banana Bran Bread from 500 Healthy Recipes
Banana Bran Bread
Ingredients
1 1/4

cups

whole wheat flour

1 1/4

cups

natural bran

1 1/2

teaspoons

baking soda

1

teaspoon

baking powder

1/2

teaspoon

salt

1/2

teaspoon

ground nutmeg

1/4

teaspoon

cinnamon

1

cup

mashed bananas or 2 large

3/4

cup

nonfat yogurt

1/2

cup

maple syrup

brown rice syrup, honey or agave syrup

1/4

cup

vegetable oil
Instructions
Preheat oven to 350 degrees F. Grease a 9x5 inch metal loaf pan.

In a large bowl, stir together the flour, bran, baking soda, baking powder, salt, nutmeg and cinnamon.

In a mixing bowl, stir together the mashed bananas, yogurt, syrup and oil.

Add the flour mixture to the yogurt mixture and stir until blended. Pour in the pan and bake on center rack for about 55 minutes.

Let cool completely.
Excerpted from 5 Easy Steps to Healthy Cooking by Camilla V. Saulsbury © 2012 Robert Rose Canada Reprinted with permission. All rights reserved.