After having dinner at a steakhouse last week, we decided to share dessert. Todd wanted Key lime pie and I wanted cheesecake.  Fuzz's job was to break the tie, but since she was indifferent we settled on cheesecake so long as I promised to make a Key lime pie later in the week. This Key Lime Filled Angel Food Cake fulfilled that promise. It's a Key lime mousse layered between slices of angel food cake and it's super easy.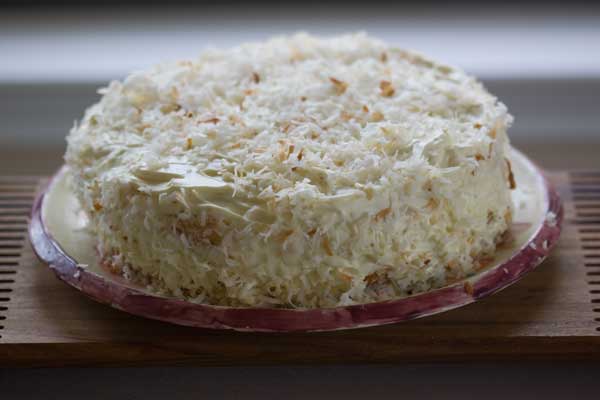 If your store sells loaf shaped angel food cakes, you can make a rectangular cake.  My store sells round angel food cakes, so my cake is round. This is not rocket science. You can use whatever kind of angel food cake you can find, cut it, and layer it with the Key lime mixture, which is kind of a lime curd (pictured below) mixed with whipped cream.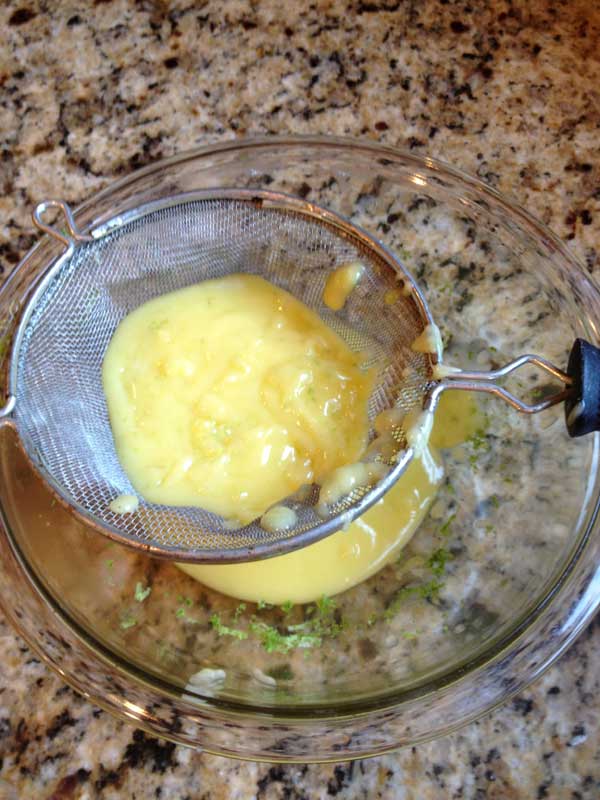 Here's the recipe plus a visual of how I constructed the cake in case the directions are confusing.  I took a large round angel food cake, cut it into three layers, but only used two.  To keep it straight during assembly, I used a springform pan lined with plastic wrap.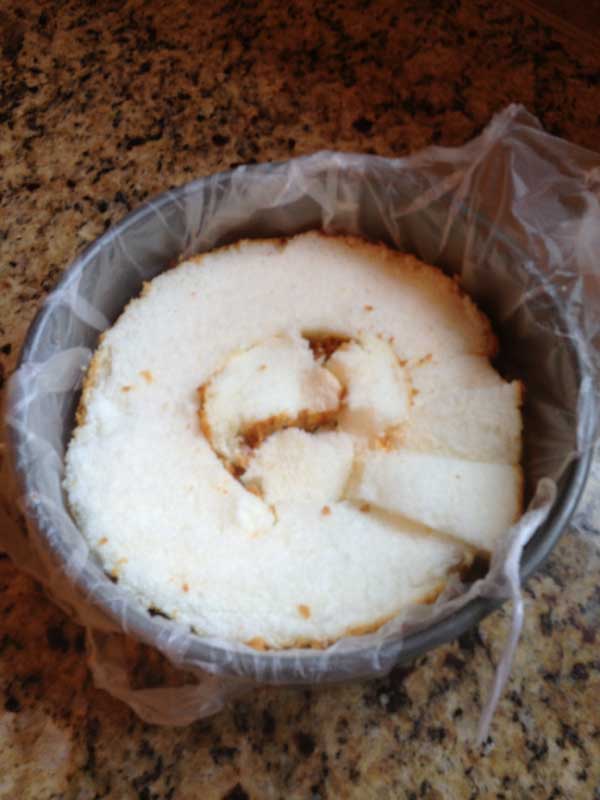 The only drawback to this method is that when you cut the cake, you can see where the ring was.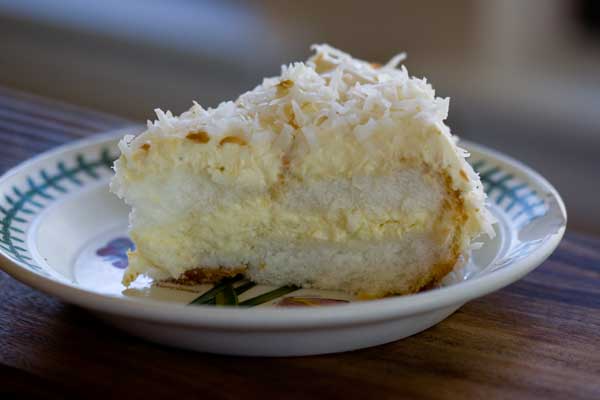 This didn't bother us, but next time I make this I'm going to try the method of just cutting a big tunnel in the cake, filling the tunnel with Key Lime mousse, then covering the whole thing in sweetened whipped cream. At any rate, I thought this was worth posting if only for the filling!  If you come up with a creative use for it, let me know.  It might make a nice filling for those trendy, layered jarred desserts that seem to be everywhere these days.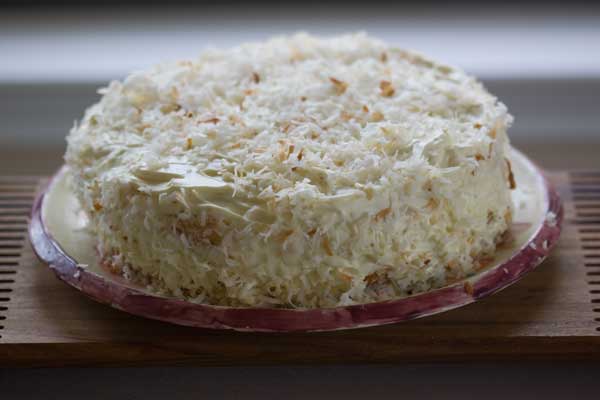 Key Lime Filled Angel Food Cake
Key Lime Filled Angel Food Cake Recipe
Ingredients 
2

large eggs

2

large egg yolks

1/2

cup

plus 3 tablespoons sugar

divided

6

tablespoons

bottled Key lime juice

2-3

teaspoons

of grated lime zest

1/2

cup

softened butter

cut into four pieces

1

cup

heavy whipping cream

1/2

teaspoon

vanilla extract

1

store bought loaf or round angel food cake – from 8 to 18 oz

1

cup

sweetened flaked coconut

lightly toasted
Instructions 
In the top of a double boiler, whisk together eggs, yolks, 1/2 cup of the sugar,

lime juice and zest. Put the top part of the double boiler over simmering water and cook, whisking constantly and gradually adding pieces of butter until mixture reaches 160 degrees F. Strain. Taste it, and if it's not tart enough for you feel free to add some more zest. Put a small piece of parchment over the surface and let cool completely in the refrigerator.

In a large bowl, beat cream until stiff peaks form. Beat in sugar and vanilla. Fold together whipped cream and lime mixture.

Now it's time to build the cake. If you're using a loaf, you can split it into three layers, spread filling on two, stack and cover. If you are using a larger round cake (my store sells big round ones which are over a pound, you'll only use about 2/3 of the cake. With a serrated knife, cut the cake into three layers.

To make a mold, line a 9 inch round springform or high sided pan with plastic wrap. Press a layer of cake into the bottom. You'll have an empty circle in the middle since the angel food cake was a ring. Carve a piece from one of the layers and put it in the empty space. Spread some lime filling over the bottom layer of angel cake. Add the second ring. Again, carve a piece out of the third and fill the gap. Invert the cake onto a large plate, peel away plastic, and cover with remaining lime mixture. Sprinkle toasted coconut over the whole cake and chill for about an hour or until ready to serve.
Notes
If your store sells the loaf shaped angel food cakes, use one of those instead.