Millionaire Pie is a family favorite, and while I don't know the exact origin of the name, it's reasonable to assume it comes from the rich ingredients — whipping cream, pecans and butter. There's another version of the recipe made with condensed milk, but this small Millionaire Pie is closest to the one my grandmother made.  She would sometimes add bananas, top it with cherries and call it "Banana Split Pie" or double the recipe, add bananas, make it in a 9×13 inch pan and call it "Banana Split Cake". My husband and daughter aren't banana fans, so we leave them out. If you do add bananas, make sure to eat the pie all at once so they don't turn brown!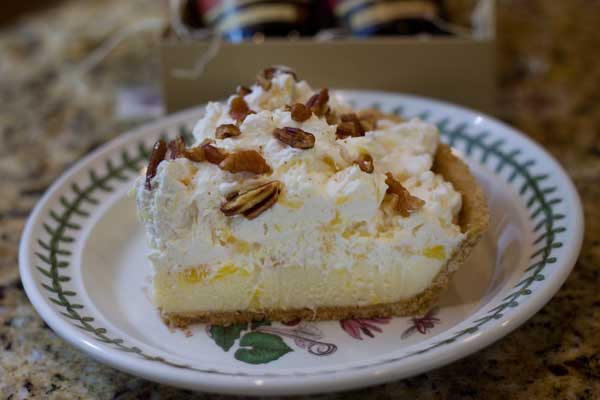 Small Millionaire Pie
An easy summery pie.
Ingredients
1 store bought pie crust (like a Keebler type) or homemade crust
8 oz (1 cup) heavy whipping cream
1 teaspoon vanilla extract
3 tablespoons confectioners' sugar
2 (8 oz) cans crushed pineapple, well drained
4 ounces (1 stick) unsalted butter, softened
2 cups sifted confectioners' sugar
1 large egg, pasteurized (such as Safe Eggs)
1/8 teaspoon of salt (only if using unsalted butter)
1/3 cup toasted chopped pecans
Instructions
Prepare the crust as directed on the package and let cool.
Beat the whipping cream until soft peaks form. Beat in the vanilla and the sugar. Fold in the pineapple. Set aside.
In a second bowl, beat the butter and 2 confectioners' sugar until creamy. Beat in the vanilla, egg and salt.
Spread the butter mixture over bottom of the shell, then spread the pineapple mixture over the butter mixture.
Sprinkle top with toasted pecans.
Chill overnight.
Notes
If you plan on using a homemade crust in a standard 9 inch size pie shell, you can keep the butter/sugar mixture the same and increase the whipped cream/pineapple mixture by 1 1/2. As written, this works best in a smaller size pie shell such as the ones you find on the baking aisle.