After eating my weight in chocolate chip cookies yesterday and not feeling good about it, I decided that today's recipe would be something a little lower in fat. This recipe for No Pudge Brownie Clones, seemed worth a try. It had loads of good reviews, plus it seemed like a good way to use up some of the gross high protein chocolate pudding I bought over the weekend.  How different could that be from Greek yogurt?  Okay, a lot.  But based on all the crazy substitutions made by reviewers,  it sounded like this recipe was fool-proof and you could substitute just about anything for anything!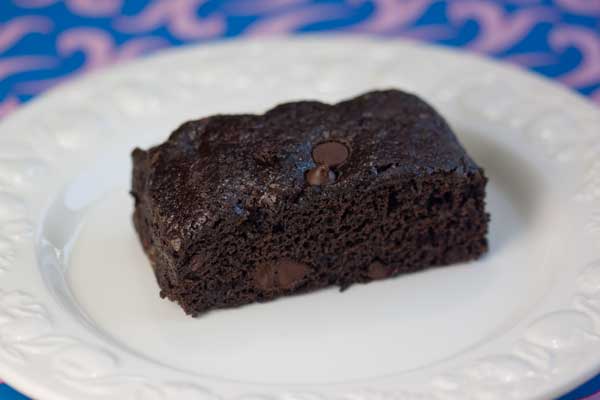 And there was the problem.  There were so many substitutions in the review section I wasn't sure which version would be best.  To be safe, I opted on making a  half batch loaf pan size version in case the brownies were terrible. Plus, my low fat brownie eating partner is away at camp, so most likely I would be the only one eating them. So I halved the recipe, used the high protein pudding in place of Greek yogurt and added a few chocolate chips. And while the brownies weren't decadent, they were good and definitely satisfied my need for chocolate.  I'm kind of looking forward to eating another one tomorrow!
Here's the recipe as written for an 8 1/2 by 4 1/2 inch loaf pan. If you only have a 9×5, that should be fine, but check the brownies at 20 minutes since a larger, flatter surface area will cause them to cook faster.

No Pudge Brownie "Clones"
A delicious reduced fat brownie recipe
Ingredients
6 tablespoons all-purpose flour (1.7 ounces) or equivalent (7 T.) cake flour**
1/8 teaspoon baking soda
1/8 teaspoon salt
1/2 cup granulated sugar
1/4 cup Hershey's Extra Dark cocoa powder
1 teaspoon cornstarch
2 tablespoons lightly beaten egg
1 teaspoon vanilla extract
3 ounces (or a slightly heaping 1/3 cup) of Greek yogurt or prepared chocolate pudding
3 tablespoons chocolate chips
Instructions
Preheat oven to 350 degrees F. Line an 8 ½ by 4 ½ inch metal loaf pan with foil and spray with baking spray.
Mix all dry ingredients (flour through cornstarch) together in a bowl. Make a well in the center and add egg, vanilla and yogurt (or pudding).
Mix all the ingredients together and stir in the chocolate chips. Spread in the pan and bake in lower third of the oven for 25 minutes. Remove from oven and let cool completely. Lift from pan, peel away foil and cut into squares.
Notes
I weighed out about 1.7 ounces of White Lily which is more like cake flour, so if you want to use cake flour or whole wheat pastry flour instead of all-purpose, that should be fine. If you have a scale, it's definitely best to weigh the flour.