Some people pair cookies with milk, but for the past 30 years I've been pairing them with black coffee.  I love it so much that I sometimes wonder if cookies would be worth eating without a hot cup of coffee on the side.  Okay, not really….but maybe sort of?  Coffee is pretty much my favorite beverage, which is why I am happy to be partnering with Folgers to promote Folgers Black Silk.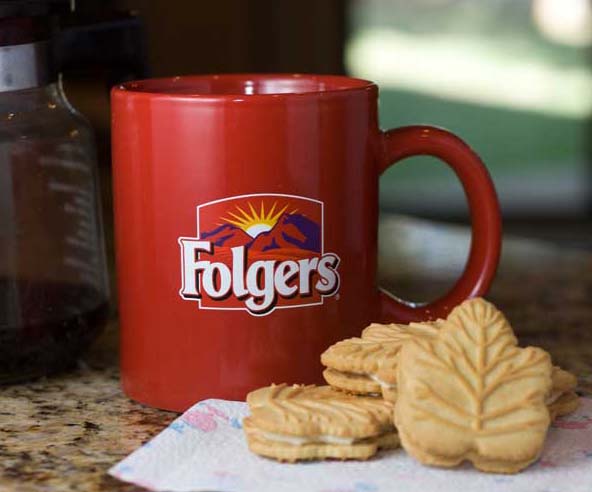 Black Silk is an interesting brew. I first tried it while visiting Folgers with a group of food bloggers and was surprised at some of the reactions to it. A few people who admitted they didn't care for coffee said they liked the Black Silk, describing it as smooth and easy to drink. Personally, I never had a problem drinking  just about any kind of black coffee, but it made me more aware of the fact that some people were more discriminating to the point that when I got home, I bought some Black Silk and served it to company.  Without being asked, a couple of people commented on it and asked what brand it was, at which point it was very fun to say "Ah, it is Folgers!"
Another part of the Black Silk promotion is that I'll be going to Chicago to hang out at the BlogHer 2013 Folgers Recharge Lounge — a very clever name for a booth where Folgers will be offering samples of their new gourmet flavors (Caramel Drizzle and Mocha Swirl Morning Cafe), Pillsbury donuts, the opportunity to enter numerous giveaways, and where attendees of the conference can recharge their devices on one of 50 outlets.  This is kind of a big deal at blogger conferences, as you can imagine.  I'm actually a little behind the curb when it comes to maneuvering my technical devices (I just learned how to text last year), and will hopefully pick up some new skills.  I'm also going to be updating my Cookie Madness Facebook page with photos of Chicago BlogHer 2013 and Folgers happenings.  Maybe I'll even include a few non-Folgers photos from our the city.  Fuzz and I are looking forward to eating lots of awesome Greek food and seeing some good Chicago style improv.
More details to come, but for now let's go straight to this giveaway!!  Before I head to Chicago, I will be giving away one Bold Gift Pack worth $200.  It will include the following:
— $25 worth of Folgers Black Silk products
— One bold travel bag
— One set of bold personal care travel accessories.
Notice how everything says "bold" in front of it? That's because Black Silk has been described as "bold and smooth". So given that, "bold" is the theme of this giveaway. For a chance at winning the Folgers gift pack, leave me a comment telling me either what makes you bold or the boldest thing you ever did. For example, my family thinks the boldest thing I ever did was sky dive, but I'm not so sure about that. Bold could me something adventurous, but it could also describe a situation that involved stepping out of your comfort zone for a moment. Let me know in the comments!
I will pick the winner on July 24. If you don't win this giveaway, make sure to stop by the Folgers Facebook page (don't worry, I'll remind you) starting July 25 to get free samples of Folgers Black Silk, Folgers Fresh Break Black Silk or Folgers Gourmet Selections Black Silk K-Cup Packets. Good luck!
Giveaway now closed. Congratulations to Kim at Kim's Cooking Frenzy.