A few weeks ago Jif asked if I was interested in receiving samples of their new almond butter and cashew butter and using it in a few new recipes. Of course I was! Seeing as how I eat peanut butter every day and am always looking for new baking ingredients, this was a no-brainer. And so I waited. A few weeks went by (during which I also checked the grocery store shelves) and finally one day the doorbell rang. Guess what was waiting on the porch?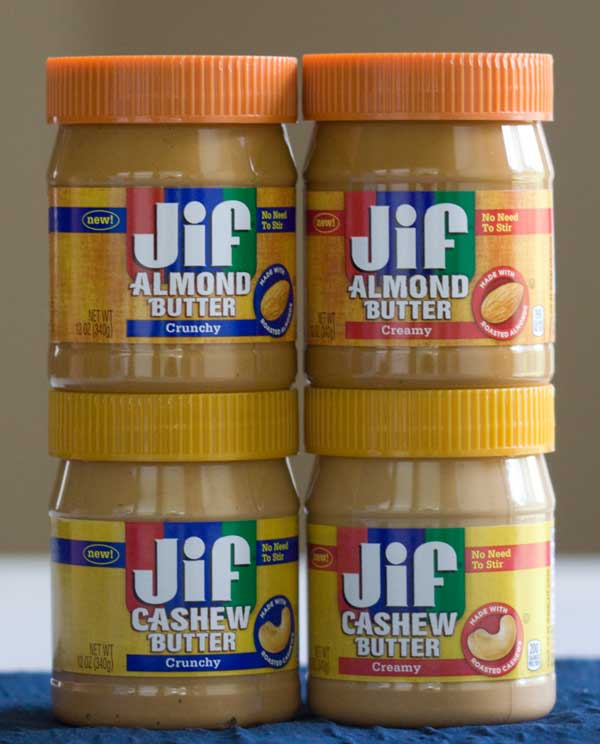 The samples appeared right about the time Fuzz arrived home from school, so "after school snack time" turned into "taste test time". In my opinion, Jif's almond butter tasted slightly sweeter than some of the other brands, was a bit slicker in texture, and somewhat lighter.  As for the cashew butter, it had a mild flavor and a satiny, buttery texture.  I liked it straight out of the jar, but could imagine a few new ways to use it, including as a base for one of my favorite Indian recipes, Cashew Coconut Chicken. As for Fuzz, she liked mixing things up and requested a trio of almond butter, cashew butter and peanut butter on toast.  This is now her go-to breakfast.
But let me backtrack, a bit. Once we knew we liked the product, Fuzz and I went through Jif's ever growing recipe collection and picked two. First up were the Almond Oatmeal Breakfast Bites. They reminded me of the "No-Bake Peanut Butter Balls" we used to make back in Kindergarten, only better.  The Jif version calls for almond butter rather than peanut butter, plus oats, wheat germ and cranberries for extra vitamin E and zinc.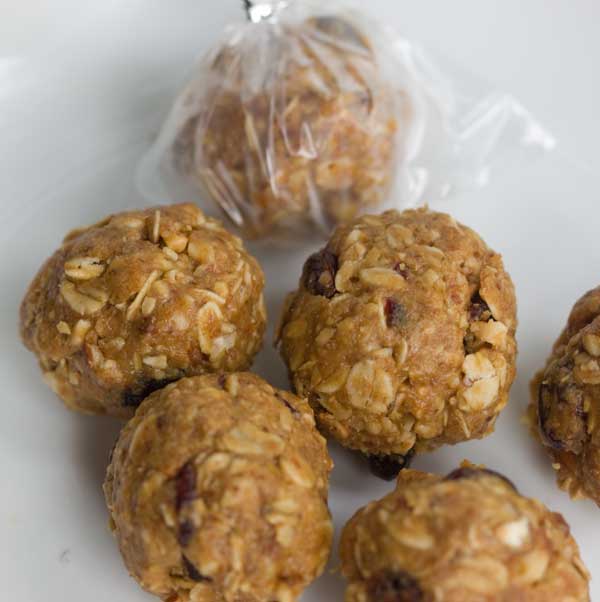 They tasted great, and were kind of cute when individually wrapped and tied with a twisty. And speaking of cute, here's Fuzz doing the wrapping.  They're supposed to be for breakfast, but we're going to freeze them and throw them in her lunchbox this week.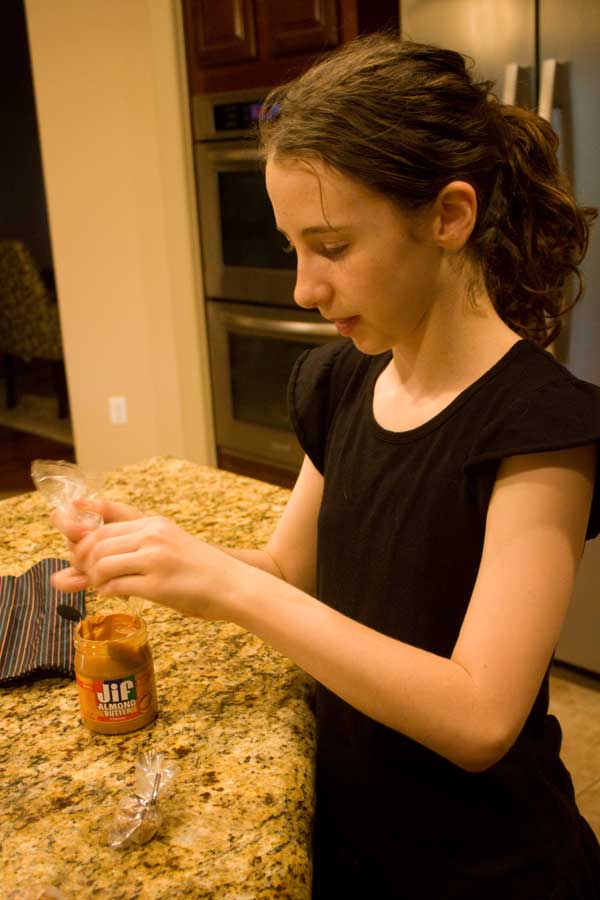 The second recipe we tried was for No-Bake Cashew Trail Bars made with Jif Cashew Butter. They held together nicely and tasted deliciously sweet and dessert-like.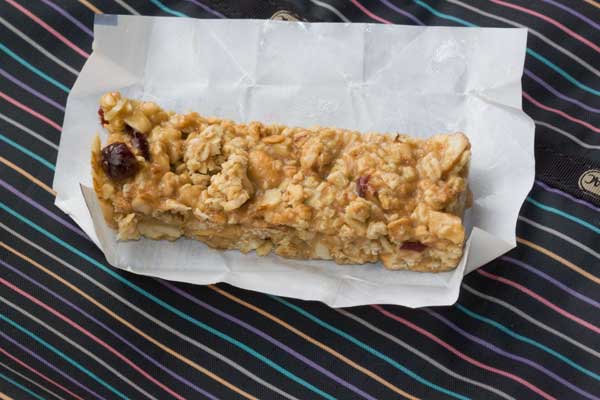 The recipe calls for three cups of granola, so you'll get different results using different types of granola. Tip:  If you don't want to make the full recipe, you can halve it and make it in a 9×5 or 8 1/2 inch by 4 1/2 inch loaf pan.   I'm keeping this recipe because it's perfect for using up the crushed granola that always appears at the bottom of boxed granola.  It's also an excuse for me to make more homemade granola (as if I need one).
So far, those are the only two new recipes we've made from the Jif recipe collection, but I plan on trying more and will keep checking their website since their test kitchen is probably busy trying to come up with new ones. In fact, I'm sure someone in Ohio stays awake at night thinking of new ways to use these butters.  Hats off to that person! Maybe I can convince them to try my new recipe, which I plan on posting tomorrow.  Hint:  It's a twist on almond butter brownies, and it's awesome.
If you're interested in trying the new nut butters, the four flavors to look for include Jif Creamy Almond Butter, Jif Crunchy Almond Butter, Jif Creamy Cashew Butter, and Jif Crunchy Cashew Butter.  You can also read more about them on the Jif Facebook page which has a banner that is making me REALLY HUNGRY.
Disclosure: This post was compensated, but the opinions expressed are my own and we loved trying the new products.