Austin finally got a Trader Joe's, and we love going even though there's usually a line that loops around the store. I guess it's worth it, because we always find something new. I like their cheap-but-good wine selection (not the Three Buck Chuck but the $6 Spanish wines), dark chocolate, frozen chipotle chicken skewers, fresh green beans and my newest favorite — Trader Joe's Lite Coconut Milk. I bought it because it wasn't very expensive and figured it would come in handy at some point. Turns out it's the freshest smelling and tasting coconut milk I've ever used. And that's what led up to this pie.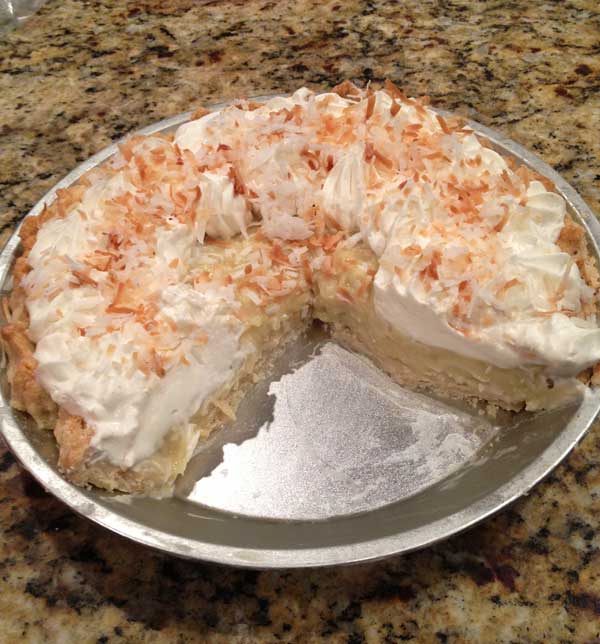 The original version is on Epicurious, but I saw that a lot of reviewers were using coconut milk in place of milk. Convenient! I did the same thing and made a few changes of my own. This one comes together quickly. It's not the richest coconut pie in the world, but it's still very good. The only advice I have is to make sure you use a high end coconut extract rather than one that smells like suntan oil.  If you have a favorite, let me know.
Print Recipe
Coconut Cream Pie with Coconut Milk
An easy coconut cream pie recipe made with coconut milk
Ingredients
9

inch

crust

baked as directed

1/2

cup

granulated sugar

2

large eggs

1

large egg yolk

3

tablespoons

all-purpose flour

1 1/2

cups

lite coconut milk

1

cup

sweetened flaked coconut

1

teaspoon

vanilla extract

¼

teaspoon

coconut extract
Topping
1 1/4

cups

chilled whipping cream

1/3

cup

confectioners' sugar

1

teaspoon

vanilla extract

1/2

cup

shredded sweetened coconut

toasted
Instructions
Whisk sugar, eggs, egg yolk, and flour in a medium bowl.

Bring coconut milk to a simmer in a medium saucepan over medium heat. Gradually add hot coconut milk to egg mixture, whisking constantly. Return to same saucepan; cook until pastry cream thickens and boils, stirring constantly, for about 4 minutes. Remove from heat. Mix in coconut, vanilla and coconut extract. Pour filling over baked crust and let cool slightly. Cover with a piece of parchment or wax paper and chill until firm and cold.

Using electric mixer, beat cream until soft peaks form. Beat in sugar, and extract. Spread whipped cream all over top of filling (or pipe it around edges). Sprinkle evenly with toasted coconut.
Notes
To toast coconut, lay it on a parchment lined baking sheet and bake at 350F until it edges start to brown. Mix it all up on the tray so that the browned parts are mixed with the still-white coconut. Let cool.