Today's recipe is for people in my secret club. It's called "The Club for People With 6 inch Bundt Pans". If you're not in the club, it's probably because you like big Bundts and that's perfectly okay. But for a small family or someone who likes baking multiple cakes, a 6 inch Bundt pan is a great investment because it's ideal for making half batch versions of the standard Bundt pans, which are 10 inches and have a 12 cup capacity.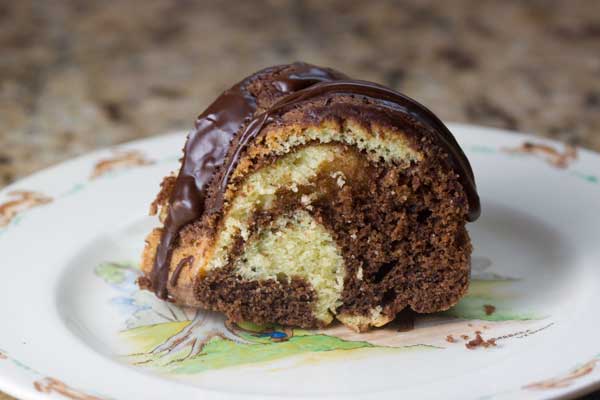 If you own a 6 inch Bundt pan and a scale, you can even weigh out half boxes of cake mix and make half batches of any cake mix based Bundt recipe. However, you won't need to do that here, because today's recipe is a good, scratch, marbled Bundt.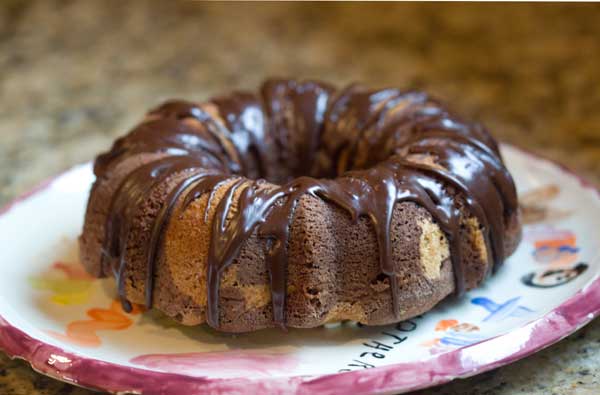 This recipe was originally from Maida Heatter who (to make matters even more complicated) designed it for a 9 inch Bundt. If you are in the even more exclusive group of people who own 9 inch Bundts, double the recipe and make it as Maida did. And for those of you in the mass majority who own 10 inch Bundts, you can also double it, but your cake will be a little short in stature.
Whatever you do, make sure to weigh the flour or sift it before measuring with a light hand, otherwise the cake will be dry.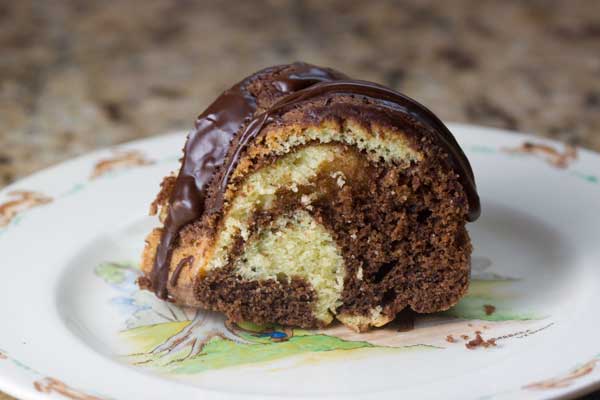 Marbled Mini Bundt Cake
A marbled chocolate and vanilla Bundt cake baked in a 6 inch or 6 cup capacity Bundt pan.
Ingredients 
1

teaspoon

instant coffee

2

tablespoons

boiling water

2

tablespoons

and 2 teaspoons Dutch Process unsweetened cocoa powder

1 1/4

cups

sifted all-purpose flour

5 ounces or 140 grams**

1

teaspoon

baking powder

1/4

teaspoon

kosher salt

2

large eggs

separated

1

stick

4 oz unsalted butter, softened

3/4

cups

granulated sugar

1/2

teaspoon

vanilla extract

1/4

teaspoon

almond extract or Butternut Extract

1/3

cup

whole milk
Glaze
1

ounce

of chopped semisweet chocolate

1/2

tablespoon

of unsalted butter

1/4

cup

sifted powdered sugar

1/4

teaspoon

vanilla

1 1/2

tablespoons

whole milk or as needed
Instructions 
Preheat the oven to 350 degrees F. Grease and flour a 6 inch Bundt pan.

Combine the instant coffee and boiling water in a glass measuring cup. Add the Dutch process cocoa powder and stir until smooth.

Weigh the flour into a bowl making sure you have 140 grams (5 oz) or carefully measure after you've sifted. This is important. Mix the flour with the baking powder and salt and set aside.

With a handheld electric mixer, beat the egg whites until very foamy. Gradually add 2 tablespoons of the granulated sugar and beat until soft peaks form. Set aside.

In a mixing bowl, beat the butter with the electric mixer until creamy. Beat in the remaining ½ cup and 2 tablespoons of granulated sugar until fluffy and light. Beat in the vanilla extract. Beat in the egg yolks.

By hand, stir in the flour mixture and milk, alternately, beginning and ending with the flour.

Measure out 1 cup or weigh out 8 oz of batter and place in a separate bowl. Stir in the cocoa mixture.

Stir the almond or butternut extract into the remaining vanilla mixture.

With a rubber spatula or scraper, fold half of the egg whites into the vanilla mixture. Fold the remaining egg whites into the chocolate mixture.

Now spoon the batter into the pan to make your pattern. Space about 4 tablespoons of chocolate batter around the bottom of the pan. Fill in the spaces with teaspoons of white batter. Repeat, but this time put tablespoons of white batter in the pan and fill the spaces with 5 teaspoons of chocolate batter. Repeat this pattern until you've used all the batter.

Bake for about 38-40minutes or until a toothpick inserted in the center comes out clean. Let cool in the pan for 10 minutes, then turn from pan and let cool completely.

In a 2 cup glass measure, melt the butter and chocolate together in the microwave. Stir until smooth, then stir in powdered sugar until pasty. Add vanilla and milk until icing is thin and smooth enough to drizzle. Spoon over the cooled cake.
Notes
If you double it and make it in a 9 inch Bundt pan, it might take up to an hour. If you double it and make it in a 10 inch Bundt pan, it will probably take 40 to 45 minutes.