Girl Scout Cookie Season is in full swing here in Austin, and last I heard they'd extended it until March 2.  If you haven't bought a box yet, I recommend the Samoas and the Trefoils.   I'm also curious to know whether any of you taste a difference in the cookies since Girl Scouts of Central Texas switched from ABC to Little Brownie Bakery.  The cookies I really like this year are the Trefoils, which taste more like the ones I sold as a kid.  It's possible the ones I sold were also from Little Brownie, but I really don't know.  I do know that in past years I found the Trefoils kind of boring.  This year they seem more flavorful, but that didn't stop me from doctoring them up a bit!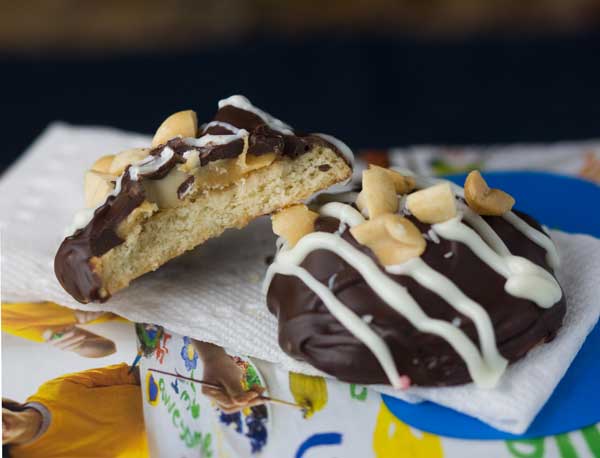 These are topped with a melted caramel mixture, some peanuts (optional), melted chocolate, and a little sea salt (optional).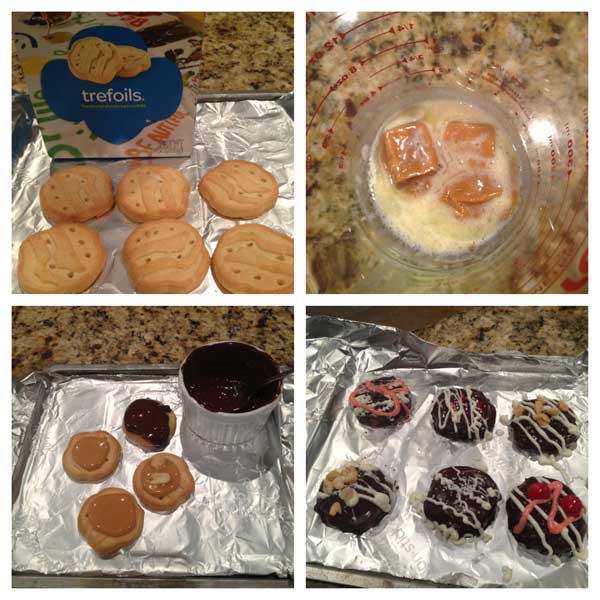 It's a good idea to start with a small batch  like this one just so you can gauge how much time it takes your microwave to do the job of melting the caramel. If you like it, buy more cookies and caramel and go crazy!   And don't forget to tell me what you think of this year's cookies.  I think the Samoas also taste a little better, but I detected a flavor I wasn't fond of in the Peanut Butter Patties — they almost tasted minty.  The lemon cookies were great.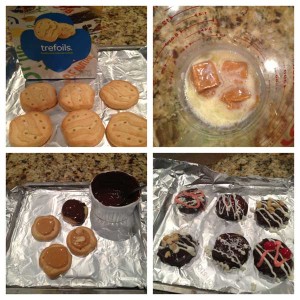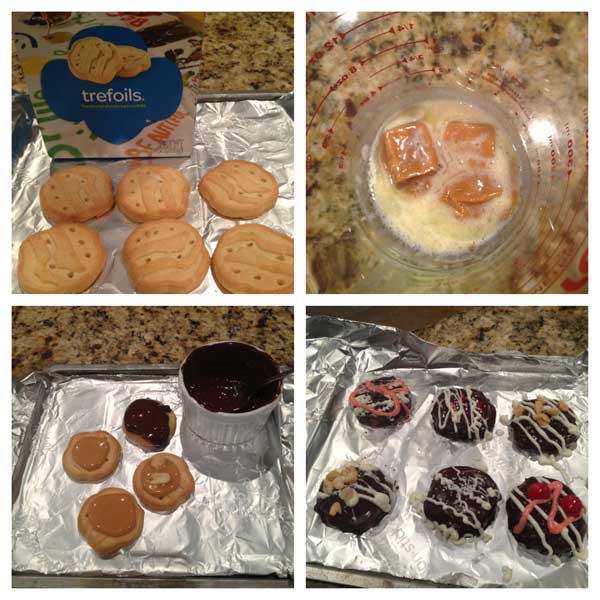 Caramel Topped Girl Scout Cookie Trefoils
Girl Scout Trefoils topped with melted caramel and covered with melted chocolate. A sprinkling of sea salt or some salted peanuts is optional.
Ingredients 
8

Golden Trefoil Cookies

1

teaspoon

each -- heavy cream and butter

4

unwrapped caramel candies

2

ounces

of chopped semisweet chocolate

or whatever kind you like

White chocolate for drizzling

optional
Instructions 
Arrange the cookies on a foil lined plate or toaster oven tray.

Put the cream, butter and caramels in a 2 cup Microwave-safe measuring cup (I use a Pyrex). Heat on high for 15 seconds and stir vigorously until mixture is melted and smooth (caramels should go from soft looking blobs to smooth as you stir). If your mixture isn't hot enough and caramels aren't quite soft enough to melt, return to the microwave for another 5 to 10 seconds and repeat, stirring until mixture is smooth. Don't overheat.

Spoon a little caramel sauce over each cookie. If you want, stick a few peanuts in the caramel (optional).

Chill until set.

Meanwhile, melt chocolate in a microwave safe bowl using 50% power. Spoon chocolate over cookies. Chill until set.

To decorate, put a small handful of white melting wafers or white chips in a heavy duty freezer bag. Microwave for about 30 seconds. Knead bag lightly making sure chocolate is completely melted. Snip off tip and drizzle over cookies.