Once in a blue moon I post a savory dish, and today is one of those days — -or evenings, rather. I had some leftover phyllo dough and decided to make individual Spanakopita (spinach pies) as a prequel to our dinner.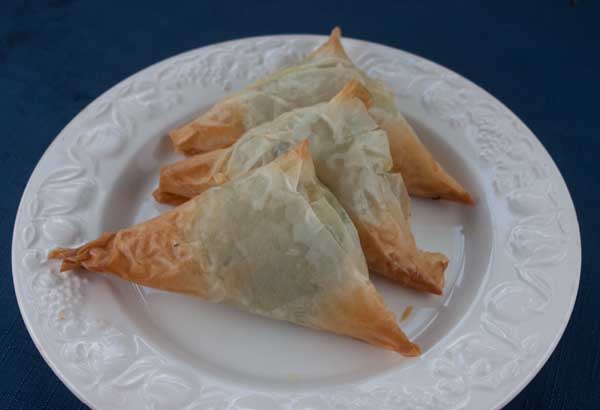 These are larger than the ones in the grocery store freezer, but not quite as big as a typical serving of "Spanakopita". You could serve them as appetizers or pair them salad and a glass of wine and call them a meal. Or double or triple the recipe! I kept the batch small because there are only 3 of us and we generally eat these as appetizers or for a light lunch.
This recipe uses one 6 oz bag of baby spinach, but if you prefer your triangles with more spinach and less cheese, use about bag and a half (or 8 or 9 ounces of spinach). Folding spinach pies is a lot of fun once you get the hang of it. If you've never made a triangular shaped pastry, here's a visual of how to get it started.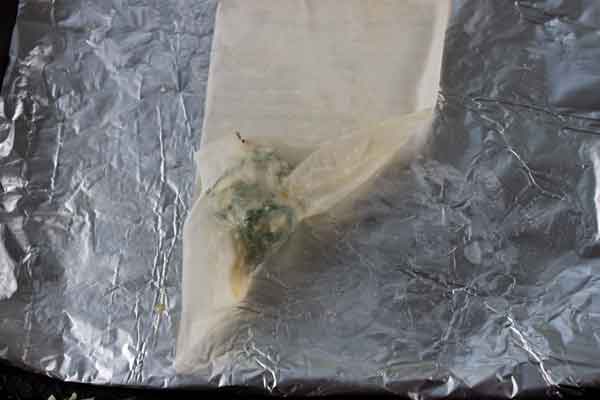 As for the filling, consider my recipe a template and do your own thing. I've been known to add a little mozzarella or Swiss, and I almost never use the same amount of fill. And finally, you don't have to bake these all at once. For instance, you can assemble them to this point, bake three for appetizers, then freeze the rest and keep them in a zipper bag until you're in a phyllo kind of mood.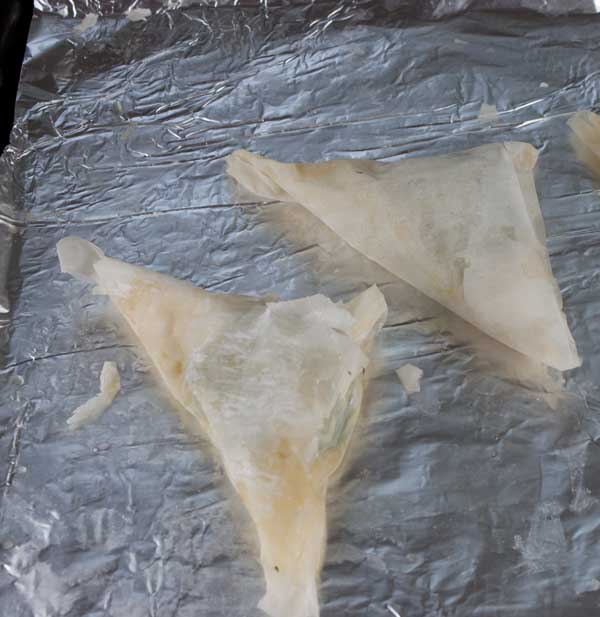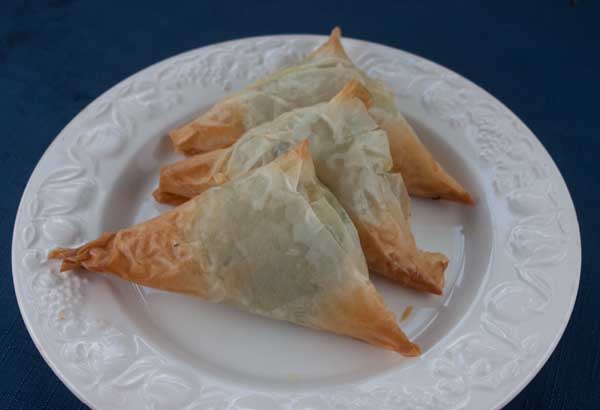 Spinach Pies or Spanakopita
Small batch recipe for miniature spinach pies. These are a little larger than the appetizer size triangles sold at the grocery store, but smaller than an entree size serving.
Ingredients 
1

tablespoon

olive oil

1/2

cup

chopped leek

1/2

cup

chopped onion

6 to 8

oz

of fresh baby spinach

1/2

teaspoon

dried dill

Salt and pepper to taste

3

ounces

crumbled Feta Cheese

2

tablespoons

lightly beaten egg

2

tablespoons

shredded Parmesan cheese
Assembly
2

tablespoons

melted salted butter mixed with 2 tablespoons extra virgin olive oil

6

sheets of phyllo dough

thawed (keep roll closed until ready to use)
Instructions 
In a large skillet, heat the olive oil for about 30 seconds. Add the leek and onion; cook until soft, then add the baby spinach and cook until wilted. Turn off heat. With a paper towel, press the spinach and soak up as much moisture as you can. Transfer to a cutting board and chop the spinach mixture, then put it all in a bowl.

Add the dill to the spinach and season to taste with a little salt and pepper. Stir in the feta cheese, egg and Parmesan cheese.

Open and unroll the phyllo dough. Carefully peel off top sheet (cover remaining sheets with a damp paper towel) and lay it lengthwise in front of you. Brush it gently with melted butter mixture, then fold it over lengthwise so you have a long, tall 4×12 inch strip that is two layers.

Spoon a heaping tablespoon of spinach mixture in the bottom left corner of the strip. It should be about 1 inch up from the bottom and ½ inch from the left side. Start folding it as if you would a flag. Take the bottom right corner and fold it over the spinach, then lift the folded spinach part and fold it up and then over. Keep going up until you have reached the end of the phyllo rectangle. If it's raggedy and ugly, don't worry – just smooth it a little and try to be neater on the next one! You can brush it with a little more butter mixture if you like. Lay your triangle on a parchment or foil lined baking sheet and continue until you have 7 or 8 triangles. Bake them at 350 degrees for 20 to 25 minutes or until golden. Let cool slightly before serving.

Alternately, you can freeze them. Put the triangles on a parchment lined cookie sheet, freeze until firm, then throw them in a freezer bag and store. To reheat, bake at 350 until they are golden.
Notes
You may or may not use all the butter mixture, and if you really want to cut the fat and keep things simple, you can use butter flavored or olive oil flavored cooking spray in place of the butter & oil mixture.