This week I baked 500 cookies for a school event. It was loads of fun, but the mini bake-a-thon has ended and our garage freezer, which until yesterday was stuffed to the brim with cookies, is now empty. This is actually a good thing since we are leaving Texas and I'm giving my freezer away on Sunday, but it's a little sad seeing it empty. That, and worrying where I'm going to keep all my baking ingredients in our new and much smaller big city kitchen. I won't be able to just pick up whatever new and interesting ingredient catches my eye, which is what led to these cookies.  They're made with Nestle's new(ish) Caramel Delightfulls.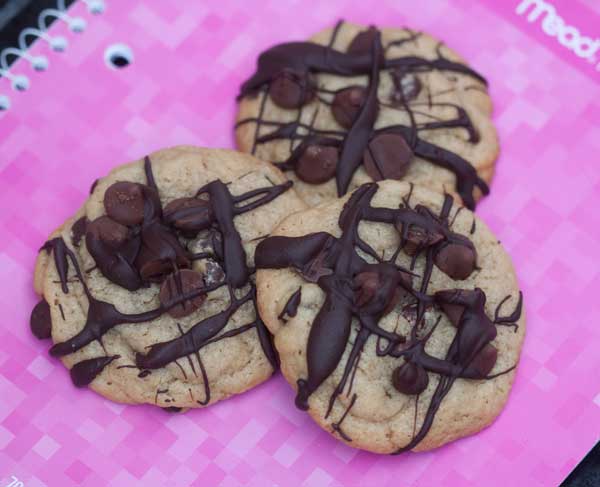 The Caramel Delightfulls are fun to use, but in my opinion they are best scattered over already-baked things rather than baked into things.  I did try baking them into cookies at what point, but they just tasted like little sugar bombs and the caramel filling kind of got lost.  So here's a recipe in which they are scattered on top, and keep in mind you can also do this same thing with any recipe for brownies. For the cookies, I started with Abby Dodge's One Pot Chocolate Chip Cookies. Along with adding the Caramel Delightfulls and the chocolate drizzle, I increased the salt to 1/2 teaspoon.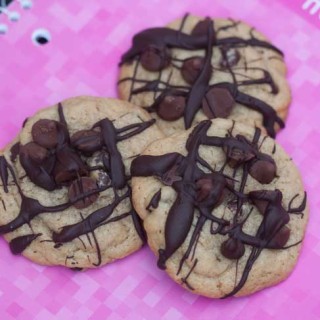 One Pot M&Ms Cookies
Chocolate Chip Toffee Chunk Cookies are variations on Abby Dodge's One Pot Chocolate Chip Cookies.
Ingredients 
8

tablespoons

unsalted butter

114 grams

1/2

cup

light brown sugar

100 grams

1/3

cup

granulated sugar

65 grams

1 1/2

cups

all purpose flour

190 grams

1

teaspoon

baking powder

1/2

teaspoon

salt

1

large egg

1

teaspoon

pure vanilla extract

1

cup

semisweet chocolate chips

1/2

cup

M&Ms

1

large dark chocolate bar

any brand
Instructions 
Preheat the oven to 350 degrees F. Line 2 cookie sheets with parchment paper.

Melt the butter over medium heat in a large saucepan. Remove from heat and add the sugar. Whisk until smooth and let cool for 5 minutes.

Mix the flour, baking powder, and salt together and set aside.

Whisk the egg and vanilla into the slightly cooled butter mixture, then add the flour mixture. Stir with a rubber scraper until mixed, then (after making sure the mixture is not so warm it will melt the chips) stir in chips.

Drop dough by heaping tablespoons onto baking sheets spacing 1 1/2 inches apart.

Bake 1 sheet at a time on center rack for about 12 minutes.

Remove from the oven and immediately scatter Caramel Delightfulls over the top of the cookies, allowing them to melt slight and adhere to the cookies. Let cool directly on the baking sheet for 10 minutes. Carefully transfer to a cooling rack and let cool completely.

Melt the chocolate in the microwave using 50% power and stirring every 30 seconds. Drizzle over the cookies, then chill the cookies just until the chocolate has set.
Notes
I had both types of brown sugar in the pantry so I used a little dark for added molasses flavor. Feel free to just use 100 grams of light brown sugar.