If you want "the best of the best" in chocolate cookies, this is the recipe for you. But there's one caveat — you have to like nuts. Along with loads of rich dark chocolate, these are packed with a mixture of toasted walnuts and pecans, which add flavor and texture and give the cookies a nice shape.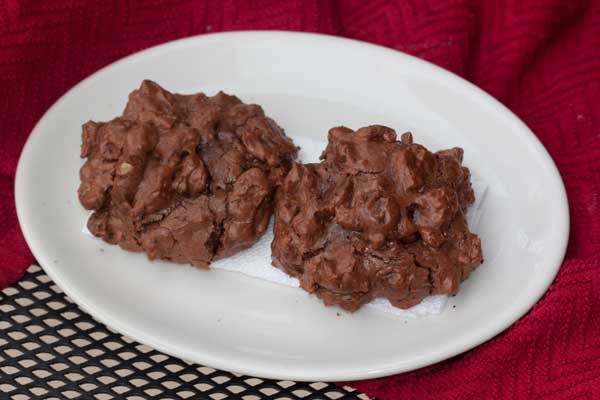 These cookies come with a little history. According to Maida Heatter, who called her version Chocolate Whoppers, they were originally served at an old New York restaurant called The Soho Charcuterie. Since then two other famous female chefs have done twists on the cookie — Sarabeth Levine of Sarabeth's Kitchen calls her cookies "Chocolate Chubbies", and Chicago chef Ina Pinkney, who served them at Ina's, called them "Blobs". In honor of all three ladies, I've called today's batch Chubby Chocolate Whopper Blobs.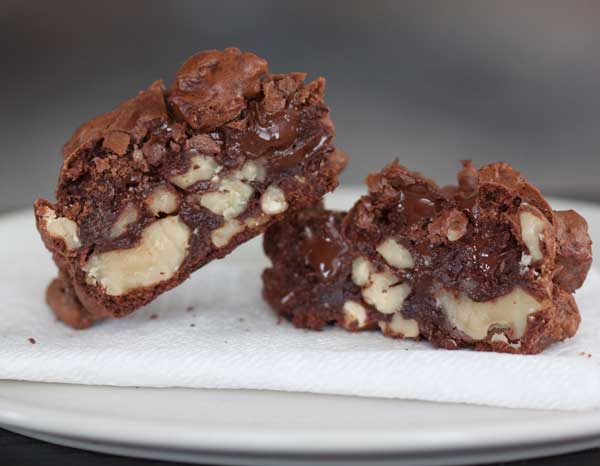 Now onto the technical part. What I've noticed about these types of heavy chocolate and nut (blob) type cookies is they are different depending on how long you let the chocolate cool, what brand chocolate you use, and how careful you are measuring the nuts. In the past I've tried to cut back on the nuts, but that wasn't wise. These are supposed to be nutty cookies and going with the full amount helps them hold their fat, chubby shape.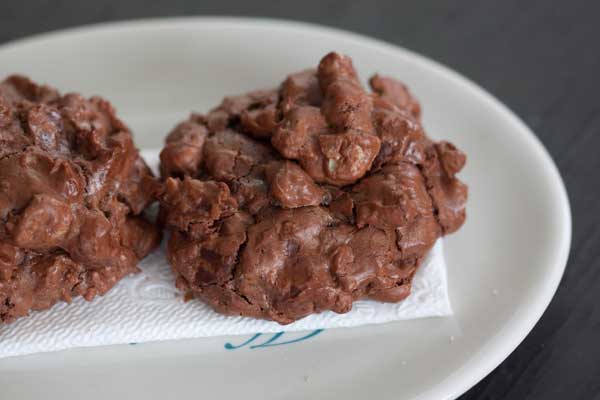 Another thing is it seems the cookies lose their glossiness if the dough is chilled, yet maintain their glossiness if the dough is scooped and put directly in the freezer. Not that you have to chill OR freeze the dough because if made right, you can plop it directly on the sheet. However, I'm a big proponent of make-ahead cookies and love having frozen dough at the ready. That, plus I think the cookies bake up a little more spherical when made with frozen dough.
My only regret today is that I did not have any hazelnuts. These would be wonderful with a mixture of hazelnuts and walnuts.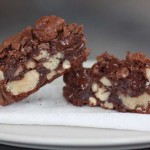 Print Recipe
Chubby Chocolate Whopper Blobs
Chubby Chocolate Whopper Blobs are big fat chocolate cookies made with melted chocolate bars, walnuts, pecans and chocolate chips.
Ingredients
5

ounces

pecans

140 grams

4

ounces

walnuts

112 grams

4

ounces

unsalted butter

114 grams, but into chunks

9

ounces

chopped dark chocolate

no higher than 62 percent (250 grams)

3

ounces

unsweetened chopped chocolate

84 grams

3/4

cup

all-purpose flour

84 grams **

1/2

teaspoon

baking powder

1/4

teaspoon

salt

3

large eggs

150 grams

1 1/4

cups

superfine sugar

245 grams**

2

teaspoons

vanilla

12

ounces

semisweet or bittersweet chocolate chips

336 grams
Instructions
Toast the walnuts and pecans using your favorite method. I usually lay them on a baking sheet and just heat at 350 until they are aromatic. Let cool, then chop.

While nuts are toasting, combine the butter and both chocolates in a microwave-safe bowl. Heat at 50% power, stirring every 30 seconds, until chocolate is melted and smooth. Alternatively, use a double boiler or saucepan set over low heat, but be sure to keep the heat low and gentle.

While the nuts and melted chocolate cool, thoroughly mix together the flour, baking powder and salt together in a small bowl; set aside.

In the bowl of a stand mixer fitted with the whisk attachment, beat the eggs for about two minutes. Very gradually add the superfine sugar to the eggs and continue whipping until thick and pale yellow. This should take about 5 minutes. Beat in the vanilla.

Switch the mixer attachment to the paddle or just remove the bowl from the stand and do the next step by hand. I do the rest by hand using a heavy duty scraper.

Stir the cooled melted chocolate (make sure it's cooled or the batter will be too loose) mixture into the egg mixture until fully blended. Fold in the flour mixture, then stir in all the chocolate chips and nuts. Mixture should be thick enough to hold loose scoops. If it's not thick enough to stay in heaps, something went wrong and you'll need to ether let it stand for a few minute or, if it is totally loose, chill it. But this shouldn't happen if you let the chocolate cool as directed.

Using a generous ¼ cup measure (or a 2 ounce ice cream scoop if you have one), scoop up chocolate batter and arrange on parchment or foil lined plates or sheets that fit in the freezer. Put the scoops of batter, covered with some plastic wrap, in the freezer and freeze for at least two hours or until ready to bake.

Preheat oven to 350F. Line two baking sheets with parchment paper or Silpats. Arrange 6 frozen chocolate balls on the sheet, spacing evenly and at least 3 inches apart. Bake for 18 to 20 minutes or until the cookies have developed a nice chocolate shell. Remove from the oven and let cool on the baking sheet or until they are set enough so that you can lift them without breaking. Carefully transfer to a wire rack and let cool completely (or cheat and throw them in the refrigerator).
Notes
Tips: For the sugar, you can buy superfine or just grind granulated sugar in a food processor, mini chopper or coffee grinder.
Chocolate: 9 oz of good dark chocolate is expensive, so if you want you can cut the good stuff with a little less expensive (but still good) chocolate. For this batch I used about 7 ounces of Lindt "sweet dark" and 2 ounces Ghirardelli bittersweet chocolate chips to cover the 9 oz. If you really want to save money you melt 9 oz of high end chocolate chips to replace the chocolate. This technique works in a pinch, but the cookies lose their wonderful silky texture so I don't recommend it . Use chopped chocolate from a bar, then use chips for the add-ins.
Flour: Always weigh the flour, but if you can't weigh it then measure with a light hand and don't pack it.
Superfine Sugar: I never have this, so I weigh out my sugar and grind it up in my mini coffee grinder before using.