This batch of Cranberry Nut Bars started as a way to use up half a bag of fresh cranberries leftover from Thanksgiving. I wasn't expecting them to be nearly as good as they were, or as open to improvisation.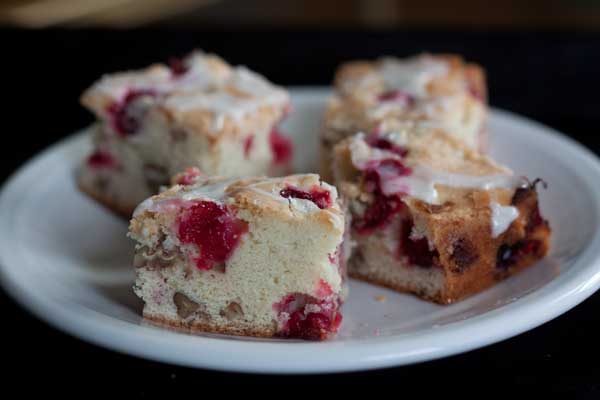 The original recipe from Ocean Spray has very few ingredients and can stand on its own, but adding some additional flavorings such as orange zest and vanilla makes the bars even better. That, and icing them. A mixture of confectioners sugar and water that dries hard works perfectly — nothing too complicated.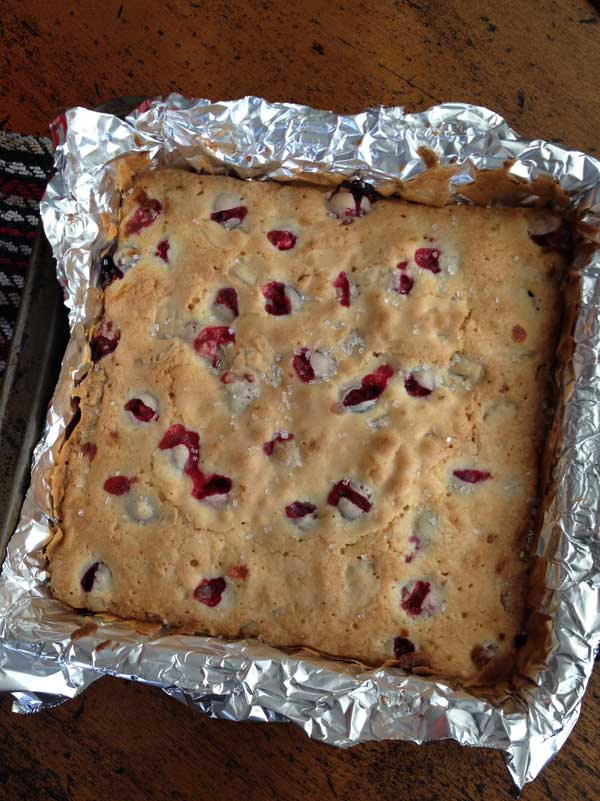 The bars are kind of cake like, but with all the nuts and berries they're a little denser than your usual coffee cake.  If you want a thinner bar, use a 9 inch pan instead of a an 8 inch pan. If you want a crispy cookie, make the bars as directed, freeze them so that they slice neatly, cut into thin strips and bake at 300 for about 25 to 30 minutes to dry them out.  So from one recipe you can make thick cake-like bars, thin cookie-like bars or cookies, and then the flavor variations are up to you.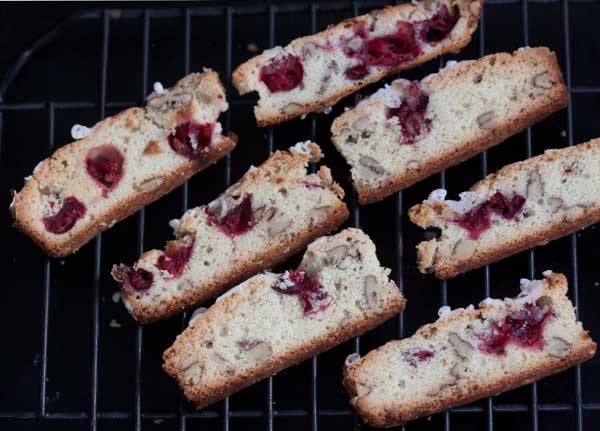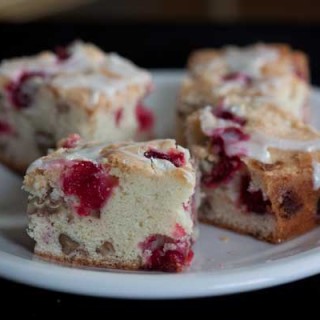 Cranberry Nut Bars
Cranberry Nut Bars are a great way to use leftover cranberries from Thanksgiving. The original version calls for walnuts, but pecans work well.
Ingredients 
2

large

eggs

1

cup

granulated sugar

200 grams

1

teaspoon

vanilla extract or use 1/2 teaspoon vanilla and 1/4 teaspoon orange zest

1

cup

all-purpose flour

130 grams

1/3

cup

unsalted butter

80 grams

3/8

scant teaspoon of salt

add only 1/8 if using salted butter

1 1/4

cups

fresh cranberries

1/2

cup

chopped walnuts or pecans

lightly toasted
Icing
1/3

cup

confectioners' sugar

A few drops of water and vanilla
Instructions 
Preheat oven to 350°F. Line an 8 inch square baking pan with nonstick foil or parchment paper.

Beat eggs in a medium mixing bowl until thick. Gradually add sugar, beating until thoroughly blended. Stir in flour, melted butter and salt; blend well with a heavy duty scraper. Add cranberries and nuts, mixing gently just until combined. Spread evenly in pan.

Bake for 40 to 45 minutes or until golden brown and a toothpick inserted into the center comes out clean. Let cool completely and drizzle with icing if desired.

To make icing, put confectioners' sugar into a large measuring cup. Add a few drops of vanilla, then add water a few drops at a time, stirring constantly, until mixture is smooth and thin enough to be drizzled across the top.
Notes
To toast the nuts, lay them on a baking sheet and bake at 350 for about 6 minutes or until the start to release their oils and become shiny.
For thinner bars, bake in a 9 inch square pan.
To make cranberry nut crisps, slice the baked square into thin (about 1/3 of an inch) slices and bake in a 300 degree oven for about 20 to 28 minutes or until the crisps just barely start to brown around the edges. Let them cool (they'll become crisper as they cool) on a wire rack).