This week I did a little test to see how my favorite kolache dough would work in sour cream chocolate babka. Overall, it was a success. The dough was soft and slick and easy to work and the baked loaf was a bit less sweet than my other recipe with a hint of sour cream flavor.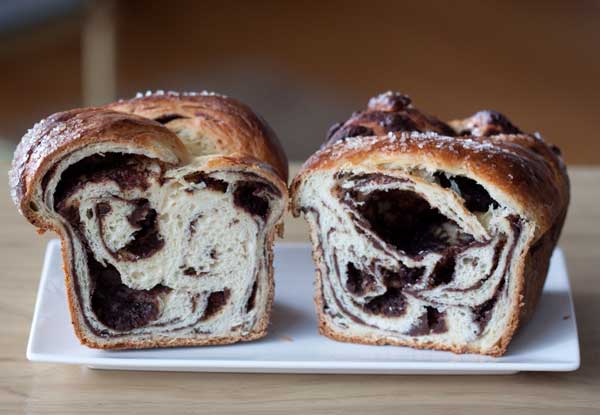 It was also slightly softer and less flaky, but I think the flavor made up for it. This recipe fits in one 8×4 inch loaf pan and gives you one sour cream chocolate babka.
Update: I've changed the recipe a bit to make the dough a little lighter. Also, I don't recommend making this as one giant loaf, but rather two loaves. The dough rises quite a bit and it's very rich, so smaller loaves are easier to deal with.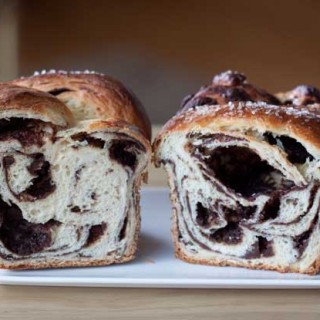 Sour Cream Chocolate Babka
Sour Cream Chocolate Babka makes one loaf. The dough is soft and easy to work with. For best results, use a stand mixer with a dough hook.
Ingredients 
6

tablespoons

unsalted butter

room temperature

1/4

cup

regular milk

1

cup

evaporated milk

4

cups

18 to 20 oz all-purpose flour, plus more if needed

1/3

cup

sugar

3

teaspoons

fast rising yeast

I use Platinum

1

teaspoon

salt

1/4

cup

sour cream at room temperature

3

egg yolks
Chocolate filling
5

tablespoons

unsalted butter

8

oz

Ghirardelli bittersweet chocolate chips

60%

1/4

cup

granulated sugar

I use super fine
Egg Wash
1

large egg yolk

1

tablespoon

milk
Instructions 
Clear out a large rack in the refrigerator in case you need to chill your slab of dough.

Combine the butter and both milks in a saucepan and heat over medium until the milk starts to boil and butter melts. Remove from heat and let mixture cool to about 125-130 degrees F.

Meanwhile, combine flour, sugar, yeast and salt in the bowl of a stand mixer. Stir well.

Pour the butter mixture into the flour mixture, then add the sour cream and egg yolks and stir well.

Using the dough hook attachment, knead for about 6 minutes or until dough is soft and elastic. It should clear the bowl as it kneads and just to the bottom a little. If dough seems really sticky when you start kneading, add flour 1 tablespoon at a time until dough clears sides of bowl as it kneads. It should be smooth and elastic and easy to work after it's been kneaded.

Scrape the dough into a large bowl rubbed liberally with oil. Flip the dough so that it's slick with oil. Cover the bowl and let it rise for about an hour or until it has doubled in bulk.

While the dough is rising. Grease two 8 1/2 by 4 1/2 inch or 9x5 inch loaf pans and line lengthwise with strips of parchment paper. Grease again and dust with flour.

Punch down the risen dough. Take out half and put remaining in the refrigerator.

On a large flat surface (I use a baking mat), press the dough into a 15x13 inch rectangle so that the 15 inch side is facing you.

Prepare filling. Melt the chocolate and butter together in a microwave-safe bowl on high stirring every 30 seconds. When completely melted, stir in the sugar.

Spread half chocolate mixture as evenly as you can over the rectangle.

Working lengthwise from the long 15 inch end, roll upwards into a tight jellyroll. If chocolate is leaking out or seems messy, stop rolling and transfer the whole slab of dough and chocolate to the refrigerator and let the chocolate firm up a bit, then continue rolling.

Cut the jellyroll in half crosswise and set the two strands next to each other. Lay one half over the other, then lay other half over the first, alternating to make a twist. Fit the twist into the loaf pan and pat it so that it fits evenly. Try to pinch the ends a bit to seal in the chocolate, but don't worry too much, as the dough will rise around it and shouldn't leak too much. Repeat process with remaining dough.

Set loaves in a warm place to rise for about 45 minutes.

Brush the loaves with egg yolk mixed with milk and sprinkle with cinnamon sugar. Set the loaves on a rimmed baking sheet and bake in a preheated oven at 350 for about 50 minutes, covering loosely with foil after about 35 minutes to prevent overbrowning.

Let the loaves cool completely before slicing.
Notes
For the chocolate you can use chopped bars or chips. I've found that the chocolate made with melted chocolate chips is less runny and drippy which makes rolling the loaves into jellyrolls easier.