I do not know the origin of the name, but it seems Millionaire's Shortbread is to Great Britain what Chocolate Chip Cookies are to the USA. Also known as Caramel Shortbread, Millionaire's Shortbread has three separate components — a shortbread crust, a layer of caramel and a topping of chocolate.  Some people believe it is the bar cookie equivalent to Twix, but in my opinion Millionaire's Shortbread is even better because you can customize it with your favorite shortbread, caramel and type chocolate.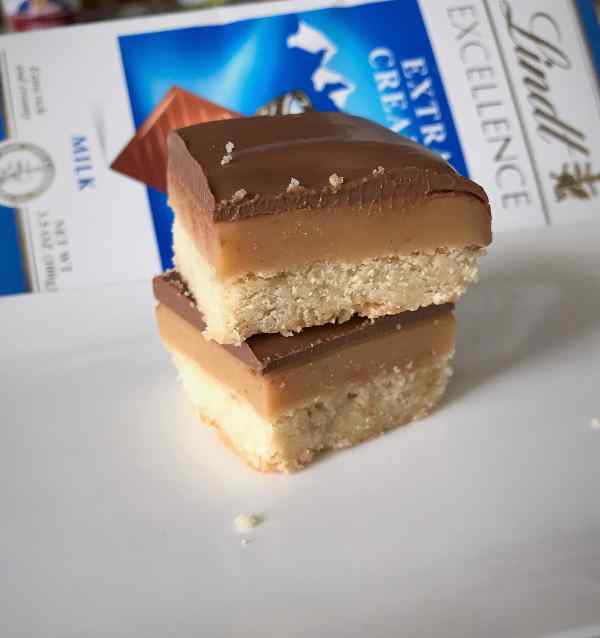 And that's sort of the problem. Everyone has their own favorite way of making it, so it's hard to find one "perfect" version.  I thought maybe I'd get one from my British friend, but when I asked her how she made it she confessed that she never used the same recipe twice, either. So at that point I felt a little better about the fact that I too make it different each time, and that just when I think I've settled on the perfect recipe, I decide something needs changing — the crust could be softer, the caramel could be more flavorful or that maybe using a particular brand of chocolate would take the bars to a new level.
Now I do have multiple recipes for Millionaire's Shortbread and there is one that I use the most, but lately I've been unhappy with it for a few reasons.  First, it calls for cake flour and I don't always have that around.  The base is good but almost too powdery for my tastes these days, and the filling requires refrigeration to stay set.  Also, it's made in an 8 inch pan and for all that work I now feel like I need more bars to show for it.  And so my quest for a new recipe began again, but with three requirements — that it be made in a 9×13 inch pan, that the crust be noticeably tasty and not just a crumbly foundation for the topping, and that the caramel topping need only 1 can of condensed milk rather than two.
After trying multiple recipes including ones with egg yolk in the crust and various types of sugar (confectioners, granulated, etc), and assessing what I liked best about each one, I came up with a new version. The bottom layer is a Scottish brown sugar shortbread recipe that calls for cornstarch.  The cornstarch keeps it fairly crumbly, but slightly smoother and softer, while the brown sugar adds flavor and keeps the recipe down to 1 type sugar. The filling is adapted from Cook's Illustrated, and I love it because the 1/2 cup of cream helps prevent scorching and helps stretch the 1 can of condensed milk so that it covers a full 9×13 inch pan.  And for the topping, after trying about a gazillion different types of chocolate, I've settled on milk as my favorite — specifically, Lindt Extra Creamy Milk because it's soft and easy to bite into.  Cadbury Dairy Milk is also good, but it hardens up a little firmer and has more snap to it (which may be preferable depending on your mood).
I can't say that this will be my one and only final batch, but it's good and it's most definitely a recipe I'll be using again.
Millionaire's Shortbread
The original "Twix Bar", Millionaire's Shortbread is composed of a shortbread layer, a caramel layer and a chocolate topping.
Ingredients
Shortbread Crust
2 sticks (230 grams) unsalted butter
1 teaspoon salt (use 1/4 if using salted butter)
1/2 cup (100 grams) light brown sugar
1/3 cup cornstarch
1 2/3 cup (210 grams) all-purpose flour
Caramel Filling
8 tablespoons (114 grams) unsalted butter, softened
1 cup packed (200) light or dark brown sugar
1/2 cup (130 grams) light corn syrup
1 (14-ounce/396 grams) can sweetened condensed milk
1/2 cup heavy cream
1/2 teaspoon salt
1 teaspoon vanilla extract
Chocolate Topping
3 Lindt Bars (about 3.5 oz each) –I like Extra Creamy Milk or Cadbury Dairy Milk
Instructions
Line the inside of a 9x13 inch baking pan with nonstick foil.
Cut the butter into chunks and melt it gently over low heat or using a medium setting in the microwave. Combine the melted butter with the salt and brown sugar and stir until blended, then stir in the cornstarch. Add the flour, stir until blended, then press mixture into bottom of the pan. Chill for at least 30 minutes or until base is firm and cold.
After you've chilled the shortbread, preheat the oven to 350 degrees F.
Dock the shortbread with a fork, then bake it for 20 minutes or just until the edges are very slightly browned.
Let cool while you make the filling.
Off heat, stir together the softened butter, sugar and corn syrup in a large, heavy 3 quart saucepan. Pour in the condensed milk and the heavy cream and stir until blended. Have the salt and the vanilla next to the stove ready to go.
Set pan over medium heat and cook, stirring almost continuously to prevent scorching, until mixture comes to a boil.
Reduce heat to a gentle boil and cook, still stirring, until mixture reaches about 235 degrees on a candy thermometer. Note: I like using a deep fry thermometer for this.
Remove from heat, stir in salt and vanilla, then pour over the shortbread, tilting pan so that caramel flows evenly.
When caramel is firm, chop up the chocolate bars and melt in the microwave. Heat at 50% power, stirring every 30 seconds, until melted and smooth.
Alternatively, you can lay the chocolate squares over the caramel just after you pour it on. The heat from the caramel will soften the chocolate and you can then spread it with a knife.
Let cool at room temperature for about an hour, then chill to set the chocolate.
Before serving, lift from the pan and set on a cutting board. Cut into small squares or bars.
Related posts: