I'm on another big fat cookie kick and have been playing with my old recipe — the one inspired by Levain Bakery in New York City.
My new favorite ingredient to use in the cookies is pasture butter. Like European style butter (Plugra, for instance), pasture butter has a higher percentage of fat. Baking with it gives you different results — some good, some not so great. My usual ways to use it include in pie dough and these convection toaster oven chocolate chip cookies.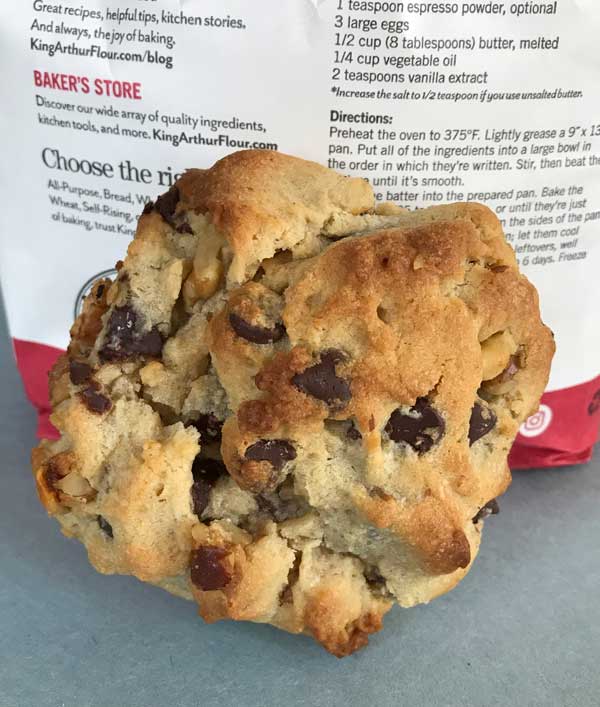 I used to bake these in a regular oven at 375F, but I've discovered that baking at 350F in my Breville counter top toaster oven gives higher, fatter, nicely browned cookies.  The recipe gives you 4 gigantic cookies, so it's well suited for making small batches for friends. However, if you feel like spoiling a larger group, you can spend some $$ on ingredients, double it and make multiple batches.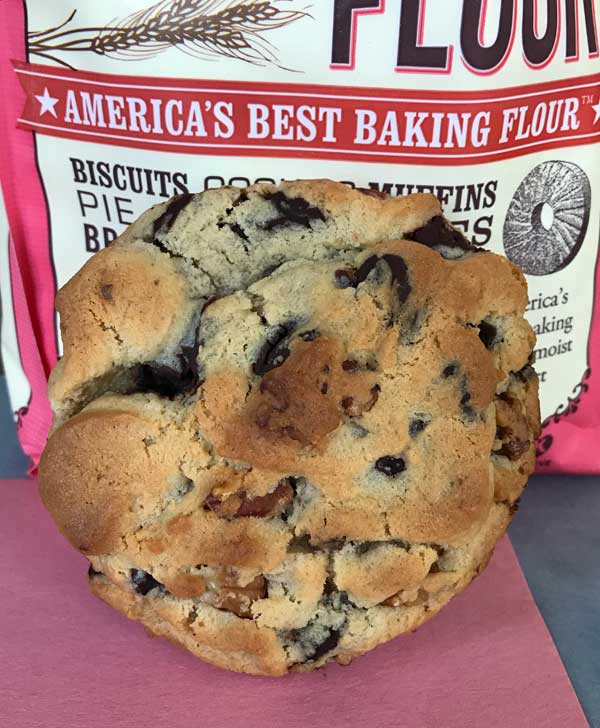 Over the years I've experimented with different types of flour. Bread flour gives you a tall cookie with a thicker crust, while King Arthur AP flour gives you a tall cookie with less of a crust than bread flour. Pastry flour gives you a softer cookie, but the cookies tend to spread more.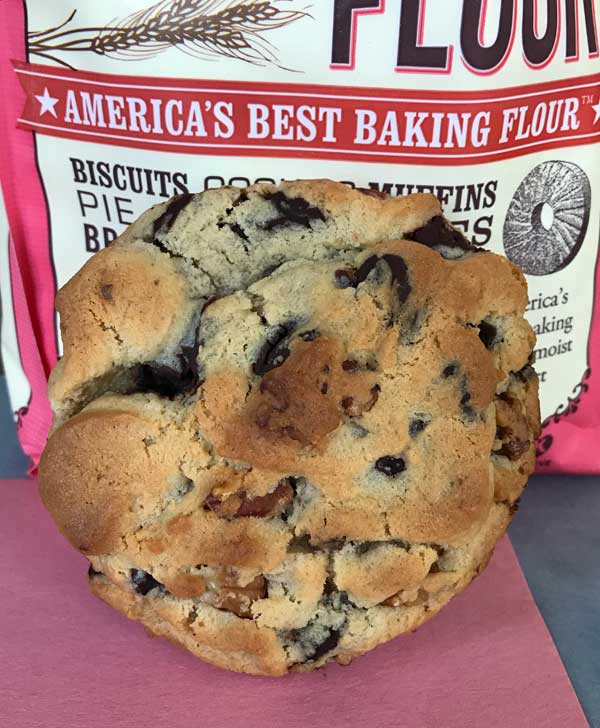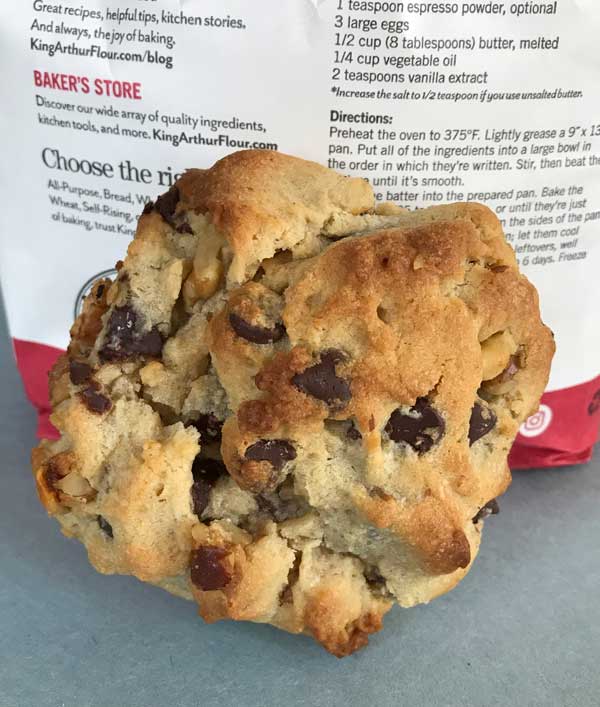 Here's the newest rendition of the recipe. If you don't have a baking scale, Amazon has a ton of inexpensive models.

Toaster Oven Chocolate Chip Cookies
Toaster Oven Chocolate Chip Cookies are big fat cookies baked in a toaster oven (but a regular oven is okay, too!). Each cookie weighs around 5 oz and serves 4 people.
Ingredients
116 grams unsalted European style butter, cool room temperature (or Horizon Pasture Lightly Salted)
84 grams of organic light brown sugar
50 grams organic pure cane sugar (1/4 cup)
56 grams of lightly beaten cold egg (this is one large egg)
1/2 teaspoon vanilla extract
198 grams King Arthur all-purpose flour**
1/4 teaspoon salt (double if you use an unsalted butter)
1/8 teaspoon baking soda
1/2 teaspoon baking powder
2/3 cups your favorite chocolate chips
1/2 cup chopped walnuts, toasted
Instructions
Beat the softened butter and sugar until light and creamy.
Add the egg and beat until well blended, then beat in the vanilla..
Add the salt, baking soda and baking powder and stir until well mixed and evenly distributed, then add the flour and stir until blended.
Stir in the chips and walnuts. Empty mixture onto a flat surface and make sure all the dry ingredients are thoroughly blended in.
Divide dough into 4 equal size balls (they should weigh a little over 5 oz each). Cover and refrigerate overnight. Chilling the dough is key for the tallest cookies.
Baking Method: Bake in a well-preheated 375 degree oven for 8 minutes, then reduce heat to 350 and bake for another 12 to 15 minutes.
Alternatively, bake in a preheated toaster convection oven at 350 for 20 to 22 minutes.
You can also use the falling heat method in your toaster oven. Start with the "Cookies" setting and bake at 375 for 8 minutes, then reduce heat to 350 and continue baking for another 8 to 12 minutes.