I hope you're not tired of almond flour cookie recipes, because here's one more.  These Almond Flour Chocolate Chip Cookies are from the recipe on the back of the Trader Joe's blanched almond flour bag. Trader Joe's calls them Baker Joseph's Unbelievable Chocolate Chip Cookies. I'm just calling them Trader Joe's Almond Flour Chocolate Chip Cookies so I'll remember where I found the recipe.   It will come in handy if I need to make something gluten-free.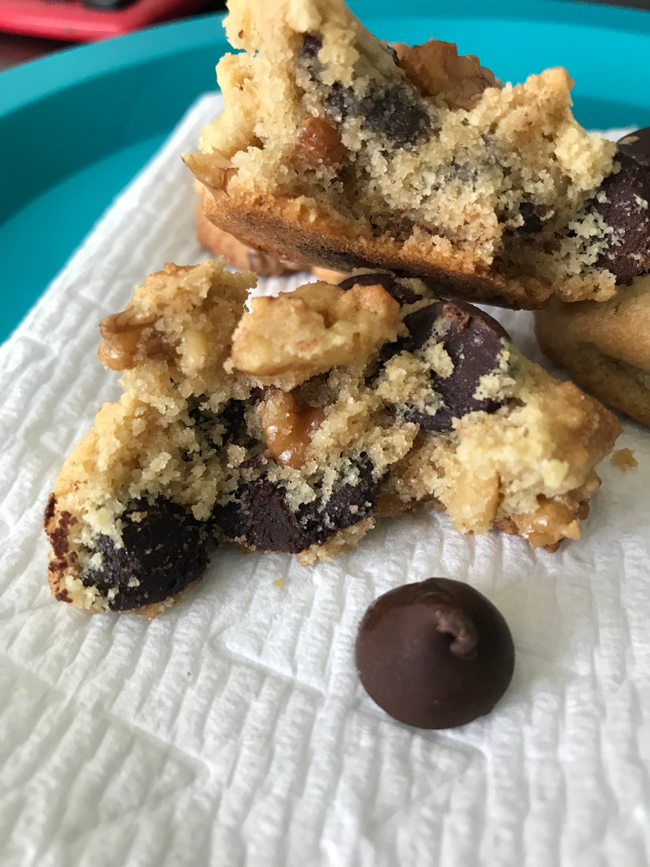 Compared to wheat flour the almond flour gives the cookies a bit of almond flavor and a soft and slightly crumbly texture. Also, the cookies are noticeably less sweet. They are are pretty thick if you bake the dough immediately, but if you chill it overnight or freeze it they should bake up even thicker (taller).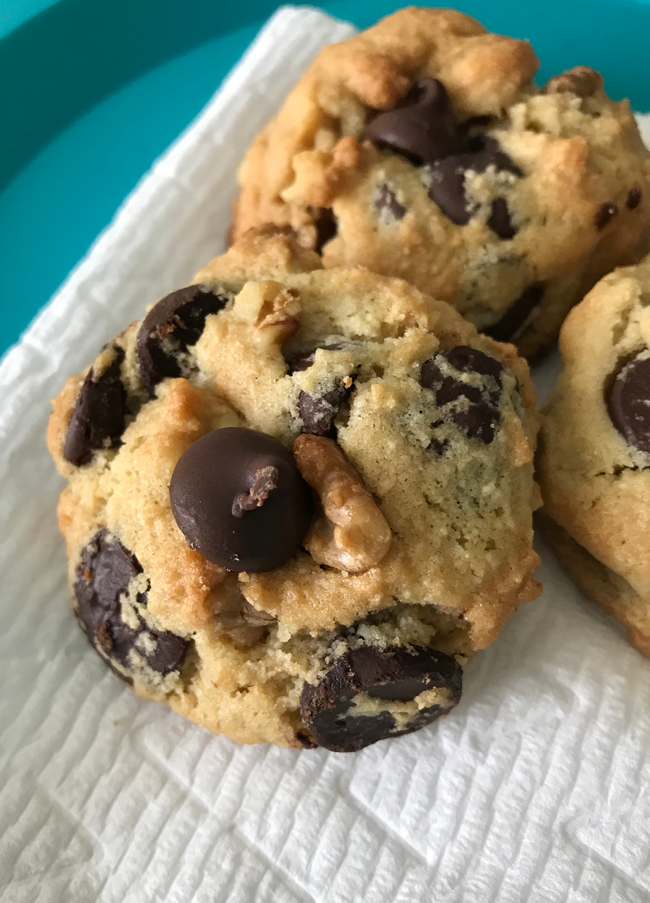 Almond Flour Chocolate Chip Cookies are made with sugar, but the recipe should work with Swerve should you wish to lower the carbs a bit.

Trader Joe's Almond Flour Chocolate Chip Cookies
Trader Joe's Almond Flour Chocolate Chip Cookies
Ingredients
1 stick unsalted or salted butter (114 grams)
1/4 cup brown sugar (50 grams)
1/4 cup granulated sugar (50 grams)
1 large egg
1 egg white
1 teaspoon vanilla extract
1/2 teaspoon baking soda
1/4 teaspoon of salt (or use 1/2 if using unsalted butter)
2 1/2 cups Trader Joe's fine almond flour (260 grams)
1 cup chocolate chips, I recommend bittersweet mixed with semisweet
1/2 cup or so of toasted walnuts, coarsely chopped
Instructions
Preheat oven to 350 degrees F.
In a mixing bowl, beat the softened butter and both sugars until creamy. Beat in the egg and egg white, then beat in the vanilla extract, baking soda and salt. Stir in the almond flour until it is well blended, then stir in the chocolate and nuts.
Using a medium cookie scoop or a tablespoon, drop rounds onto a parchment lined baking sheet and bake for about 12 to 15 minutes or until cookies are lightly browned.
Allow cookies to cool on the baking sheet for about 5 minutes, then transfer to a wire rack and let cool completely.