Milk Powder Chocolate Chip Cookies are big fat cookies loaded with chocolate chips. Made with a combination of bread flour and cake flour, they may remind you of all the Levain clones that are floating around, but if you look closely you'll see the ratios are different. These have a higher proportion of butter. And then of course there's the instant milk powder.
Jump to Recipe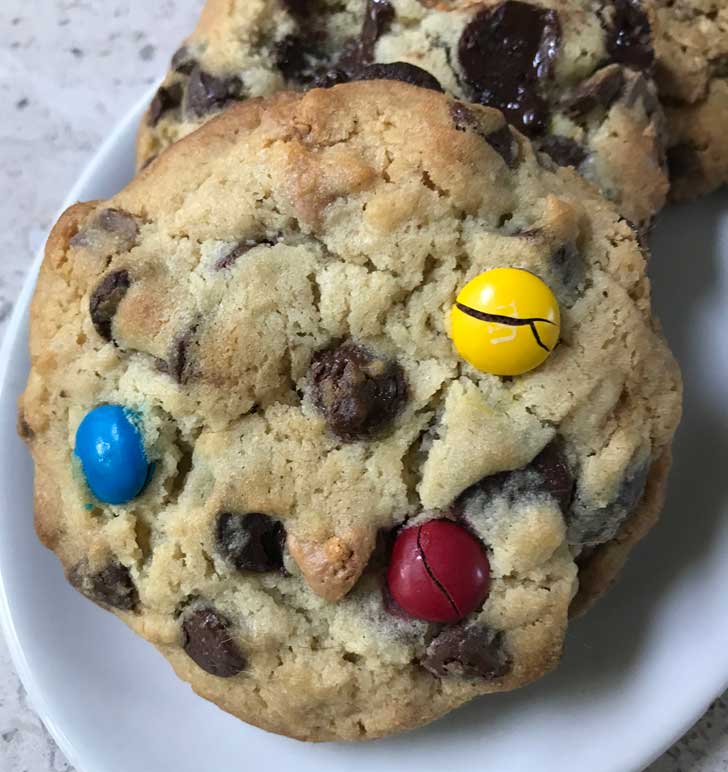 Stick With Carnation
I've been making these on and off for years now, but wasn't ready to share the recipe because they had a strange flavor. No one else really noticed it, but I found it a little off. A few months ago I made the cookies with a different brand of milk powder (Carnation) and guess what? No weird flavor. So for milk powder cookies, I recommend Carnation.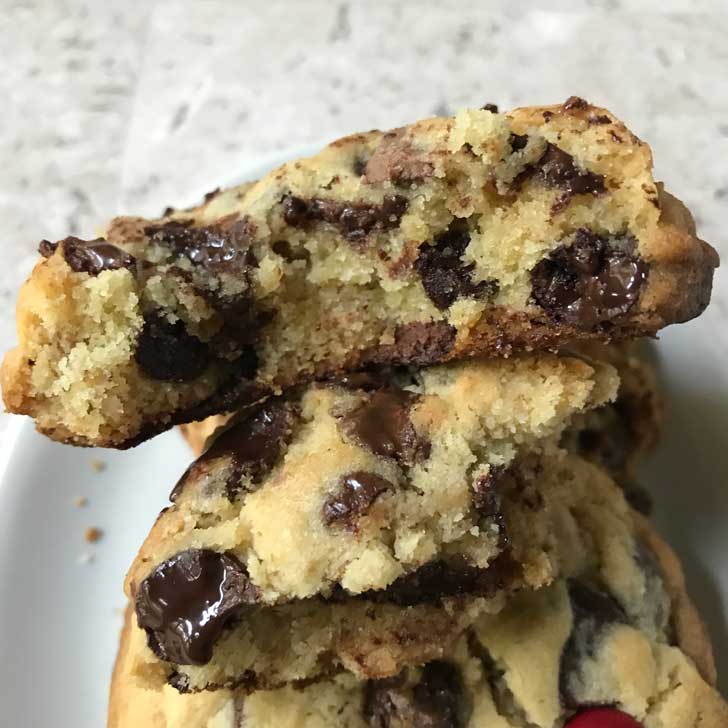 Milk Powder Chocolate Chip Cookies Notes
You can use any kind of flour or mixture of flours so long as the total weight is 380 grams. I like using a mixture of bread and cake flour. The cookies are thick and have a crust, and the inside is a little fluffier (relatively speaking). I think what makes the cake flour version fluffier is not just the lower protein level, but the fact that it is bleached, because I've also had success using 380 grams of bleached flour. Using 100% bread flour also works, and gives you a dense cookie with a thick crust.
Nonfat Dry Milk Powder -- Carnation, as mentioned above. The milk powder gives the cookies a soft, fluffy interior and adds some flavor.
Eggs -- Not all large eggs are the same size. For instance, the eggs that I'm buying now in NC are labeled as large, but only weigh about 48 grams (15 grams of yolk and about 33 grams white), whereas the ones I bought back in IL were around 54 grams (36 grams white and 18 grams yolk). In Texas they were also around 52 to 54. For this recipe you'll need 1 egg (50) and 1 yolk (18) and a total of at least 68 grams. I sometimes slip a little more white and have gone as high as 80 grams (1 whole egg, a yolk and some extra white).
Butter -- Land o Lakes or even grocery store brand butter should give you great results. Plugra also works well. Some other brands of European style butter actually caused more spreading.
Sugar and Brown Sugar -- I use pure cane sugar and light brown sugar.
Chips -- Use whatever kind you like and at least 2 ½ cups. 3 is probably better. I like to include milk chocolate chips to keep the milk theme, but for some diversity I throw in white and semisweet. The cookies in the first photo also include macadamia nuts. Chips work better than chunks for these particular cookies.
Parchment vs Silpat -- These spread less if you use parchment, so I recommend using parchment or baking directly on an ungreased baking sheet. I've also tested on a Silpat and the cookies spread more.
Bake Time -- I get the best results when I start the cookies at a high heat (400F) and turn down the heat after 10 to 12 minutes. So this means 400F for 10 minutes then 330F for 8 to 10. If you like a browner shell or slightly burnt edges, bake at 400F for 13 minutes and 330 for 5 to 8. You can also bake at 375 for 18 to 20 minutes.
Measurements and Scaling
The best way to measure is with weights. The volume measurements are just approximations. Also, the recipe halves well. To make the equivalent of half an egg and half a yolk, set a small custard cup or bowl on the scale, set tare to zero. Crack an egg into the cup and note the weight (should be 48 to 54 grams). Discard egg white in small bits until you have about 38 to 40 grams of egg total.
Half Batch Measurements
ase you want to test the waters with a smaller batch! I've even halved this batch successfully for super small batches.
190 grams of flour (mixture of bread and cake or use 100% AP)
½ teaspoon baking powder
¼ teaspoon baking soda
⅜ teaspoon salt
2 tablespoons Carnation dried milk (12 grams)
36 to 40 grams of a whole egg, take one whole egg and discard enough of the white so that you have 36 to 40 grams of egg. This gives you a higher ratio of yolk.
60 grams light brown sugar
60 grams granulated sugar
½ teaspoon vanilla
Lots of chocolate chips! Around 1 ½ cups, mixed
Recipe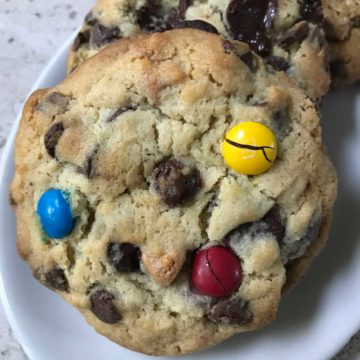 Old Milk Powder Chocolate Chip Cookies
Milk powder lightens the texture of these crispy and chewy cookies.
Ingredients 
260

grams

bread flour

220

grams

all-purpose flour

1

tablespoon

cornstarch

1 ½

teaspoon

baking soda

1 ½

teaspoon

salt

2

tablespoons

milk powder

2

large

eggs

(50 grams)

265

grams

unsalted butter, cut into chunks, still kind of cold

190

grams

light brown sugar

100

grams

granulated sugar

(½ cup plus 2 scant tablespoons)

½

tablespoon

honey

1

teaspoon

vanilla extract

500

grams

chopped high quality chocolate

Coarse sea salt (optional)
Instructions 
In a large bowl, mix together flours, cornstarch salt, baking soda and milk powder. Set aside.

Put the butter and both sugars in the stand mixer bowl and use the paddle attachment to beat until creamy. Beat in the honey and vanilla. Beat until light and fluffy, then add eggs one at a time beating on low until mixed. Increase speed and beat for 5 minutes until light and fluffy.

Reduce mixer speed to low and gradually add the flour, mixture scraping the sides of the bowl and pushing the dough together. It will seem dry at first, but once the flour is incorporated it should not be too dry of a dough. It's a little sticky -- should be about the same as normal chocolate chip cookie dough.

Add the chips and empty onto a pastry mat or clean surface. Knead gently to incorporate any stray flour or chips. Shape into 10 or 12 large balls. Put them on a plate and chill until they are a bit firmer, then press them into tight round balls.

You can bake one or two right away and chill the rest until they are very firm.

When ready to bake, preheat oven to 400 degrees F. Bake on a parchment lined baking sheet at 400 for 10 minutes. Reduce heat to 330 degrees F and bake for another 8 to 10 minutes (or 5 to 7 minutes if making smaller cookies) or until cookies look brown and have cracks. NOTE: If your cookies spread more than you like, tap them inward with the back of a spatula, shaping them so they are taller and rounder. Also, if you are working with very cold dough, the cookies will most likely need a longer bake time.

In my opinion these are a little better over-baked than under.

Let cookies cool on the sheet for about 10-15 minutes, then transfer to a wire rack and let cool completely. The cooling process will take about two hours. I sometimes throw them in the freezer to quick cool, then bring them back to room temperature before serving.
Notes
The recipe makes 2 pounds or 32 oz of dough.  The chips add another 18 oz , so if you use all the chips you should have around 50 oz of dough (3 pounds, 2 oz).  You can make 10 5 oz cookies or 12 4 oz cookies.