It's been a while since I made ice cream, but last week I pulled my old Cuisinart ice cream maker out of storage and it is back in action! This Oreo Cheesecake Ice Cream is the latest creation. It's a cookies and cream flavored ice cream made with the Jeni's Splendid base recipe and lots of broken chocolate sandwich cookies.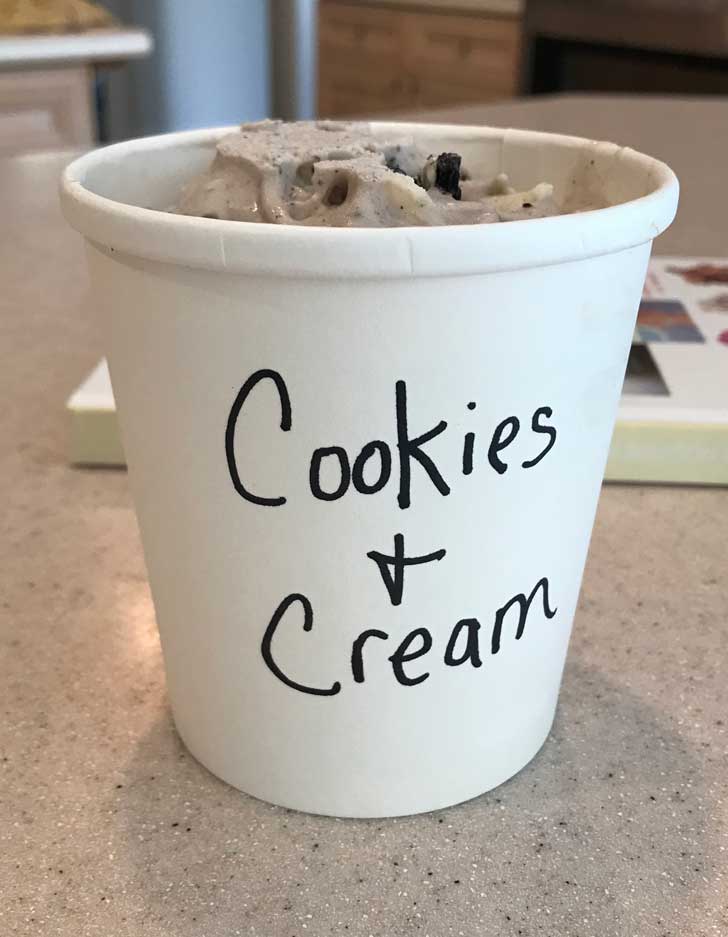 Jeni's Splendid Ice Cream Recipe Base
I didn't realize the genius of Jeni's ice cream until recently. She makes her ice cream with a recipe that does not include eggs, but is just as creamy and smooth as the egg type. The secret is harnessing the natural proteins in the milk, casein and whey, to do the same job as the eggs. This involves boiling the milk, using a small amount of cream cheese and adding in a starch such as cornstarch or tapioca.
Oreo Cheesecake Ice Cream Flavor and Texture
Cream Cheese: Some people can detect the cream cheese and others say they cannot. I can, and I like it, so I've increased the amount of cream cheese a little and am going with the "cheesecake" theme. That's why it's Oreo Cheesecake rather than just Cookies & Cream.
Sweetness Level: This ice cream is sweet, but not overly so in my opinion. If you tend to find a lot of ice creams sweet, you might want to use a different recipe. Cutting the sugar and corn syrup isn't really an option because you need the proper ratios for a smooth & creamy consistency.
Cornstarch vs. Tapioca: Another ingredient is the cornstarch. I don't find it to be starchy tasting at all, but people who like the Jeni's base recipe have suggested using tapioca instead. I'll update when I try the tapioca version.
Recipe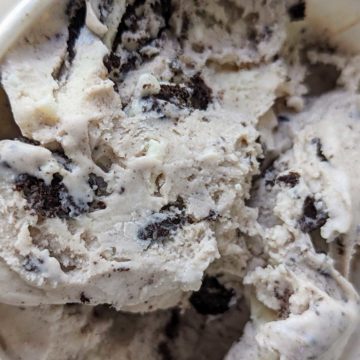 Jeni's Splendid Ice Cream Base with Cookies & Cream
Yield: makes About 1 Quart
Ingredients 
3 1/2

tbsp.

cream cheese, softened

(52 grams)

2

cups

whole milk

(480 grams)

4

tsp.

cornstarch

1 1/4

cups

heavy cream

(280 grams)

2/3

cups

sugar

(130 grams)

1 1/2

tbsp.

light corn syrup

(30 grams)

1/4

teaspoon

salt

1-2

teaspoons

vanilla (use 1 for cookies & cream and 2 for vanilla)

10

Oreos or other chocolate sandwich cookies, chopped
Instructions 
Put the cream cheese in a large mixing bowl. Soften it by letting it sit out for an hour OR put it in the microwave for 10 seconds. Stir until creamy and smooth. It's very important to soften the cream cheese, otherwise the custard will have little lumps of it throughout.

In a small bowl or custard cup, stir together the cornstarch and 2 tablespoons of the milk to make a slurry. Set aside.

Add the remaining milk to a 4 quart or larger saucepan. I prefer using an 8 quart pot so there's no chance of boil over. Just don't use anything smaller than 4 quarts. Along with the milk, add the cream, sugar, corn syrup and salt.

Bring to a boil over medium high. Once it's at a boil, cook for 4 minutes, keeping a close eye on it so that it doesn't boil over. You can give it a stir occasionally if you need to. It should be a steady, rolling boil.

Remove from heat and whisk in the cornstarch mixture. Return to the heat and bring to a boil again, but this time whisking just until thickened, about 2 minutes. It won't be as thick as pudding, but more like a thin gravy or white sauce.

Remove the pot from the stove. Pour about 1/4 cup of the hot milk into the bowl with the softened cream cheese and whisk until smooth. Gradually whisk in the remaining milk mixture. Let cool just slightly and stir in the vanilla.

Now it's time to let it cool down and you have some options. You can quick cool it in a tub of ice water or just let it cool in the refrigerator. I typically do a combination of both. Submerge the bowl of custard in a larger bowl of ice water or in a sink filled with ice water and let sit, whisking often, for 20 minutes. Cover, then transfer to the refrigerator until it is chilled. The ice bath should give you a good head start so the custard should be cold within two hours.

Pour mixture into an ice cream maker. Begin processing as usual. While ice cream maker is going, break up about 3 to 5 of the cookies and let the machine crush them (ice cream will turn grey from the cookies). Process according to manufacturer's instructions. Towards the very end, add remaining cookies. Transfer ice cream to a storage container and freeze until set.