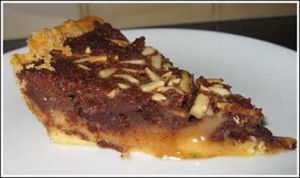 Author: Cookie Madness
Prep time: 10 mins
Cook time: 30 mins
Total time: 40 mins
An old Pillsbury Bake-Off winner
1 unbaked pie crust
1 1/2 cups sugar
3 Tbsp all-purpose flour
3/4 tsp instant coffee granules or instant espresso powder
1/4 tsp ground cinnamon
Dash salt
4 eggs
1/2 cup buttermilk
1 1/2 tsp vanilla
1/2 cup butter or margarine, softened
2 oz unsweetened baking chocolate, melted
1/4 cup slivered almonds
Preheat oven to 400 degrees F.
Mix together the sugar, flour, instant coffee, cinnamon and salt.
In a large mixing bowl, beat eggs with electric mixer on high speed until light in color. Beat in sugar mixture. Beat in buttermilk, vanilla, butter and chocolate until well combined (filling may look curdled). Pour into crust-lined pan. Sprinkle with almonds.
Bake 25 to 30 minutes or until center is set and crust is deep golden brown. After 15 to 20 minutes of baking, cover edge of crust with strips of foil to prevent excessive browning. Cool completely, about 1 hour. Transfer to refrigerator to chill.
Note: Mine took 30 minutes. It was still jiggly when I took it out of the oven, but once it cooled it was fine. It was even better after it had chilled.
Recipe by
Cookie Madness
at https://www.cookiemadness.net/2006/07/19/vienna-chocolate-pie/