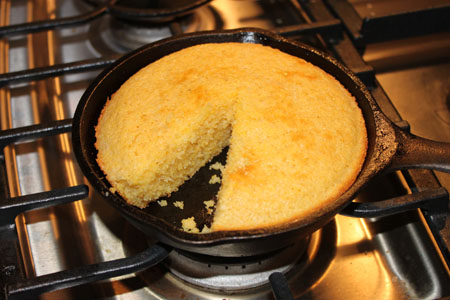 Small Batch Cast Iron Skillet Cornbread
Author: Cookie Madness
Prep time: 10 mins
Cook time: 20 mins
Total time: 30 mins
Small Batch Cast Iron Skillet Cornbread is a slightly sweet cornbread baked in a small cast iron skillet.
1/2 cup plus 2 tablespoons cornmeal (fine corn flour works too) (85 grams)
1/4 cup plus 2 tablespoons all-purpose flour (50 grams)
2 tablespoons granulated sugar (25 grams)
1/4 teaspoon salt
1 teaspoon baking powder
1/4 teaspoon baking soda
3 tablespoons whole milk
1/2 cup buttermilk
1 egg, lightly beaten
4 tablespoons salted butter, melted
Preheat the oven to 425 degrees F and place a 5-inch cast iron skillet inside to heat while you make the batter.
In a medium size bowl, whisk together the cornmeal, flour, sugar, salt, baking powder, and baking soda. Whisk in the milk, buttermilk, and egg. Whisk in almost all of the melted butter, reserving about 1/2 tablespoon for the skillet later on.
Carefully remove the hot skillet from the oven. Reduce oven temperature to 375 degrees F.
Add the reserved butter to the hot skillet. Pour the batter into the skillet (it should sizzle and butter should pool around it) and place it in the center of the oven. Bake until the center is firm and a cake tester or toothpick inserted into the center comes out clean, 20 minutes. Allow to cool for 10 to 15 minutes and serve.
Note: I've never had the cornbread spill over, as it tends to bake around the sides first and rise up. However, if you are worried about it you can put a rimmed baking sheet on the lower rack to catch any drips.
Recipe by
Cookie Madness
at https://www.cookiemadness.net/2011/01/24/small-batch-cast-iron-skillet-cornbread/