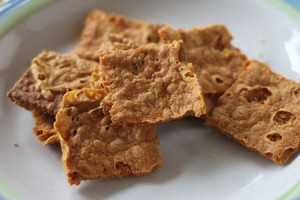 Rooster's Famous Fire Crackers
Author: Cookie Madness
Prep time: 10 mins
Cook time: 10 mins
Total time: 20 mins
Rooster's Famous Fire Crackers are Saltines topped with cheese, baked for 10 seconds, then left in the oven for two hours.
Red Pepper Flakes or Other Seasoning of Choice (e.g. smoked paprika)
About 40 Fat Free Saltines (or just regular Saltines)
10 ounces extra sharp cheddar cheese, grated fine (Cracker Barrel or a higher quality cheese works best)
Arrange a rack in the center and preheat oven to 475ºF. (Updated -- I recommend 425 degrees F).
Spray a 10x15-inch jelly-roll pan (not shiny – Shirley recommends non-stick heavy brown or grey) with nonstick cooking spray, and arrange crackers (about 40) in rows so that crackers are touching each other. I don't see why you couldn't line the pan with parchment rather than use the cooking spray. I actually used buttered foil, but Shirley warns against shiny pans.(Updated) I always use parchment.
Sprinkle seasoning over crackers (if using), then sprinkle with pepper flakes. Shirley recommends about 5 flakes per cracker. Top evenly with the cheese.
Bake for exactly 10 seconds and then turn the oven off.
Leave in the oven for (at least) 2 hours with the door closed. The hot oven melts and browns the cheese, producing an even coating of crisp brown cheese. The fat from the cheese soaks into the crackers and puffs them slightly. The cheese should be kind of a dark, brownish-orange. If it's completely brown, the crackers are probably burnt.
I baked these in a shiny foil lined pan at 475 and while they were tasty, they were a little over-done. I did the second batch using more foil but with a heat of 450 and had better results. Shirley recommends that you may need to experiment with baking temps since not all ovens run the same. The cheese should be light to medium brown but not burned. Update: As mentioned above, 425 works for me, but test in your own oven.

They keep well (if you can stop eating them) for several weeks sealed in an airtight container.
Recipe by
Cookie Madness
at https://www.cookiemadness.net/2011/02/roosters-famous-fire-crackers/