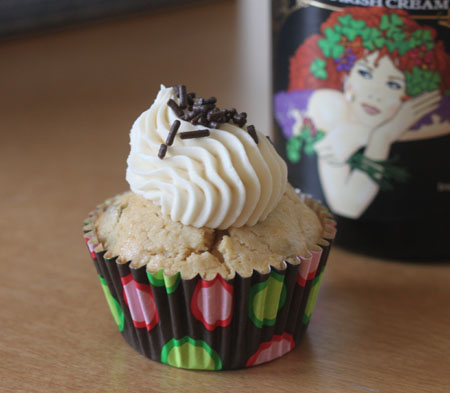 Irish Cream Chocolate Chip Cupcakes
Author: Cookie Madness
Cupcakes made with Irish Cream
1 1/4 cups cake flour (5.5 oz) – substituting all purpose won't work well
1/2 teaspoon baking powder
1/4 teaspoon salt
3 oz reduced fat cream (Neufchatel) cheese, softened
5 tablespoons unsalted butter, softened
1/2 cup granulated sugar
1/2 cup packed light brown sugar
1/2 teaspoon vanilla extract
1 large egg plus 2 tablespoons beaten egg**
6 tablespoons Irish Cream (Bailey's, Michael's) or flavored coffee creamer
1/2 cup semi-sweet chocolate chips (use more or less if desired) – mini chips are best
Frosting:
4 tablespoons butter (preferably salted), softened
1 1/2 cups powdered sugar – fluffed and lightly spooned into cup
1/8 teaspoon vanilla
2-3 teaspoons Irish cream plus more as desired or needed
Preheat oven to 325 degrees F. Line 12 muffin cups with paper liners.
Stir together flour, baking powder, and salt. For best results, weigh the flour to make sure you're using 5.5 oz.
In a mixing bowl, beat butter and cream cheese. Add granulated sugar, brown sugar, and vanilla; beat until light and creamy. Add the eggs and beat on high speed 1 minute.
With mixer on low, or by hand, add flour mixture and Irish Cream alternately, beginning and ending with flour mixture;. Fold in chocolate chips.
Divide batter evenly among the muffin cups.
Bake at 325 degrees F for 30-33 minutes or until a wooden pick inserted in center comes out clean. The cupcakes with be very slightly browned on top. Cool 10 minutes on a wire rack. Cool and frost with frosting.
Frosting: Mix together butter and powdered sugar. Add vanilla and a few teaspoons of Irish Cream. Increase mixing speed and beat until light and creamy, adding more Irish Cream if necessary. If icing tastes too sweet, use a little milk instead.
**If doubling the recipe, use 3 large eggs
Recipe by
Cookie Madness
at https://www.cookiemadness.net/2011/02/irish-cream-chocolate-chip-cupcakes/