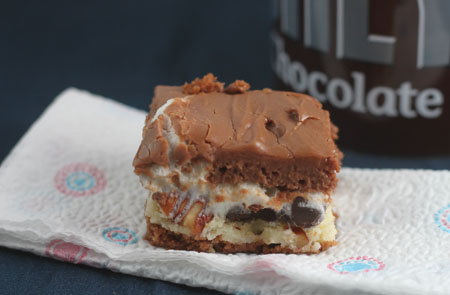 Author: Cookie Madness
Prep time: 15 mins
Cook time: 32 mins
Total time: 47 mins
Rocky Mountain Bars
Crust:
1/2 cup butter (salted)
1 oz unsweetened chocolate
2 large eggs
1 cup granulated sugar
1 tsp vanilla
1 cup all purpose flour
1 tsp baking powder
1/2 cup chopped nuts (toasted pecans)
Filling:
6 oz cream cheese, softened
4 tablespoons softened butter (salted)
1/2 cup granulated sugar
1 large egg
1/2 tsp vanilla
2 tablespoons flour
1/4 cup chopped nuts (toasted pecans
6 oz chocolate chips (dark)
2 cups mini marshmallows
Frosting:
4 tablespoons butter
1 oz unsweetened chocolate
2 oz cream cheese, softened
1/4 cup whole milk
1 tsp vanilla
3 cups powdered sugar
Preheat oven to 350 degrees F. Line a 13x9 inch metal pan with foil and spray with cooking spray or Baker's Joy.
Melt butter and chocolate together in the microwave and set aside to cool slightly. Meanwhile, in a mixing bowl, beat eggs, sugar and vanilla until light and fluffy. Add melted chocolate mixture to eggs and beat well. Mix together flour and baking powder and stir (do not overbeat) into the batter along with the nuts. Spread in prepared pan and set aside.
In another bowl, beat together cream cheese, butter, and sugar until fluffy. Add the egg, vanilla and flour and stir just until mixed. Stir in nuts and spread batter in the pan covering the chocolate mixture. Sprinkle with chocolate chips. Bake at 350 F for 30 minutes. Remove from the oven and sprinkle with marshmallows. Return to oven for 2 minutes to puff marshmallows.
Frosting: Melt the butter and chocolate in a microwave-safe bowl and let cool. In a mixing bowl, beat melted chocolate mixture, cream cheese, milk, vanilla and powdered sugar until smooth. Spread over marshmallow layer. When I did this, I couldn't cover the entire layer of marshmallows and ended up leaving about 1/2 to 1 inch edges. Cool completely in the pan, then transfer to the refrigerator and chill for a good 4 hours or so.
When ready to cut, lift from pan and set on a big cutting board. With a chef's knife, trim the edges where the chocolate frosting did not reach. Now score the cake in half, then score each half into 12 bars so that you get 24 bars total.