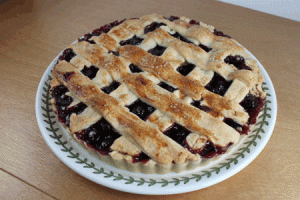 Author: Cookie Madness
Prep time: 30 mins
Cook time: 30 mins
Total time: 1 hour
A thin, Italian style fruit tart with a slightly sweet crust and cherry filling
Dough
1 1/2 sticks (3/4 cup) unsalted butter, softened
1/3 cup sugar
1 large egg, lightly beaten
1 teaspoon vanilla
2 1/4 cups all-purpose flour (10.1 oz)
1/2 teaspoon salt
2 teaspoons finely grated fresh lemon zest (save juice)
For filling
3 tablespoons unsalted butter, cut into pieces
5 1/4 cups fresh or 1 ¾ pound frozen (unthawed) cherries
3/4 cup plus 1 tablespoon sugar
Juice of one lemon (if not using sour cherries)
2 tablespoons cold water
3 tablespoons cornstarch
Dough: Beat together butter and 1/3 cup sugar with an electric mixer at medium speed until pale and fluffy, about 3 minutes. Reserve 1 tablespoon beaten egg, chilled, for egg wash and beat remaining egg into butter mixture, then add vanilla, beating well. Reduce speed to low and mix in flour, salt, and zest until mixture just forms a dough. At this point, the dough should be easy to deal with and quite thick. It gets a little more delicate when you start working with it, so do keep it cold.
Halve dough and form each half into a 5- to 6-inch disk. Wrap disks in plastic wrap and chill until firm, at least 30 minutes.
Filling: Heat butter in a 12-inch nonstick skillet over moderate heat until foam subsides, then add fresh or frozen cherries with any juices and sugar and simmer, stirring, until sugar is dissolved. If you are using the lemon juice, add the lemon juice. Continue to simmer until cherries are tender but not falling apart, about 8 minutes. Stir together water and cornstarch to form a thick paste, then stir into simmering filling and boil, stirring frequently, 2 minutes. Cool filling quickly by spreading it in a shallow baking pan and chilling until lukewarm, about 15 minutes.
Roll out 1 piece of dough (keep remaining piece chilled) between 2 sheets of wax paper or parchment into a 12-inch round. Remove top sheet of paper and invert dough into a greased 9 inch tart pan. Trim overhang to 1/2 inch and fold inward, then press against side of pan to reinforce edge. Chill tart shell. Roll out remaining dough in same manner and remove top sheet of paper, then cut dough into 10 (1-inch-wide) strips and slide dough, still on wax paper, onto a baking sheet. Chill strips until firm, about 5 minutes.
Put a foil-lined large baking sheet in middle of oven and preheat oven to 375°F (don't skip the foil lined pan as the crostata will boil over a bit).
Spread filling in chilled tart shell and arrange 5 strips 1 inch apart across filling, pressing ends onto edge of tart shell. Arrange remaining 5 strips 1 inch apart diagonally across first strips to form a lattice with diamond-shaped spaces. Trim edges of all strips flush with edge of pan. Brush lattice top with reserved beaten egg and sprinkle crostata with remaining tablespoon sugar.
Bake crostata in pan on baking sheet in oven until pastry is golden and filling is bubbling, about 1 hour. (If lattice and edges look too brown after 30 minutes, loosely cover with foil.) Cool crostata completely in pan on a rack, 1 1/2 to 2 hours, to allow juices to thicken.
Recipe by
Cookie Madness
at https://www.cookiemadness.net/2011/02/21/cherry-crostada/