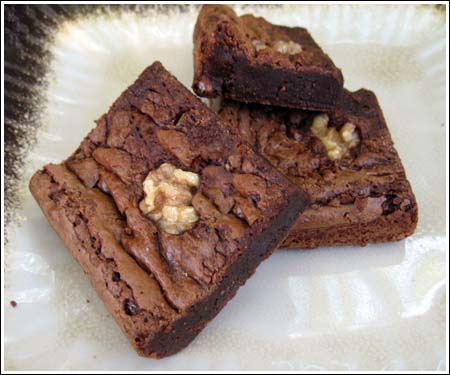 Wanda's Rich & Dark Brownies
Author: Cookie Madness
Prep time: 10 mins
Cook time: 25 mins
Total time: 35 mins
I'm Wanda Thompson. Born in Nashville, living in Franklin, Tn. . Growing up in a wonderful, traditional Southern family, full of great cooks, I quickly learned from my mother, and both grandmothers, that sometimes you follow a recipe, other times make it your own. Being a dessert lover, I'm constantly experimenting, especially with anything CHOCOLATE ! I couldn't resist entering your "Brownie Recipe" Contest. This is a Favorite of mine. Hope you enjoy it too !
2 Sticks Butter (8 oz)
4 (1 oz) Squares Unsweetened Chocolate
3/4 Cup Semisweet Chocolate Morsels
4 Beaten Eggs
2 Cups Sugar
1 Cup Plain Flour
1 Teaspoon Vanilla
1 Cup Chopped Pecans or Walnuts-Optional
Preheat Oven 350 degrees. Grease a 12x8 pan (or a 13x9 inch).
Combine the butter and both chocolates in a pan, and slowly melt on top of the stove. stirring frequently.
Separately in a bowl, and using an electric mixer, add the remaining ingredients in the order given. Mix well.
Pour the melted chocolate into the bowl and stir to combine.
Pour into the greased dish. Bake for 25 minutes at 350 degrees uncovered. Then reduce heat to 325 degrees, cover with aluminum foil, baking 5-10 more minutes (depending on how hot your oven cooks). You want this gooey, but set. Let cool, and enjoy each delicious, RICH bite !
Pan Size: Wanda says 12x8 but I only had a 13x9 inch metal pan and it worked fine.

Covering near end: Cover loosely – not tightly with foil. Frankly, I'm not sure why Wanda does this at all. I think maybe her oven runs hot. I did it anyway.

Butter – I tested with salted butter because I figured that's what Wanda used. If you use unsalted, you might want to add 1/4 to 1/2 teaspoon of salt to bring out the other flavors.
Recipe by
Cookie Madness
at https://www.cookiemadness.net/2007/10/12/wandas-rich-dark-brownies/