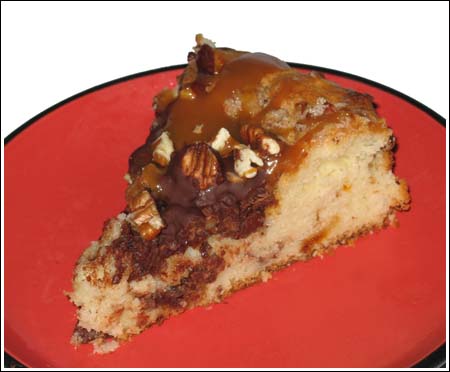 Caramel Chocolate Streusel Coffee Cake
Author: Cookie Madness
Prep time: 10 mins
Cook time: 50 mins
Total time: 1 hour
Caramel Chocolate Streusel Coffee Cake
Streusel Ingredients:
1/2 cup mini or 2/3 cup regular size semi-sweet chocolate chips
1/2 cup chopped pecans, toasted and cooled
1/4 cup sugar
1 tablespoon butter – melted and cooled
1/2 teaspoon ground cinnamon
Cake Ingredients:
1/2 cup butter, softened
3/4 cup granulated sugar
2 large eggs
1 teaspoon vanilla
1 cup light sour cream
1 1/2 cups all-purpose flour
1 1/4 teaspoons baking powder
1/4 teaspoon baking soda
1/4 teaspoon salt
Drizzle Ingredients
14 caramels – unwrapped
2 tablespoons half & half or milk
Preheat oven to 350°F. Spray a 9 inch round springform pan with baking spray.
Combine all streusel ingredients in small bowl; set aside.
In a mixing bowl, beat butter and sugar until creamy. Add eggs; continue beating, scraping bowl often, until well mixed. Beat in vanilla extract.
Beat in all remaining ingredients.
Spoon half of the batter into the pan. Sprinkle half of streusel mixture over batter in pan. Spoon remaining batter over streusel; top with remaining streusel. Bake for 45 to 55 minutes or until toothpick inserted in center comes out clean. Cool 10 minutes. Run knife along sides of pan to loosen edge. Remove side of pan. Cool at least 30 minutes. (Anna's Note: Cool completely if you have the time).
Just before serving, combine caramels and half & half (or milk) in 1-quart saucepan. Cook over medium heat, stirring occasionally, until caramels are completely melted (5 to 8 minutes). Cool until thick enough to drizzle nicely; drizzle warm (not hot!) caramel over cake.
Note:
For the melted caramel, I melted 3/4 cup caramel bits with 2 tablespoons of milk for 2 minutes on high and stirred every 30 seconds. Let cool and thicken before drizzling.
I also "micro-toasted" the pecans. Lay pecans on a sheet of paper towel and microwave on high for 2 ½ minutes. Let cool completely, then chop
Regular size chocolate chips work just fine.
Recipe by
Cookie Madness
at https://www.cookiemadness.net/2007/10/18/caramel-chocolate-streusel-coffee-cake/