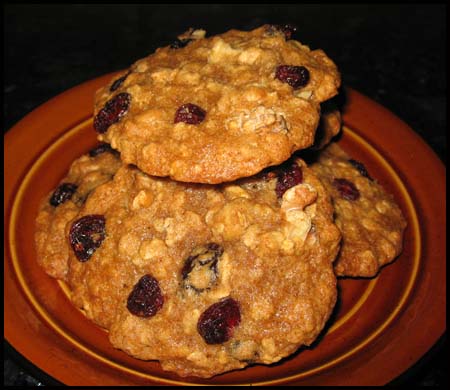 Big Fat Maple Cranberry Walnut Oatmeal Cookies
Author: Cookie Madness
Prep time: 10 mins
Cook time: 15 mins
Total time: 25 mins
Big Fat Maple Cranberry Walnut Oatmeal Cookies
1 3/4 cups all purpose flour
1/2 teaspoon baking soda
1/2 teaspoon salt
2 teaspoons ground cinnamon
1/2 cup butter, room temperature
1/3 cup granulated sugar
1 cup packed dark or light brown sugar
2 large eggs
2 teaspoons vanilla extract
1/2 cup maple syrup
1 3/4 cups old fashioned oatmeal (not instant)**
1 1/2 cups dried cranberries
1 cup walnuts, toasted and chopped
Preheat oven to 350 degrees F. and have ready a couple of parchment lined cookie sheets.
Stir together flour, baking soda, salt and cinnamon and set aside.
In a mixing bowl, beat butter and both sugars until fluffy. Add eggs and beat until combined. Stir in vanilla extract and maple syrup. By hand or using lowest speed of electric mixer, stir in flour mixture. When flour is absorbed, stir in oats, cranberries and walnuts.
Using a quarter cup measure, shape dough into large mounds and place mounds 3 inches apart on lined cookie sheets (OR, you can do what I do and scoop out the individual mounds, chill them as mounds, then refrigerate or freeze the mounds until you are ready to cook them).
Bake one sheet at a time for 15-17 minutes. Let them cool on the cookie sheet until firm enough to lift off, then allow them to cool completely on a rack.
Recipe by
Cookie Madness
at https://www.cookiemadness.net/2007/10/24/big-fat-maple-cranberry-walnut-oatmeal-cookies/