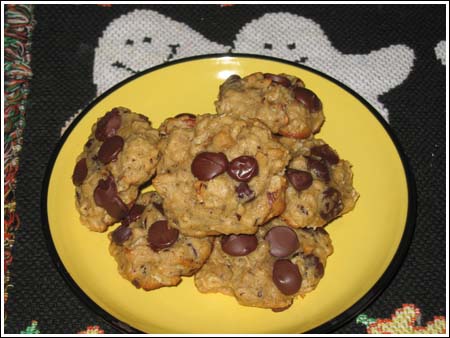 Heidi's Oatmeal Banana Chocolate Chip Cookies
Author: Cookie Madness
Prep time: 10 mins
Cook time: 13 mins
Total time: 23 mins
Heidi's Oatmeal Banana Chocolate Chip Cookies
12 tablespoons (84 grams) unsalted butter, softened
1 cup (200 grams) brown sugar
1 egg, beaten
1 1/2 cup (200 grams) all purpose flour
1/2 teaspoon baking soda
1/2 scant teaspoon salt (optional) – use only if using unsalted butter or shortening
1 teaspoon cinnamon (Anna and Heidi both omitted)
1 teaspoon vanilla
1 3/4 cup old-fashioned oatmeal
1 cup mashed banana (3-4 very ripe bananas)
1/2 cup chocolate chips
1/2 cup toasted chopped pecans
Preheat oven to 350 degrees F.
With an electric mixer, beat the butter and sugar. Mix in egg, then add the vanilla and stir well, scraping bowl often. Add the baking soda and salt and beat until well blended, then add the flour and stir until blended. Add the oatmeal and stir well, then fold in mashed banana, chocolate chips and pecans.
Drop by tablespoons onto parchment lined baking sheets and bake for 11-13 minutes or until cookies appear set. Let cool on wire rack.
Recipe by
Cookie Madness
at https://www.cookiemadness.net/2007/10/28/heidis-oatmeal-banana-chocolate-chip-cookies/