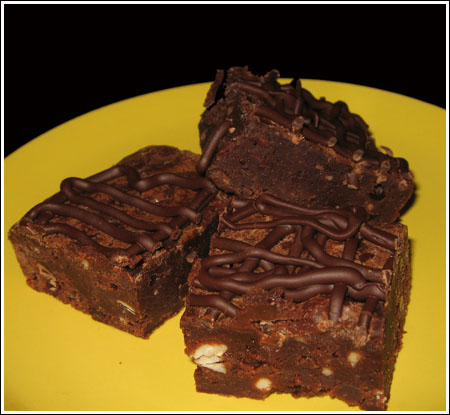 Author: Cookie Madness
Prep time: 10 mins
Cook time: 35 mins
Total time: 45 mins
An unusual recipe for brownies flavored with orange and a little feta cheese.
1 2/3 cups (10-oz. pkg.) NESTLÉ CHOCOLATIER™ 53% Cacao Dark Chocolate Morsels, divided use
1 cup granulated sugar
1/3 cup butter, cut into pieces
1 tablespoon water
2 large eggs
1 to 2 tablespoons orange liqueur (such as Cointreau or Grand Marnier) or reduced oranges juice (see note)
3/4 cup all-purpose flour
1/4 teaspoon salt
1/3 cup crumbled, traditional feta cheese
1 to 2 teaspoons orange zest
Preheat oven to 325º F. Line an 8 inch square metal pan with non-stick foil.
Set aside 2 tablespoons of the chocolate morsels – you will be melting them and drizzling.
In a large saucepan, heat 1 cup of the morsels, sugar, butter and water over low heat, stirring constantly, until chocolate and butter are just melted. Remove from heat. Let cool slightly (about 3 minutes). Stir in eggs, one at a time, until mixed in. Stir in liqueur or concentrated orange juice (see my note). Add flour and salt; stir well. Stir in cheese, remaining morsels (except reserved 2 tablespoons) and orange zest. Pour into prepared baking pan. Bang the metal pan on the counter to bring air bubbles to top.
Bake for 35 minutes until wooden pick inserted in center comes out still slightly sticky. Remove pan from oven and set it in a larger pan (roasting pan). Fill roasting pan with ice water so that it comes halfway up sides of small pan. Allow the brownies to cool to room temp in the ice water bath. When cool, melt remaining 2 tablespoons of chocolate and drizzle decoratively over brownies. Chill thoroughly. Cut into squares.
Recipe by
Cookie Madness
at https://www.cookiemadness.net/2007/11/23/an-interesting-brownie-recipe-for-you/