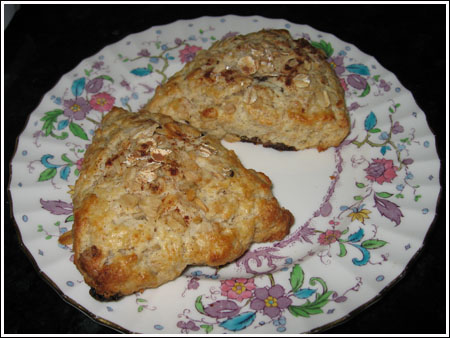 Author: Cookie Madness
Prep time: 20 mins
Cook time: 14 mins
Total time: 34 mins
Very good recipe for oatmeal scones
1 1/2 cups oats, old fashioned oats
1 1/2 cups all purpose flour
1/3 cup granulated sugar
2 teaspoons baking powder
1/2 teaspoons salt
1/2 teaspoon cinnamon
10 tablespoons cold unsalted butter, cut into 10 chunks
1/4 cup whole milk
1/4 cup heavy cream
1 large egg
1/2 teaspoon vanilla extract
1/3 cup raisins (optional) or use a different add-in such as chocolate chips, dried apples, cranberries, pecans, cinnamon chips, etc.
Preheat oven to 375 degrees F.Toast the oats. Spread them on a cookie sheet and bake at 375 degrees F for 8-10 minutes or until they are fragrant. Remove from heat and let cool. Set aside 2 tablespoons of oats to use as scone topping.
Raise oven heat to 450 degrees F.
In a food processor, combine the flour, sugar, baking powder, salt and cinnamon. Pulse 4 times to mix. Add butter chunks to flour mixture and pulse until mixture is the size of small peas.
In a mixing bowl, whisk together the egg, cream, milk, and vanilla. Spoon out 1 tablespoon and set aside. You will use this for brushing tops.
Add the flour mixture and the oats to cream mixture and stir until almost mixed. Add the raisins (if using) and continue mixing just until mixture comes together in a ball.
On a lightly floured surface, shape the ball into a 7 inch circle (about 1 inch thick). With a floured knife, cut into 6 or 8 wedges, and place wedges 2 inches apart on a non-stick or parchment lined baking sheet.
Brush with reserved cream mixture and sprinkle with reserved oats and if desired, some sparkling sugar and extra cinnamon. Bake 12-14 minutes (Check at 10), rotating pan halfway through.
Recipe by
Cookie Madness
at https://www.cookiemadness.net/2007/11/cinnamon-oat-scones/