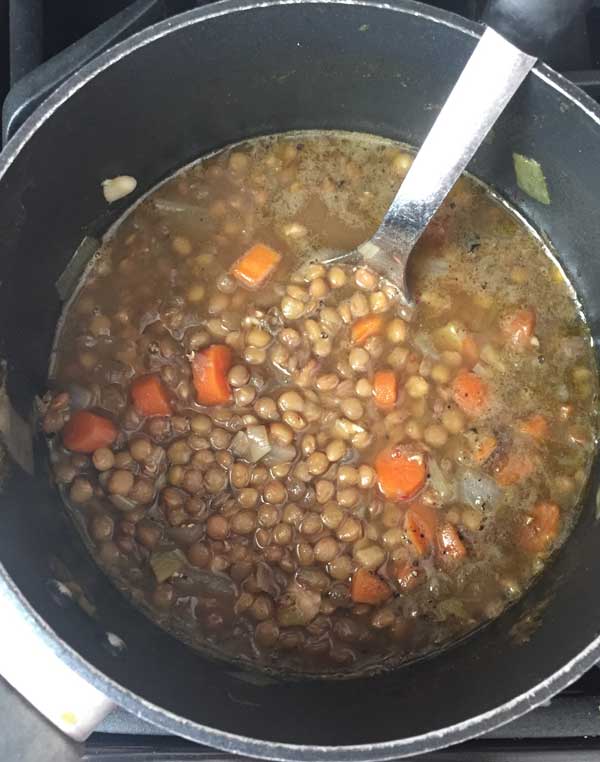 Author: Cookie Madness
Prep time: 10 mins
Cook time: 60 mins
Total time: 1 hour 10 mins
Fran Berman's Ginger and Lentil Soup is a flavorful soup perfect for all year round.
1 pound brown lentils
2 tablespoons extra-virgin olive oil
1 large onion, chopped (1 1/2 to 2 cups)
3 to 6 cloves garlic, chopped
3 to 4 tablespoons fresh, peeled ginger root, diced or grated
3 to 4 carrots, peeled and diced
3 2/3 cups water (I only use about 2 cups)
6 cups chicken or vegetable stock (vegetable)
Fine sea salt to taste
Freshly ground black pepper to taste
Dashes of balsamic vinegar to taste (about 2 teaspoons)
Put the lentils in a colander. Rinse thoroughly under cool running water.
In a 6-to-8-quart or larger heavy pot, warm the olive oil over medium heat. Add the onion, garlic and ginger and saute until transparent. Add 2/3 cup water and the diced carrots and simmer a for minute.
Stir in the lentils, then add the stock and remaining 3 cups of water.
Partially cover. Simmer over a low flame, stirring often, 30-40 minutes, until the lentils are tender.
Remove from heat and cool briefly. Stir in salt, pepper and balsamic vinegar to taste.
Over the years I've reduced the water somewhat.
Recipe by
Cookie Madness
at https://www.cookiemadness.net/2007/11/27/ginger-and-lentil-soup/