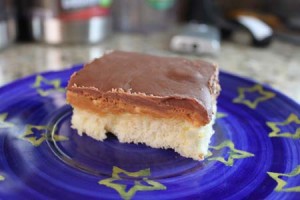 Author: Cookie Madness
Prep time: 15 mins
Cook time: 15 mins
Total time: 30 mins
Sponge cake topped with peanut butter and chocolate -- reminiscent of Tandy cakes.
2 cups all-purpose flour (9 oz)
1 teaspoon baking powder
1/4 teaspoon salt
4 large eggs
2 cups granulated sugar
1 1/2 teaspoon vanilla extract
1 cup whole milk
2 tablespoons unsalted butter
1 1/4 cups peanut butter
12 oz milk chocolate candy bar, chopped**
Preheat oven to 350 degrees F. Grease and flour a 10x15 inch pan. If halving the recipe, use a 9 inch square metal pan.
Sift together the flour, baking powder and salt; set aside.
In a mixing bowl, combine eggs, sugar and vanilla. Beat on high speed of an electric mixer until light, thick and lemon-colored. Beat in the flour mixture – don't over-beat, but just beat it until it's mixed in. Microwave milk and butter just until it begins to boil. Stir the hot milk/butter mixture into the batter.
Pour batter into the prepared pan and bake on center rack for 20 to 25 minutes (20 if halving), or until a toothpick inserted into the center of the cake comes out clean.
Drop dollops of peanut butter all over the still-warm cake and spread evenly to the edges. Let cool at room temperature for about 20 minutes, then refrigerate to set the peanut butter (about 1 hour).
In a microwave-safe dish, melt chocolate (for milk chocolate, I use a lower setting) and spread evenly over peanut butter layer. Refrigerate to allow chocolate to harden, but be careful because if the chocolate hardens too much it will crack when you slice the cake. Refrigerate it just until firm or you could even let it set at room temperature, which of course takes longer and which I very seldom do since I am so impatient!
Slice into bars.
Notes:

**Bars of chocolate melt and spread more easily than chips, however you can use chips. If using chocolate chips, stir a few teaspoons of oil into the chips before melting them.

**If you are making a half version, you might want to line the pan with foil so you can lift the cake out and cut it neatly on a cutting board. I'm not a good cutter and always feel like I get better results when I don't have to cut directly in the pan.
Recipe by
Cookie Madness
at https://www.cookiemadness.net/2011/03/26/tandy-cakes/