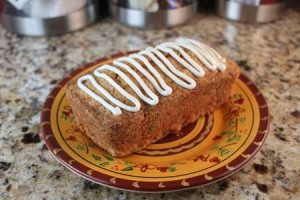 Author: Cookie Madness
Prep time: 10 mins
Cook time: 40 mins
Total time: 50 mins
Good carrot bread recipe.
1 1/2 cups all purpose flour (6.8 oz)
1/2 teaspoon salt
1/2 teaspoon baking powder
1 teaspoon cinnamon
1 teaspoon freshly ground nutmeg
2/3 cup vegetable oil
1 cup granulated sugar
2 large eggs
1/4 teaspoon vanilla extract
1 cup grated carrots
1/2 cup pecans, chopped and toasted
Preheat oven to 350 degrees F. Spray two 5.7x3x2 inch loaf pans with cooking spray or rub with butter.
Mix together the flour, salt, baking powder, cinnamon and nutmeg and set aside.
Stir together the oil, sugar, eggs, vanilla and carrots.
Add the flour mixture to the carrot mixture and stir just until blended. Stir in pecans.
Pour into pans and bake at 350 degrees for 40 minutes or until a toothpick inserted in center comes out clean.
Recipe by
Cookie Madness
at https://www.cookiemadness.net/2011/03/29/carrot-bread/