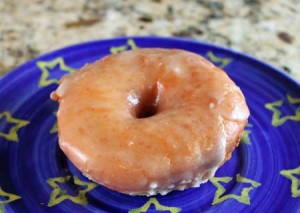 Author: Cookie Madness
Prep time: 10 mins
Cook time: 3 mins
Total time: 13 mins
Make Ahead Doughnuts are started the night before and fried in the morning.
1 (.25 ounce) envelopes active dry yeast
2 tablespoons warm water (105 to 115 degrees)
3/4 cups lukewarm milk, scaled first then cooled to room temperature
3/4 teaspoon vanilla extract
1/4 cup white sugar
1/2 teaspoon salt
1 egg
3 scant tablespoons shortening
2 1/2 cups all-purpose flour plus more for dusting pans and work surfaces
1 quart vegetable oil for frying
Glaze:
3 tablespoons butter
1 cup confectioners' sugar
3/4 teaspoons vanilla
2 tablespoons hot water or as needed
Put the warm water in mixing bowl and sprinkle the yeast over it. Let stand for 5 minutes to proof.
Add the milk, vanilla, sugar, salt, egg, shortening, and 1 cup of the flour. Mix for a few minutes at low speed, or stirring with a wooden spoon. Beat in remaining flour 1/2 cup at a time, until the dough no longer sticks to the bowl. Knead for about 5 minutes, or until smooth and elastic. Note: I recommend doing this with the dough hook of a stand mixer.
Place the dough in a greased bowl, and cover. Set in a warm place to rise until double (an hour).
Turn the dough out onto a floured surface, and gently roll out to 1/2 inch thickness. Cut with a floured doughnut cutter or use the top of a drinking glass for the doughnut and an apple corer for the hole. Let doughnuts sit out to rise again until double or if making overnight doughnuts, put them in a 13x9 inch metal pan dusted with flour, cover the pan with plastic wrap and refrigerate overnight.
When ready to make the doughnuts, remove the formed doughnuts from the refrigerator and let them come to room temperature.
Prepare the glaze: Melt butter in a saucepan over medium heat. Stir in confectioners' sugar and vanilla until smooth. Remove from heat, and stir in hot water one tablespoon at a time until the icing is somewhat thin, but not watery. Set aside.
Heat oil in a deep-fryer or large heavy skillet to 350 degrees F (175 degrees C). Slide doughnuts into the hot oil using a wide spatula greased with oil or a little shortening. Turn doughnuts over as they rise to the surface. Fry doughnuts on each side until golden brown – mine took about 2 minutes per side. Remove from hot oil, to drain on a wire rack. Dip doughnuts into the glaze while still hot, and set onto wire racks to drain off excess. Keep a cookie sheet or tray under racks for easier clean up. Depending on how big you cut your doughnuts, you should get about 7 or 8.
Recipe by
Cookie Madness
at https://www.cookiemadness.net/2011/04/make-ahead-doughnuts/