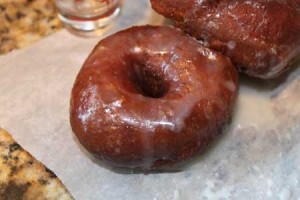 Author: Cookie Madness
Prep time: 20 mins
Cook time: 1 min
Total time: 21 mins
Doughnuts made with mashed potatoes
6 oz (medium) potato, peeled and cut into chunks (Idaho or Yukon Gold)
1/4 cup plus 2 tablespoons milk
1/4 cup granulated sugar (divided use)
1 1/8 teaspoon active dry yeast (half a packet)
1 large egg plus 2 tablespoons of beaten egg
4 tablespoons softened butter
1/2 teaspoon salt
1/2 teaspoon freshly grated nutmeg
3/4 teaspoon of vanilla
2 3/4 cups all-purpose flour
Glaze
1/4 cup milk
1 1/2 cups powdered sugar
1/2 teaspoon vanilla
Put the potato in a saucepan of water and boil for 20 minutes or until potato is tender.
Meanwhile, in a microwave-safe glass measuring cup, scald the milk. Stir in 1 tablespoon of the sugar. Let cool to 115 degrees F. Sprinkle yeast over 115 degree milk mixture and set aside to proof.
In bowl of stand mixer, combine the egg, remaining sugar, butter, salt, nutmeg and vanilla. Stir in the bubbly yeast mixture and a cup of the flour. Meanwhile, drain and mash the potato and add the mashed potato. Continue adding flour and stir well. With dough hook attachment, knead dough until smooth & elastic.
Put dough in a well-oiled bowl, cover with plastic wrap and let rise at room temperature for 1 ½ hours. Punch down the dough. Return dough to bowl, cover with plastic wrap and chill overnight.
Line a large baking sheet with parchment paper. On a floured surface, press cold dough down to make a circle that's about 1/3 of an inch thick. Sprinkle a little more flour over top if needed. Using a 3 inch biscuit cutter or rim of a glass (I use a glass for the doughnut and an apple corer for the hole), cut as many doughnuts as you can. Set them on the parchment lined pan cover with a kitchen cloth and let rise for about an hour. If dough is cold, it might take a little longer.
Heat oil to 365 degrees F. Fry doughnuts for 2 minutes on each side or until lightly browned. Drain on paper towels. Drizzle with glaze. To make the glaze, mix the sugar, milk and vanilla until smooth.
Makes about 10 or 12 doughnuts depending on size of cutters.
Recipe by
Cookie Madness
at https://www.cookiemadness.net/2011/04/06/raised-potato-doughnuts/