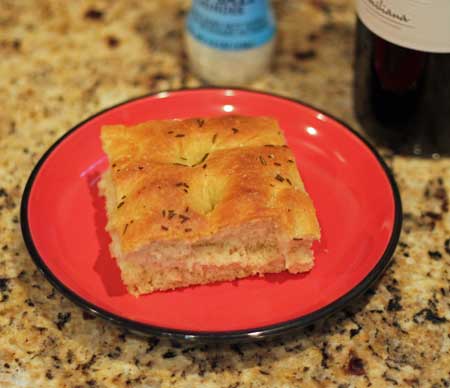 Author: Cookie Madness
Prep time: 240 mins
Cook time: 20 mins
Total time: 4 hours 20 mins
An easy focaccia recipe
1 cup minus 2 tablespoons water (7 oz)
1 1/8 teaspoon active dry yeast (half a packet)
2 1/2 cups unbleached all-purpose flour plus additional for kneading (320 grams)
2 tablespoons plus 1 1/2 tablespoons extra-virgin olive oil (divided use)
1 teaspoon table salt (or use 1 1/4 for saltier flavor)
1/2 tablespoon finely chopped fresh rosemary
1/2 teaspoon coarse sea salt
Stir 1 cup minus 2 tablespoons lukewarm (105 to 115°F) water and yeast in bowl of mixer and let stand for 5 minutes. If using quick or rapid rise yeast, skip this step and just mix the yeast with the flour.
Add flour, 2 tablespoons olive oil, and 1 1/4 teaspoons table salt and beat until a dough forms. With a dough hook (or you can do it by hand) knead dough at high speed until soft, smooth, and sticky, 3 to 4 minutes. Continue kneading until dough is smooth and elastic. Transfer to a lightly oiled bowl and turn dough to coat with oil. Let rise, covered with plastic wrap, at warm room temperature, until doubled in bulk, 1 to 1 1/2 hours.
Press dough evenly into a 9 inch square baking pan lined with non-stick foil or parchment. Let dough rise, covered completely with a kitchen towel, until doubled in bulk, about 1 hour.
Preheat oven to 425°F.
Stir together rosemary and remaining 1 1/2 tablespoons oil. Make shallow indentations all over dough with your fingertips, then brush with rosemary oil, letting it pool in indentations. Sprinkle sea salt evenly over focaccia and bake in middle of oven until golden, 20 minutes.
Immediately invert a rack over pan and flip focaccia onto rack, then turn right side up. Serve warm or at room temperature.
Rapid Rise aka instant yeast works just fine. To use instant yeast, just mix the yeast in the with the flour. Rising times will be around 30 to 45 minutes.
Recipe by
Cookie Madness
at https://www.cookiemadness.net/2011/04/12/rosemary-focaccia/