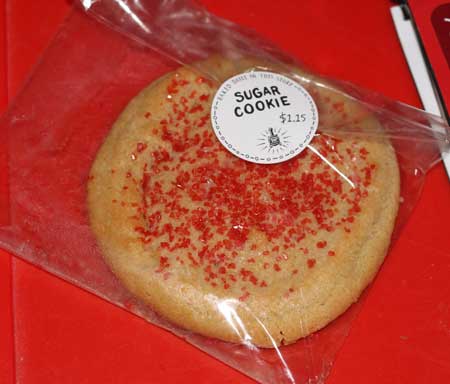 Similar to Potbelly Sugar Cookies
Author: Cookie Madness
Prep time: 10 mins
Cook time: 12 mins
Total time: 22 mins
Big sugar cookies with a bendy texture and soft texture.
6.8 oz bleached AP flour (1 ½ cups)
1/2 teaspoon baking powder
1/4 teaspoon baking soda
4 tablespoons unsalted butter (57 grams
4 tablespoons regular or butter flavored shortening (48 grams)
1/2 cup granulated sugar
2 tablespoons light brown sugar
2 tablespoons light corn syrup
1/2 teaspoon salt
1 large egg (46 grams)**
1 teaspoon vanilla extract or use McCormick Vanilla, Butter & Nut Extract
1/4 teaspoon almond extract or use another 1/4 teaspoon of extra vanilla if using the Vanilla Butter & Nut Extract
Thoroughly mix together the flour, baking powder and baking soda; set aside.
Melt the butter in a microwave-safe mixing bowl. Add the shortening and stir until shortening starts to melt, then add both sugars and stir until smooth. Stir in the corn syrup, salt, egg, vanilla and almond extract.
Add the flour mixture stirring just until it's incorporated. Dough should be soft. Put bowl in the refrigerator for about 10 minutes to make it easier to handle.
Divide dough into 4 balls (each one should weight around 4 oz). Using the bottom of a glass, press each ball in the center to make a round disk about 2 ½ inches side with an indentation in the center (see photo above). Put the round disks in the refrigerator, cover with some plastic wrap and chill thoroughly.
To bake, preheat oven to 375 degrees F and line a heavy duty cookie sheet with parchment paper. Arrange dough pieces about 3 inches apart on cookie sheet and sprinkle centers with sprinkles.
Bake for 12 minutes or until the cookies appear set and slightly brown around the edges. Remove the cookies from the oven and while they are still hot, tap the sides inward with a spatula so that they are closer to being perfectly circular.
Let cool on cookie sheet for about 5 minutes. Transfer to a rack and let cool completely. Cookies should be lightly browned on the outside and slightly doughy on the inside.Let the cookies cool on the sheet for at least 5 minutes before transferring to a wire rack to cool completely.
Makes 4 giant cookies
Using all butter in place of shortening will give you a thinner, flatter cookie.

As mentioned in the post, I used bleached flour because it tends to puff more and spread less, whereas unbleached flour may contribute to more spreading.

Weigh your flour for accuracy.
Recipe by
Cookie Madness
at https://www.cookiemadness.net/2011/04/14/potbelly-sugar-cookies/