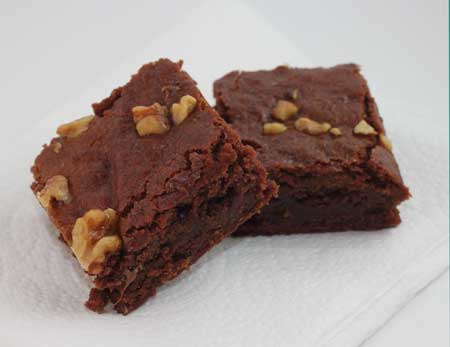 Author: Cookie Madness
Prep time: 10 mins
Cook time: 35 mins
Total time: 45 mins
Fudge brownies with a hint of Kahlua
Kahlua Fudge Brownies
1 1/2 c. sifted flour (determined that 6.5 oz weight worked)
1/2 tsp. baking powder
1/2 tsp. salt
11 tablespoons butter (I used unsalted)
3 oz. unsweetened chocolate
3 eggs (large)
2 cups granulated sugar
5 T Kahlua plus a little extra for top
3/4 cup TOASTED chopped walnuts
Preheat oven to 350 degrees F.
Line a 9" square metal pan with foil, grease well or line with
non-stick
foil (recommended).
Mix the flour with baking powder and salt. Melt butter with chocolate (did this in the microwave). Beat eggs with sugar until light. Add chocolate mixture and kahlua. Stir in flour mixture and nuts. Blend well.
Pour into prepared pan and bake 30 minutes (35 minutes) or until the top springs back in the center and edges begin to pull away from the pan.
Remove from oven and cool thoroughly in pan. Brush top with 1 T Kahlua.
When cool, lift from pan and cut into 16 thick brownies.
Recipe by
Cookie Madness
at https://www.cookiemadness.net/2011/05/24/kahlua-fudge-brownies/