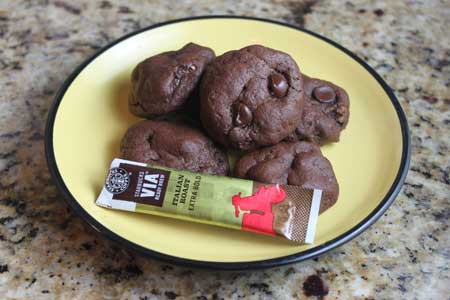 Starbuck's VIA Double Chocolate Cookies
Author: Cookie Madness
Prep time: 10 mins
Cook time: 12 mins
Total time: 22 mins
Starbuck's VIA Double Chocolate Cookies
3/4 cup bittersweet chocolate, chopped – This was 3 oz on the scale
2 packets Starbucks VIA (R)
1 1/4 cups flour
1/2 cup unsweetened natural cocoa powder
1 teaspoon baking soda
1/2 teaspoon salt
1/2 cup butter, softened (I used unsalted)
1/4 cup sugar
1/3 cup packed brown sugar
1 teaspoon vanilla extract
1 egg
1 1/2 cups extra dark chocolate chips
Melt chocolate in a double-boiler over barely simmering water. Stir in the coffee.
Combine flour, cocoa, baking soda and salt in a bowl.
In a mixing bowl, cream butter and sugars together until light and fluffy. Add the melted chocolate to the butter mixture and stir well. Add vanilla and egg to the chocolate mixture. Stir in the dry ingredients. Fold in chocolate chips.
Divide dough into 36 balls and place on a cookie sheet, but don't flatten. Bake at 325 F for
about eight minutes. Let cookies cool on the baking sheet for five minutes. Transfer to a
cooling rack.
Recipe by
Cookie Madness
at https://www.cookiemadness.net/2011/06/11/starbucks-via-double-chocolate-cookies/