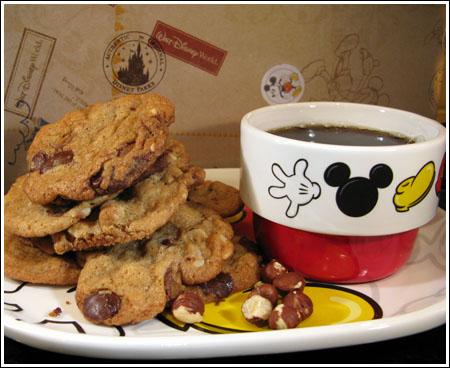 Half Batch Hazelnut Chocolate Chip Cookies
Author: Cookie Madness
Prep time: 10 mins
Cook time: 12 mins
Total time: 22 mins
Half Batch Hazelnut Chocolate Chip Cookies
1/4 cup oats, old fashioned or quick (not instant) oats (20 grams)
1 cup plus 3 tablespoons all purpose flour (150 grams)
1/2 teaspoon baking powder (2.5 ml)
1/2 teaspoon baking soda (2.5 ml)
1/4 teaspoon salt (1.25 ml) – I used about a pinch more than that
4 ounces unsalted butter, softened (115 grams)
1/2 cup light brown sugar, packed (100 grams)
1/2 cup granulated sugar (100 grams)
1 teaspoon vanilla (5 ml)
1 large egg
1/2 cup hazelnuts, roasted, peeled and chopped (see note) (69 grams)
1 cup bittersweet chocolate chips or cut up bittersweet chocolate bar (170 grams)
1/3 cup chopped up toffee bars 50 grams (use as much as you want)
Preheat oven to 325 degrees F (165 Celsius). Line a cookie sheet with parchment paper or Silpat.
In bowl of food processor (or use a mini grinder), grind oats. Mix the ground oats with flour, baking powder, baking soda and salt.
In a mixing bowl, beat butter and both sugars with high speed of electric mixer. Beat in vanilla and egg and beat for another 30 seconds. Add flour mixture and stir until mixed in. Stir in nuts, chocolate and toffee
Drop by rounded tablespoonfuls onto baking sheets spacing 3 inches apart. Bake one sheet at a time on center rack for 15 minutes or until they appear brown around edges.
Let cool on sheet for 2 minutes, transfer to a rack to cool.
Recipe by
Cookie Madness
at https://www.cookiemadness.net/2008/01/07/half-batch-hazelnut-chocolate-chip-cookies/