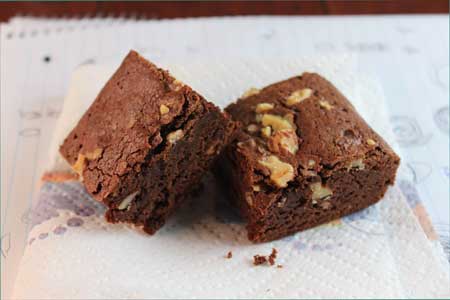 Author: Cookie Madness
Prep time: 10 mins
Cook time: 32 mins
Total time: 42 mins
Small batch brownies baked in a loaf pan. This makes a very fudgy brownie.
4 tablespoons unsalted butter
1 1/2 ounces unsweetened chocolate, chopped
2 1/2 ounces dark or semisweet chocolate, chopped
1 large egg
1/4 teaspoon salt
1/2 cup granulated sugar
1 teaspoon vanilla
2 tablespoons all-purpose flour
1/4 cup walnuts, toasted coarsely chopped or M&Ms or chocolate chips (optional)
Preheat oven to 375ºF. Line an 8 1/2 by 4 1/2 inch loaf pan with nonstick foil.
Melt butter in a small saucepan. When it's almost full melted, add the chocolates. Reduce heat to low and stir until melted and smooth. Remove from heat and let cool.
In a medium size mixing bowl, beat the egg with a hand-held or stand mixer mixer for about a minute. With mixer going, gradually add the sugar and continue beating for about 5 minutes or until mixture reaches ribbon stage. Beat in the vanilla.
With a heavy duty scraper, fold together the slightly cooled chocolate mixture and egg mixture, then stir in the flour.
Pour batter into pan and spread to edges. Sprinkle walnuts or candy on top if desired.
Bake for about 22-25 minutes. Let cool at room temperature for about 30 minutes, then chill for about 2 hours. Lift from pan and cut into 8 rich squares.
Recipe by
Cookie Madness
at https://www.cookiemadness.net/2011/08/19/loaf-pan-brownies/